New user registrations have been disabled until further notice. If you would like to create an account, please message
Generasia on Facebook
. Thank you!
Shiki (novel)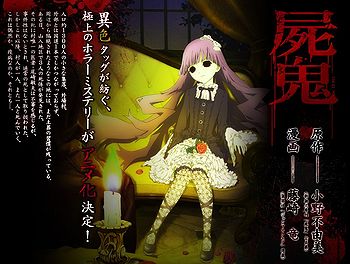 Shiki (屍鬼; Corpse Demon) is a supernatural horror mystery novel / anime / and manga. It was written by Ono Fuyumi, directed by Amino Tetsuro, and drawn by Fujisaki Ryu.
It was first published as a novel in 1998. It ended in 2002 with 5 volumes published. Five years later it was adapted into a manga form the Japanese anime magazine Jump SQ. While the manga was still ongoing it was created into an anime and ran from July 8th 2010 - December 30th 2011 for 22 episodes. While the anime was still airing, the manga published it's last volume for the magazine in June 2011 with 11 stories published.
The anime series was licensed in North America by Funimation Entertainment on DVD and Blu-ray. The DVD / Blu-ray contains two bonus OVA's, making the series have a total of 24 episodes.
Synopsis
Sotobamura is a small village with around 1,300 residents; so small the village isn't even connected to a single highway. An isolated village in which old customs, such as the burial of the dead, are still practiced. One day, the bodies of three people are found dead. Although Ozaki Toshio, the village's lone doctor, feels uncertain, he treats the deaths as a normal occurrence. However, in the days following, the villagers start to die one after the other.[1]
Characters
Main Characters
Natsuno Yuuki / Koide (結城 / 小出 夏野)
A 15 year old boy who lives and attends school in Sotoba. He hates living in the village and would prefer to be in the city. Originally a city boy, he reluctantly moved to Sotoba with his parents when they wanted a change of environment. He has a cold personality that of a Tsundere, as he really dislikes Megumi, who has a crush on him. Although he is cold, he can be kind and friendly towards those whom he considers his friends. He later becomes a jinrou.
Voiced by Uchiyama Koki (Japanese), Jerry Jewell (English)
A 32 year old chain smoker married to a woman named Kyoko, who is rearly sees. He is the dean of the hospital in Sotoba. He is given a nickname, "Waka-sensei" (young doctor), by his colleagues as well as the residents. He dislikes both his mother and his late father, as both of them often put the reputation of the Ozaki family before anything else. He is childhood friends with Seishin and Mikiyasu. When the mysterious deaths happens and swears to solve the case and protect his village. During the series, his wife becomes a Shiki and is used as an experiment to find out how to kill the Shikis.
Voiced by Okawa Toru (Japanese), David Wald (English)
A 13 year old girl who moves into the Kanemasa mansion with her family.She is very wise since she is the oldest of the Shiki. She claims to have a rare genetic disorder known as SLE, which forces her to stay inside her home during the day and only come out at night. She and her family are fans of the novels written by Seishin, and is the reason they moved to Sotoba. As Seishin and her become closer through out the series she confides in him and even states that she believes she is "forsaken by God" and wishes to die, but Seishin convinces her otherwise, saying that even though she's no longer under God's jurisdiction, she never lost her faith in Him.
Voiced by Yuki Aoi (Japanese), Cherami Leigh (English)
A 32 year old single man. Seishin is the local priest in Sotoba, as well as an author. He is supernatural and detects the presence of the real Shiki. He is childhood friends with Toshio and Mikiyasu. He later becomes a jinrou.
Voiced by Okitsu Kazuyuki (Japanese), John Burgmeier (English)
Secondary Characters
A 15 year old girl attending the same school as Natsuno, Megumi also hates living in the village and longs for city life. She has a one-sided crush on Natsuno. Megumi encounters the Kirishiki family in the beginning of the series, and disappears without a trace until the residents find her lying in the middle of the forest and revived as a Shiki. After she was revived, she became more vicious, using her powers to do stalk Natsuno and target or kill others.
Voiced by Tomatsu Haruka (Japanese), Tia Ballard (English)
A 18 year old boy. Yuta's son and older brother of Aoi and Tamotsu. He is Natsuno's best friend and has a very happy laid-back personality. He is later killed, but he then revives as a Shiki. After he is revived he is scared of what he has become.
Voiced by Okamoto Nobuhiko (Japanese), Chris Burnett (English)
A 15 year old girl. She is Megumi's childhood friend and has a very friendly and kind personality. She really cares for Megumi and thinks they are best friends when infact, Megumi, hates her.
Voiced by Nagashime Haruka (Japanese), Alexis Tipton (English)
A 12 year old boy. He is Kaori's younger brother and has childish yet brave personality.
Voiced by Kawakami Keiko (Japanese), Luci Christian (English)
The main servant to the Kirishikis. Tatsumi is a jinrou and is very sadistic, but is also quite calm. He has a great respect for Sunako, as he is seen risking his life for her.
Voiced by Takagi Wataru (Japanese), Ian Sinclair (English)
Music
Opening themes
Ending themes
Discography
Soundtrack
References
External Links