Due to an influx of spam accounts getting through and joining the site, user registrations have once again been disabled until further notice as we work on a different solution.
Sugar (Korean group)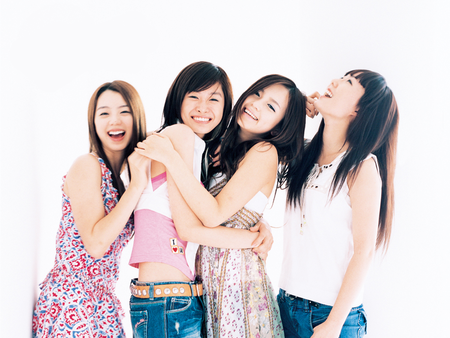 Sugar (슈가, シュガー) was a Korean pop girl group created by Starworld. In 2002 they released their debut album Tell Me Why and met mediocre success in South Korea. They crossed over to the Japanese market in 2003 where they debuted with their songs "real identity" and "TAKE IT SHAKE IT", which were used as the opening and ending theme songs for the anime Kaleido Star. They signed with Toys Factory in Japan and again met mediocre success. Sugar's contract ended with Starworld in 2006 and the group decided not to renew it; henceforth they disbanded. They are best known for their 2004 song "Secret".
Members
Former Members
Information
Korean Debut
Sugar first debuted at the end of 2001 with their first song "Sweet Love" from their debut album Tell Me Why. "Sweet Love" failed to make any waves but their second song "Tell Me Why" was received with much more warmth. Though new, the group was not afraid to tackle live performances, something that many female pop groups at the time were notoriously bad at. In addition, despite (or perhaps because of) her poor Korean language skills, Japan raised member Ahyoomee, garnered the attention of fans with her cute personality on talk shows and variety shows. Sugar was most often compared by fans to the groups M.I.L.K. and Shinvi for their similar styles and cute images. During a time when many girl groups released only one album and then disappeared, some wondered which amongst the three groups would actually succeed. Because the other two groups were promoted by the famous SM Entertainment, many thought of Sugar as the underdogs. However, in the summer of 2003 Sugar made a comeback with their second album,SHINE, a feat which the other two groups never achieved. For their second album member Sae Byul changed her name to Hye Seung, her real given name.
Japanese Debut / Member Change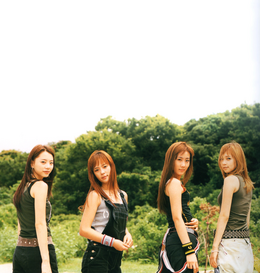 With Korean stars gaining fame in Japan such as BoA with the Korean Wave, Sugar began to try and tap into the Japanese music industry as well. After releasing their second Korean album they debuted in Japan releasing two songs for the anime Kaleido Star soundtrack. The rest of that year, in 2004, Sugar concentrated solely on the Japanese market releasing their Japanese debut album Double Rainbow, and three singles.
Double Rainbow, like their career in Korea, was met with moderate success reaching #84 on the Oricon charts and charting for 2 weeks only. The singles were moderate successes, their Japanese debut single, "GO THE DISTANCE" reached #96 on the Oricon charts and charted for 2 weeks, their second Japanese single "All my loving / Sakura Ressha" reached #40 on the charts, and their third Japanese single "Kaze to Hanataba / Present / Heart & Soul" reached #32 on the charts.
In October 2004 they released their first, and only, Korean single titled "Secret". After the release of "Secret" Jung Eum decided to leave the group and pursue a solo career in the entertainment industry. Soon after Jung Eum's departure Sugar welcomed her replacement member Harin, a singer of Japanese ancestry unlike the rest of the group. Regardless of the sudden change of the line-up Harin fit in with the rest of the group and Sugar continued without their former member.
COLORS 4 WISHES
With the new line-up in place, Sugar released their fourth Japanese single "Heartful". The ballad didn't fare so well on the charts reaching the #97 position and charting for only 1 week. It took six more months for Sugar to release their fifth and last Japanese single entitled "Himawari / LOVEACCELE". The single did much better than the "Heartful" ballad reaching the #29 position and charting for 7 weeks.
After the release of their fifth Japanese single Sugar decided to release another Korean album after their long year hiatus in the Korean music industry. Sweet Lips was released and two months later they released their second Japanese album titled COLORS 4 WISHES. Their second album didn't fare as well as their first not even cracking into the top 100. The album peaked at #138 and stayed on the charts for 2 weeks.
Soo Jin Withdraw & Disband
After the release of Sugar's third Korean album and the second Japanese album, Soo Jin announced that she would be leaving the group in 2006. Soo Jin stated that she wanted to pursue a career in acting once her contract ended with SM Entertainment and Toys Factory. After the promotions for the latest albums were done Soo Jin bid farewell to Sugar.
In 2006 they released a Japanese DVD titled 7 STARS; the DVD, wich contain all of their music videos released in Japan, would became the group' last release. Soon afterwards, Ahyoomee embarked on a solo career in South Korea in July 2006. During the months that followed, Sugar remained in undefinable hiatus with fans and the media speculating about the new member that would fill in Soo Jin's place. As November rolled by and Sugar condition was still not announced, rumors of the group disbanding began to circulate among fans and the entertainment industry with Ahyoomee now concentrating solely on her solo career.
On December 20, 2006, the expiration date of their contract with Starworld, KBS World Radio announced that Sugar had disbanded. They stated each of the current members wanted to embark on solo careers and the company decided not to renew their contract with the members. "Sugar came to the point of disbanding after 5 years since their debut. The group's contract will end at the end of December and aside from Ahyoomee, who has already pursued a solo career, other Sugar members, Hye Seung and Harin decide to take on solo careers. The contract of Sugar, who debuted in December 2001, will expire soon. Because other members chose to go on solo careers, the management decided for the group to disband".
Starworld, the group's label, revealed on the same date: "Ahyoomee will sign again a contract in Starworld. Hye Seung plans to be an actress while Harin, who is presently living in Japan, wants to start a music career in the said country".
Trivia
Korean Discography
Albums
Single
Japanese Discography
Albums
Singles
DVD
Soundtrack