It is thanks to each and every one of you that has made Generasia the largest resource for Asian media info. To our wonderful contributors, thank you!
Suwabe Junichi
From generasia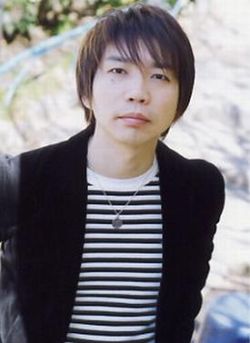 Suwabe Junichi (諏訪部順一) is a Japanese pop singer and seiyuu. His most notable role is Atobe Keigo from the Tennis no Oujisama series.
Profile
Name: Suwabe Junichi (諏訪部順一)
Birthday: March 29, 1972
Birthplace: Tokyo, Japan
Blood Type: A
Height: 173cm
Weight: 60kg
Discography
Singles
Character Albums
Character Singles
Compilations/Other
Seiyuu Roles
All major roles are listed in bold.
Anime series
OVA
Motion pictures
Video games
[1998] TRAP GUNNER - Dine
[2001] Beat Mania Da!! - DJ
[2001] FINAL FANTASY X - Seymour Guado
[2001] WRC ~World Rally Championship~ – Co-Driver, Narration
[2002] X -Unmei no Sentaku- – Monou Fuuma
[2003] Tennis no Oujisama 2003 Passion RED – Atobe Keigo
[2003] Tennis no Oujisama Minna no Oujisama – Atobe Keigo
[2003] Tennis no Oujisama SWEAT&TEARS 2 - Atobe Keigo
[2003] Chobits Chii Dake no Hito - Kojima Yoshiyuki
[2003] Tennis no Oujisama Kiss of Prince ice - Atobe Keigo
[2003] Tennis no Oujisama Smash Hit! - Atobe Keigo
[2003] Tennis no Oujisama Smash Hit! 2 - Atobe Keigo
[2003] Mobile Suit Gundam SEED – Sting Oakley
[2004] Tennis no Oujisama 2004 STYLISH SILVER – Atobe Keigo
[2004] Mobile Suit Gundam SEED DESTINY – Sting Oakley
[2004] Rockman Zero 3 - Omega
[2004] Double Reaction! - Jake Kanzaki, 3rd
[2004] Double Reaction! PLUS! – Jake Kanzaki, 3rd
[2004] DearS – Nonaka Hirofumi
[2004] Fate/stay night [Realta Nua] - Archer
[2004] Gran Turismo 4 - Narration
[2004] Hagane no Renkinjyutsushi Dream Carnival - Greed
[2004] TENKU 2 – Tutorial Voice
[2004] Tennis no Oujisama LOVE OF PRINCE -Bitter- - Atobe Keigo
[2004] Tennis no Oujisama LOVE OF PRINCE -Sweet- - Atobe Keigo
[2004] Tennis no Oujisama RUSH&DREAM! - Atobe Keigo
[2004] Tennis no Oujisama Saikyou Team wo Kesseise yo! - Atobe Keigo
[2004] michigan - Mark Buckwinkle
[2004] Kidou Senshi Gundam SEED Rengou vs Z.A.F.T – Sting Oakley
[2005] Tennis no Oujisama 2005 CRYSTAL DRIVE – Atobe Keigo
[2005] Animamundi Owarinaki Yami no Butou - Francis Dashwood
[2005] Duel Savior Destiny - Chezar
[2005] EREMENTAR GERAD -Matoe, Suifuu no Tsurugi- - Narration
[2005] Twelve ~Sengoku Fuujinden~ - Mumei
[2005] VM JAPAN - Rokuro
[2005] Tennis no Oujisama Gakuensai no Oujisama - Atobe Keigo
[2005] KINGDOM HEARTS II - Tournament Announcer
[2005] Kenka Banchou - Asami Tetsuya
[2005] Kidou Senshi Gundam SEED DESTINY ~GENERATION of C.E.~ – Sting Oakley
[2006] Rockman ZX - Omega
[2006] BLEACH Wii Hakujin Kirameku Rondo - Grimmjow Jeagerjaques
[2006] KimiSta ~Kimi to Study~ - Odagiri Shuuhei
[2006] Gensou Suikoden V - Childeric, Craig Raden, Scald Eagan
[2006] Gunparade Orchestra Shiro no Shou Aomori Penguin Densetsu - Noguchi Michiya
[2006] [eM] -eNCHANT arM - Makoto
[2006] GENJI -Kamui Souran- - Buson
[2006] Tensei Hakkenshi Fuumaroku - Yao Shunsuke
[2006] Shakugan no Shana - Friagne
[2006] Rabu*Doro ~Love Drops~ - Saeki Ayato
[2006] Love*Com ~Punch de Court~ - Mighty
[2006] Kidou Senshi Gundam SEED Rengou vs Z.A.F.T II – Sting Oakley
[2007] GUILTY GEAR XX ACCENT CORE - Venom
[2007] Palais de Reine - Kuro Kizoku
[2007] Fate/tiger colosseum - Archer
[2007] Dragneers Aria Ryuu ga Nemuru Made - Langley Baldwin
[2007] Reijou Tantei ~Office Love Jikenbo~ - Kongouji Ryuuki
[2008] Hoshigari Empusa - Yomogita Nobuyoshi
[2009] Arabians Lost - Stuart Sink
External Links