Due to an influx of spam accounts getting through and joining the site, user registrations have once again been disabled until further notice as we work on a different solution.
TWO-MIX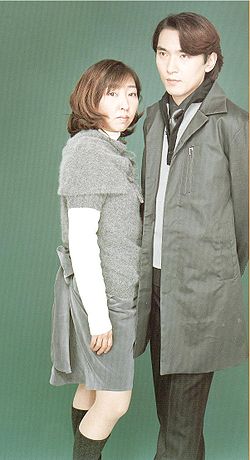 TWO-MIX was a Japanese electronic pop band that rose to popularity in the 1990s. It was formed in 1995 by Takayama Minami and Nagano Shiina after the breakup of their last band, ES CONNEXION the year before. They are well known for having produced songs for a wide variety of anime and television shows in Japan.
Members
Other Members
Information
When Abukawa Osamu left ES CONNEXION in 1994, Nagano Shiina and Takayama Minami both wanted to continue their music careers. Without Osamu, however, they could not keep ES CONNEXION from disbanding forever. Instead, they created a new band for the two of them. On April 25th, 1995, they released their first single, "JUST COMMUNICATION", under the name TWO-MIX and under KING RECORDS' prestigious distribution label.
Together once again, Nagano and Takayama were unstoppable. They released song after song, hindered at first only by Takayama's other job as a seiyuu. Unfortunately, when Meitantei Conan became an anime in 1996 and Takayama was slated as the protagonist, her free time began to lessen as the years went on. In time, this would greatly influence the amount of time TWO-MIX could devote to releasing songs.
In 1998, another catastrophe befell them. Not satisfied with KING RECORDS' treatment of them, TWO-MIX endeavored to terminate their contract and sign a five-year contract with Warner Music Japan. This prooved somewhat difficult since KING RECORDS possessed publication rights for TWO-MIX's earlier songs until at least 2001. Even though TWO-MIX was no longer part of KING RECORDS, that didn't stop their previous distributor from producing two TWO-MIX compilations (one in 1998 and one in 2001). Since early TWO-MIX songs appeared in their final compilation under Warner Music Japan in 2002, it is safe to assume that KING RECORDS' publishing rights have since expired.
In 1999, TWO-MIX began to employ the talent of a totally unknown woman, Takayama Miru. Though she shared a surname with Takayama Minami, it is merely a stage name, and no one is sure if the two bear any sort of relation. Three singles were released under the name Takayama Miru with TWO-MIX before the decision came to change the name of this group to M★TWO -MinaMiru-, signifying that Takayama Miru was a new addition to the group. However, her participation was short-lived, having released only an additional single and an album before she left the group. Where she is today is unknown.
In 2000, TWO-MIX turned their eye towards dance music, the kind that played in clubs throughout all Japan. Wanting to push into this industry, they released more techno-based dance titles under the name TWO∞MIX. This included not only normal singles and albums but also dance compilation CDs from Warner Music Japan, produced by TWO∞MIX.
Their TWO∞MIX work went well, but Meitantei Conan severely required Takayama Minami's attention, so the time she was able to devote to TWO-MIX declined steadily.
In 2002, when TWO-MIX's contract with Warner Music Japan ended, they became independent once again, creating both their own recording label, LITTLE STATION, and their own distributor, BPM NEXT. However, this too was short-lived since they were only able to produce one single during this period.
Without any releases at all in 2004, TWO-MIX fans were in hysterics. No one seemed to know what exactly was going on. However, TWO-MIX refused to perish completely. In the middle of 2005, it was announced that both Nagano Shiina and Takayama Minami were putting "TWO-MIX" on an indefinite hiatus so that they could join with ROmantic Mode's producer, Joe Rinoie to create a new band, II MIX⊿DELTA under Rinoie's label, JAWS RECORDS.
Since Meitantei Conan still requires a lot of Takayama's attention, II MIX⊿DELTA is only able to make one release per year, in the early summer. They have released two six-track mini-albums so far, one in 2005, and one in 2006.
In 2009, Shiina wrote in his blog that TWO-MIX would be revived later that year.
Style
TWO-MIX has a very interesting and unique style. It is definitely a sort of "electronic pop", or pop-type music in which many of the instruments are either synthesized or electronic-sounding. Many times, they enlist the aid of other instrumentalists to add real violins, cellos, flutes, and other instruments to their songs.
Though most of their music sounds fairly similar, they often have different sub-styles. For example, some of their songs are techno dance songs, some are slow ballads, then there's the fully orchestrated Baroque Best album, and still other songs are wholly different altogether (for example, "Mission: Cinderella" and "Do That Dance" have a distinctly Spanish feel). It seems that they often enjoy experimenting with different styles to achieve something unique. Though the casual listener might not realize it, TWO-MIX's true aficionados can certainly tell that each song has it's own particular feel, style, and rhythm.
Discography
Albums
Mini-Albums
Best Albums
Remix Albums
Singles
Digital Singles
Compilations / Others
VHS / DVD
External Links