New user registrations have been disabled until further notice. If you would like to create an account, please message
Generasia on Facebook
. Thank you!
Uchiumi Kouji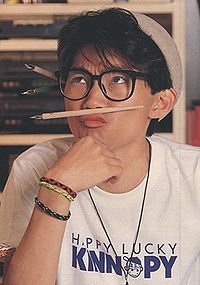 Uchiumi Kouji is a member of Johnny's Entertainment, who was active as a member of Hikaru GENJI from 1987 to 1995.
Profile
Name: Uchiumi Kouji (内海光司)
Birthdate: 1968-01-11
Birthplace: Arakawa-ku, Tokyo, Japan
Nickname: Kinoppy
Image colour: Dark blue
Blood Type: A
Height: 177cm

History
In his first year of junior high, Uchiumi Kouji and friends went to the "Johnny's Family Club" and asked the staff if he could see the company president (Johnny Kitagawa). That was when he was scouted and joined the company. As a formality, he still passed an audition which he passed with no problems.
In 1987, he debuted as a member of the highly popular Hikaru GENJI, followed by HIKARU GENJI SUPER 5. In 1994, he also collaborated with Akasaka Akira in the group AKIRA & KOHJI and released one single.
Nowadays, he mainly appears in stage plays.
Trivia
Was a fan of special effects programmes, especially the Kamen Rider series.
His nickname came from the anime "Pole no Miracle Daisakusen".
His catch phrase was "Happy Lucky Kinoppy".
Is still good friends with ex-member Morohoshi Kazumi.
Works
Dramas
[1982] Natsu no Ou-sama (夏の王様)
[1983] Dokiri Futago Sensei - Otome Gakuen Danshibu (どっきり双子先生・乙女学園男子部)
[1984] Otome Gakuen Sumireryou (乙女学園すみれ寮)
[1984] Kinyoubi no Tsuma-tachi he II ~ Otoko-tachi yo, Genki Kai? (金曜日の妻たちへII~男たちよ、元気かい?)
[1985] Ki ni Naru Aitsu (気になるあいつ)
[1986] Shin - Necchuu Jidai Sengen (新・熱中時代宣言)
[1987] St.Gekkeiji High School (St.月桂寺HighSchool)
[1988] Wild de Ikou! BORN TO BE WILD (ワイルドで行こう! BORN TO BE WILD)
[????] Hana Moeru Hibi (花燃える日日)
[1989] Meibugyou - Tooyama no Kin-san (名奉行・遠山の金さん)
[1995] Mou Ichido Kazoku (もういちど家族)
Films
[1983] Aitsu to Lullaby (あいつとララバイ)
[1988] Korekara Monogatari Shounen-tachi no Blues (これから物語 少年たちのブルース)
[1988] Fu-Shi-Gi-Na BABY (ふ・し・ぎ・なBABY)
Stageplays
[1985] Musical-Adventure "Za-Sasuke" / Hit-Parade (ミュージカル・アドベンチャー『ザ・サスケ』/ヒット・パレード)
[2007] Kigeki Sakura no Sono (喜劇 桜の園)
[2007] Izumo no Okuni (出雲の阿国)
[2007] Mouse Trap ~Nezumitori~ (マウストラップ~ねずみとり~)
[2007] Family Taisensou ~ Oyaji no Yome-san (ファミリー大戦争~オヤジの嫁さん)