Generasia would not be what it is today without the countless contributions by both staff and members alike! Thank you for all that you do!!
sifow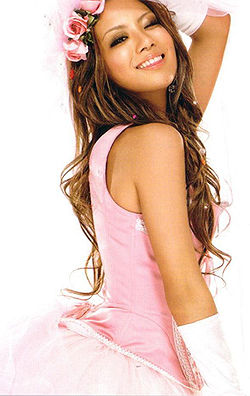 sifow (シーフォウ) is an artist under the avex music label. With her blend of eurobeat and pop, she has proved that you must never judge a person by appearance alone. She also writes her lyrics for her songs.
Profile
Stage Name: sifow (シーフォウ)
Birth Name: Fujita Shiho (藤田志穂)
Date of Birth: May 11, 1985
Blood Type: B
Family: Husband, son
Information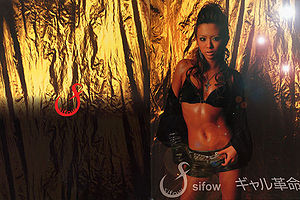 Born in Chiba on May 11, 1985, she attended Risshisha High School, a private education facility based in Tokyo. It was around the time she reached the age of 19 that Fujita realised her public image was affecting her chances in life. As a gyaru (gal), she found that many people failed to take her seriously. Ganguro girls are generally known not to study hard at school and not pursue any goal or career. Their tans pose a significant health risk, specifically to skin cancer. Thus ganguros are usually seen as not caring about their future and only living the moment. For this reason, they are rarely taken seriously by society.
In the beginning of 2005, others said she had a bad image. So she suffered from prejudice and started a blog because of it. She eyed her fashion, conduct and speech because others had doubts about her image. She felt it was unclean and others felt that she was not serious enough about her future. She re-found herself and felt she had resolved it calling it the "Gal Revolution". She cut herself off from society and wrote about her dreams on her blog. She decided she wanted a business and received a lot of support via readers of her blog. At only 19, she managed to make her own little business called "G-Revo". It was a journal of interviews and columns that were positive and served as a shout out to the younger generation, in paticular males. After that she started to model and recieved a lot of exposure. During modeling sifow decided she wanted to be a singer, for it was one of her dreams. She changed her public name to sifow and debuted with her self-produced single I Uta in April of 2005. Due to the growing popularity of her blog, online promotion and sales were established on the site and the limited 2,000 copies sold out in a matter of days. In the following months, sifow released three more singles, all of which sold out thanks to promotion via her blog. Due to her unique style and use of eurobeat blended with "fantasy pop", sifow gained the attention of one of Japan's most recognised labels, avex trax.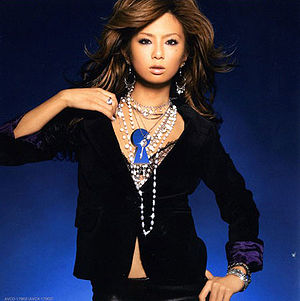 Her first release was her mini album titled & YOU REVOLUTION, released February 15, 2006. Two tracks were new, while the other three were from her previous releases. They were rearranged and rerecorded. sifow also filmed a promotional video for one of her songs from this album, Jewel. It was directed by Takahide Ishii, who also directed Ami Suzuki's "To be Free" and a few EXILE clips. Nonetheless avex seemed to give little promotion to sifow's album and it did not get a lot of attention. That same month, sifow also modeled for Konami's "DDR Strike".
Aside from her musical career, two years after starting her blog, sifow proved that she went against the stereotype bestowed upon gyarus and established her own company in 2006. Conceived as a mere chain of thought on her online blog in January 2005, the idea received a great deal of positive feedback, with several of her readers and friends encouraging her to take action against the prejudices she had faced. "G-Revo" simply meaning Girl Revolution, was essentially a journal of interviews and columns directed at the younger generation and, in particular, young men. The main purpose behind the idea was to establish a "fresh" ideal about the gyaru way of life, mannerisms and feelings regarding society. To illustrate her point, in April, sifow published her first book, "a gal revolution", which was limited to 20,000 copies. Even before its release, the book was already expected to require a reprint series as public demand soared. The book intimately spoke of sifow's life as a gyaru and how she would spend a great deal of time in Shibuya, which is known as one of the fashion centres of Japan, particularly for young people. Perhaps in tribute to her time spent in Shibuya as a young girl, sifow established her own shop, "REVROSSA CLARITY", in May. During that time, sifow made her major debut with the single CLOVER.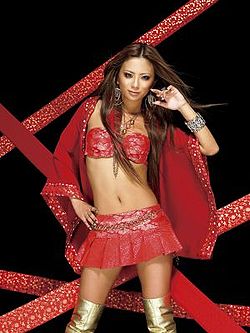 Both songs included in the single were upbeat and invigorating. Her promotional video was filmed in Okinawa and made a strong use of contrasts. In July, sifow released her second single, LOVE & PEACE. Whilst her previous singles maintained a calmer atmosphere, this release displayed a more energetic side of sifow and was used as the ending song for the television programme "SUPOnchu". The following month, sifow held an exclusive live performance for her fans on August 5th and made an appearance at a-nation on August 20th and 27th. In September, she released her debut album, CLAЯITY, and featured very briefly in the Oricon chart.
In 2007, sifow released a new single entitled Carat, and despite being sifow's first single not to rank in Oricon, the songwas widely likened by her fanbase. Unfortunately for the singer, her subsequent releases failed to make the Oricon Top 100. Two months later a new single is released called RULE and did not rank in Oricon. Her 5th avex single, Natsu Hanabi, was released on July 25 and was the ending theme to the TV show co-presented by sifow "DEEP★PARADISE". Next months, she relased her second studio album entitled "Love Spell" and, again, failed to make the Oricon Top 300. Also, in April 2007 it was announced she would be producing the group Gyaruru.
In February 2008, sifow announced on her blog that her music career would be put on hiatus in order to concentrate on opening a school for gyarus in 2010.
Discography
Albums
Mini-Albums
Singles
Video Releases
Compilations / Other
Publications
Books
[2005.08.01] sifow's Gal Revolog|sifow's GAL REVOlog (Book+DVD)
Magazines
[2005.xx.xx] Free Walker Aoyama (Feature)
[2006.08.xx] Gaku Ten (Cover & Feature)
Trivia
Favorite Foods: Ramen, Yakiniku
Skills: Ballet, Plays Trumpet, Kendo
External Links