Generasia would not be what it is today without the countless contributions by both staff and members alike! Thank you for all that you do!!
Main Page
Featured Article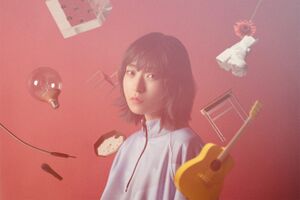 Sayuri (さユり) is a Japanese pop singer-songwriter under Ariola Japan managed by Yamaha Music Artist.
In 6th grade, Sayuri was impressed by the fact that, despite being idols, Kanjani∞ formed a band. They inspired her to take up guitar as a hobby. She began composing music during her second year of junior high school, aspiring to the lyrics and songwriting of Kanjani∞.
Afterward, under the name Asuka, she joined an acoustic duo called LONGTAL based in Fukuoka, she started performing in the streets and live houses of places like Hiroshima, Osaka, and Nagoya. By this time, she had dropped out of high school.
In 2012, as part of LONGTAL, Sayuri was awarded the Grand Prix at the finals of the fifth Music Revolution, a competition sponsored by Yamaha Music. Afterwards, she became active as an indie artist. She adopted the name Sanketsu Shoujo Sayuri (酸欠少女さユり; Hypoxia Girl Sayuri) which is symbolic of her calling herself a 2.5-dimensional parallel singer-songwriter. She usually performs barefoot and in a poncho.
Sayuri moved to Tokyo in 2013. She held her first solo live in March 2015 at Tsutaya O-East in Tokyo. Later that year, Sayuri made her major debut at 18, performing the ending theme song for the anime Ranpo Kitan Game of Laplace, "Mikazuki". Since then, she has given theme songs for the anime Boku Dake ga Inai Machi, Kuzu no Honkai, Fate/EXTRA Last Encore, Boku no Hero Academia, and more. She has also collaborated with artists like Noda Yojiro from RADWIMPS, MY FIRST STORY, and Sawano Hiroyuki.
Her second album, Sanketsu Shoujo, is released this week on August 10th.
Oricon Weekly Rankings (Week 32)
Artist: Johnny's WEST
Single: Hoshi no Ame
Publisher: Johnny's Entertainment
Released: 2022.08.03
Sales: 291,727

| # | Change | Artist | Single | Sales |
| --- | --- | --- | --- | --- |
| 2 | NEW | ≠ME | Su, Suki Janai! | 92,343 |
| 3 | NEW | GENERATIONS from EXILE TRIBE | Chikara no Kagari | 60,055 |
| 4 | NEW | Liella! | WE WILL!! | 13,762 |
| 5 | NEW | Amato Danshi | Baumkuchen | 8,291 |
| 6 | ↓1 | KinKi Kids | Amazing Love | 8,142 |
| 7 | NEW | Mr. LOVER | Endless8 | 6,227 |
| 8 | NEW | ClariS | ALIVE | 5,765 |
| 9 | 9 | Snow Man | Orange kiss | 5,353 |
| 10 | ↓7 | HKT48 | Biisan wa Naze Nakunaru no ka? | 5,190 |