Due to an influx of spam accounts getting through and joining the site, user registrations have once again been disabled until further notice as we work on a different solution.
2AM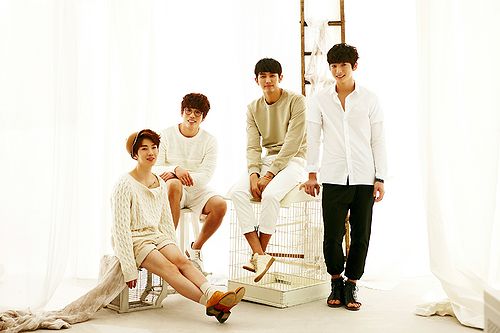 2AM is a four member Korean group that debuted in 2008 under Big Hit Entertainment and JYP Entertainment, and formerly under CUBE Entertainment. In January 2012, they officially debuted in Japan under Sony Music Japan.
Members
Information
2AM, except Lee Changmin who was serving in the military at that time, participated in a TV-Documentary/Reality, M.NET Hot Blood, about the the training of JYP Entertainment trainees to become part of the supergroup "One Day". At the end of the program two smaller groups were formed, 2PM and 2AM, and three trainees were eliminated, one of them being Yoon Doo Joon (now the leader of BEAST) and other one being Jung Jinwoon. Daehun, who was selected as a 2AM member resigned before debuting and finally Jung Jinwoon occupied his place.
The group debuted on July 21, 2008 with the single "Inorae" and made their debut performance in July 11. Six months later 2AM made a comeback with their second single "Time for Confession" on March 19.
Ten months after the release of their second single, 2AM released their first mini-album, Jugeodo Mot Bonae. This mini-album was released under JYP Entertainment although none of the tracks were produced by Park Jin Young. The day after the release it was known that the three songs that Park Jin Young produced, and didn't include in the mini-album, were going to be released in a re-package album. In the end only a new song and a new introduction track was included in the release of Jalmotaesseo, the re-package album, although it also included fourth songs from their two singles. The new song, "Jalmotaesseo", was a change for 2AM style since it was an up-beat track, something that the group had never released before.
In May 2010, 2AM was selected by Sony Music as the representative Asian artist group to be featured on the commemorative album Listen Up! The Official 2010 FIFA World Cup Album (the other Asian artist being Japanese singer MISIA).
Trivia
Official Fanclub: IAm
Official Color: Metallic Grey
Korean Discography
Albums
Mini Albums
Singles
Digital Singles
Video Releases
Compilations / Other
Taiwan Discography
Other Albums
Japanese Discography
Albums
Singles
Digital Singles
Video Releases
Compilations / Other
Commercials/Endorsements
[2008] TBJ (with Wonder Girls)
[2009] TBJ
[2010 - 2011] Jambaengee
[2010 - 2011] Richam
[2010] Pepsi
[2010 - 2011] BHC Chicken
[2010] Lotte Sparkling Tropicana
[2010] Maeil Cafe Latte
[2010] Seoul Metro Ambassador
[2011] Blackberry Cell Phone
[2011] I.myss
Awards
[2008] Cyworld Digital Music Awards: Rookie of the Month (July)
[2008] Asia Song Festival: Rookie Award
[2008] Selected by Ministry of Culture, Sports and Tourism: Rookie of the Month (September)
[2010] Cyworld Digital Music Awards: Song of the Month (February) - "Jugeodo Mot Bonae"
[2010] Gaon Chart Grand Opening Awards: Ringtone Awards - "Jugeodo Mot Bonae"
[2010] Golden Disk Awards: Digital Daesang - Jugeodo Mot Bonae
[2010] Golden Disk Awards: Digital Bonsang - Jugeodo Mot Bonae
[2010] Mnet Asian Music Awards: Best Vocal Performance – Group - Jugeodo Mot Bonae
[2010] Melon Music Awards: Song of the Year - "Jugeodo Mot Bonae"
[2010] Melon Music Awards: Top 10 Artists of the Year
[2010] Melon Music Awards: 2010 T-World Best Song - "Jugeodo Mot Bonae"
[2010] 2010 Korean National Assembly Daesang Awards: Popular Music
[2010] MBC Entertainment Awards: Special Singer
[2010] MNET 20's Choice: 20 Most Fluential Stars
[2010] Dosirak Best Music: Best K-pop Song - "Jugeodo Mot Bonae"
[2010] Dosirak Best Music: Song of the Year - "Jugeodo Mot Bonae"
[2010] Nickelodeon Korea Kids' Choice Awards: Favorite Male Singer
[2011] Seoul Music Awards: Bonsang - Jugeodo Mot Bonae
[2011] Seoul Music Awards: R&B Ballad Award - Jugeodo Mot Bonae
[2011] 2010 Cyworld Digital Music Awards: Song of the Year - "Jugeodo Mot Bonae"
[2011] MNET 20's Choice Awards: Pocari Sweat Hot Balance Star
TV Music Shows
[2010.02.07] Inkigayo #1
[2010.02.25] M! Countdown #1
[2010.03.07] Inkigayo #1
[2010.04.01] M! Countdown #1
[2012.03.23] Music Bank #1
[2012.03.27] Show Champion #1
[2012.03.30] Music Bank #1
[2013.03.22] Music Bank #1
[2013.03.27] Show Champion #1
External Links