New user registrations have been disabled until further notice. If you would like to create an account, please message
Generasia on Facebook
. Thank you!
Bon Voyage (Tokyo Jihen)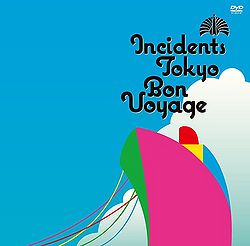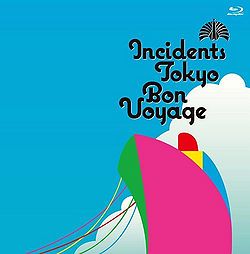 Artist

Video

Bon Voyage

Released

2012.06.13

Catalog Number

TOBF-5737 (DVD)
TOXF-5723 (Blu-ray)

Price

¥4,200 (DVD)
¥5,200 (Blu-ray)

Tracklist
Ikiru (生きる; To Live (Vivre))
Atarashii Bunmei-kaika (新しい文明開化; Brand New Civilization)
Konya wa Kara Sawagi (今夜はから騒ぎ; Beaucoup de Bruit pour Rien)
Season Sayonara シーズンサヨナラ; Season Goodbye (Season SAYONARA))
Carnation [inst.] (カーネーション)
Kaitei ni Sukuu Otoko (海底に巣くう男; The Man Who Haunts the Bottom of the Sea (Regardez-moi))
Kai Horror Dust (怪ホラーダスト; Creepy Horror Dust)
Honto no Tokoro (ほんとのところ; To Tell the Truth)
sa_i_ta (bl_oom_ed)
Noudouteki Sanpunkan (能動的三分間: Three Minutes)
Shuraba (修羅場; The Rat's Nest)
Zettai Zetsumei (絶体絶命; Stalemate (Life May Be Monotonous But the Sun Shines))
Ice Cream no Uta (アイスクリームの歌; Ice Cream Song)
Bonus Stage (from Ice Climber) [inst.] (ボーナスステージ (アイスクライマーより))
Oishii Kisetsu (おいしい季節; The Creamy Season)
Onna no Ko wa Daredemo (女の子は誰でも; A Girl is Anyone (Fly Me to Heaven))
Omatsuri Sawagi (御祭騒ぎ; Festival Uproar)
Tengoku e Youkoso (天国へようこそ; Welcome to Heaven (Where's Heaven))
Time Capsule (タイムカプセル)
Denpa Tsuushin (電波通信; Radio Transmission (Put Your Antenna Up))
Senkou Shoujo (閃光少女; Flash Girl)
Kachiikusa (勝ち戦; Victory (Win Every Fight))
Killer Tune (キラーチューン)
Sora ga Natteiru (空が鳴っている; The Sky is Ringing (The Reverberation))
Marunouchi Sadistic (丸ノ内サディスティック; Marunouchi Sadistic)
Gunjou Biyori (群青日和; Ideal Days for Ultramarine)
Seishun no Mabataki (青春の瞬き; Moment of Youth)
Toumei Ningen (透明人間; Invisible Man)
Information
Bon Voyage is the 11th DVD (seventh live concert DVD) and fourth Blu-ray released by Tokyo Jihen. It features their final concert held at Nippon Budokan on February 29th, 2012. The DVD reached #3 on the Oricon weekly charts and charted for 15 weeks.
External Links