Due to an influx of spam accounts getting through and joining the site, user registrations have once again been disabled until further notice as we work on a different solution.
Prime Time (Tokyo Jihen)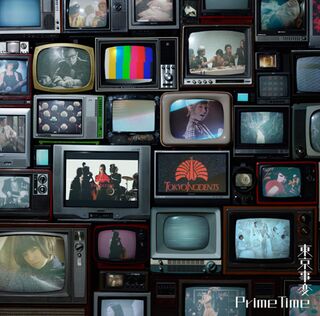 Artist

Blu-ray/DVD

Prime Time

Released

2021.12.22

Catalog Number

UPXH-20110 (Blu-ray)
UPBH-20283~4 (DVD)

Price

¥6,600

Tracklist
Gunjou Biyori (群青日和)
Sono Onna Fushidara ni Tsuki (その淑女(をんな)ふしだらにつき)
Sounan (遭難)
Kurumaya-san (車屋さん)
Service (サービス)
Kabuki (歌舞伎)
Himitsu FOR DJ (秘密 FOR DJ)
Koi wa Maboroshi FOR MUSICIAN (恋は幻 FOR MUSICIAN)
Shuraba (修羅場)
Kenka Joutou (喧嘩上等)
Tasogare Naki FOR MOTHER (黄昏泣き FOR MOTHER)
Killer Tune (キラーチューン)
Senkou Shoujo (閃光少女)
Noudouteki Sanpunkan (能動的三分間)
Kachiikusa (勝ち戦)
Sora ga Natteiru (空が鳴っている)
Atarashii Bunmei-kaika (新しい文明開化)
Onna no Ko wa Daredemo (女の子は誰でも)
Tengoku e Youkoso (天国へようこそ)
Handsome Sugite (ハンサム過ぎて)
Konya wa Kara Sawagi (今夜はから騒ぎ)
Tadanaranu Kankei (ただならぬ関係)
Eien no Fuzai Shoumei (永遠の不在証明)
Aka no Doumei (赤の同盟)
Ryokushu (緑酒)
Hotoke Dake Toho (仏だけ徒歩)
Bonus Content
Makunouchi Sadistic (幕ノ内サディスティック)
Senkou Shoujo (2013 New Clip) (閃光少女)
Tokyo Jihen Teaser Video ~ "BRAND NEW INCIDENTS ▶2O2O", "Up, up and away!2O2O", "MUSIC" (東京事変ティザー映像)
"2020.7.24 Uruu vision Tokuban News Flash" Screen Video: Boutomin / Erabarezaru Kokumin / Fukushuu / Zettai Zetsumei / Noriki / FOUL (「2O2O.7.24閏vision特番ニュースフラッシュ」スクリーン映像:某都民/選ばれざる国民/復讐/絶体絶命/乗り気/FOUL)
Information
Prime Time is the 15th DVD and eighth Blu-ray released by Tokyo Jihen. it is also their sixth music video collection.
External Links