It is thanks to each and every one of you that has made Generasia the largest resource for Asian media info. To our wonderful contributors, thank you!
FUNKY MONKEY BABYS Best
From generasia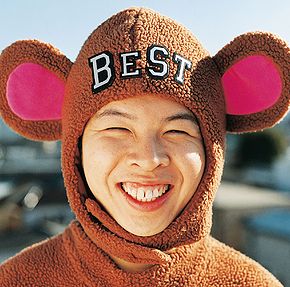 Artist

Album

FUNKY MONKEY BABYS BEST (ファンキーモンキーベイビーズ BEST)

Released

2010.02.10

Catalog Number

MUCD-8013 (Limited Edition)
MUCD-1222 (Regular Edition)

Price

¥3,800 (Limited Edition)
¥3,200 (Regular Edition)

CD Tracklist
DVD Tracklist
Information
FUNKY MONKEY BABYS BEST is the first best album released by FUNKY MONKEY BABYS. It was released in two versions: a regular 2CDs edition spawning all of their singles and some album tracks and a limited edition containing the same as the regular plus a DVD featuring all of the music videos made at this point and footage from their concert on December 26, 2009 in Fukuoka. Both versions came with the download-exclusive track, "Furusato", as a bonus track. The album reached #1 on the Oricon weekly charts and charted for 157 weeks.
Oricon Chart Positions
| Mon | Tue | Wed | Thu | Fri | Sat | Sun | Week Rank | Sales |
| --- | --- | --- | --- | --- | --- | --- | --- | --- |
| - | 1 | 1 | 1 | 1 | 1 | 1 | 1 | 255,376 |
| 1 | 3 | 2 | 2 | 2 | 2 | 2 | 2 | 76,633 |
| 2 | 6 | 4 | 3 | 3 | 2 | 3 | 4 | 39,034 |
| 3 | 11 | 9 | 6 | 4 | 3 | 3 | 5 | 24,436 |
| 4 | 15 | 12 | 11 | 9 | 4 | 3 | 8 | 17,959 |
| 3 | 11 | 12 | 6 | 5 | 5 | 4 | 6 | 16,377 |
| 4 | 20 | 13 | 12 | 10 | 9 | 4 | 11 | 12,982 |
| 5 | 15 | 10 | 6 | 5 | 6 | 6 | 8 | 13,315 |
| 8 | 16 | 11 | 11 | 7 | 7 | 7 | 10 | 8,595 |
| 6 | 6 | 5 | 4 | 4 | 5 | 5 | 5 | 18,454 |
| 7 | 16 | 12 | 11 | 11 | 9 | 7 | 11 | 11,978 |
| 9 | 15 | 11 | 6 | 6 | 5 | 5 | 6 | 10,306 |
| 5 | 5 | 7 | 9 | 7 | 6 | 5 | 5 | 9,033 |
| 6 | 17 | 14 | 12 | 11 | 8 | 8 | 13 | 6,496 |
| 8 | 9 | 8 | 7 | 5 | 6 | 5 | 7 | 9,212 |
| 7 | 25 | 22 | 17 | 14 | 13 | 7 | 14 | 7,323 |
| 7 | 21 | 17 | 15 | 15 | 8 | 9 | 13 | 5,606 |
| 6 | 31 | 29 | 31 | 24 | 28 | 16 | 27 | 4,946 |
| 14 | 25 | 23 | 19 | 17 | 15 | 17 | 21 | 4,472 |
| 14 | - | 46 | 33 | 28 | 24 | 23 | 33 | 3,989 |
| 22 | 42 | 44 | 45 | 33 | 28 | 21 | 35 | 3,333 |
| 30 | - | - | - | 41 | 40 | 32 | 46 | 2,992 |
| 39 | - | 50 | 45 | 38 | 36 | 28 | 45 | 2,606 |
| 28 | - | - | 44 | 43 | 34 | 37 | 43 | 2,608 |
| 33 | - | - | 48 | 37 | 31 | 26 | 48 | 2,830 |
| 26 | - | 44 | 33 | 31 | 23 | 15 | 36 | 3,649 |
| 20 | 31 | 30 | 19 | 17 | 16 | 16 | 20 | 5,299 |
| 17 | 29 | 26 | 23 | 25 | 21 | 22 | 22 | 4,117 |
| 21 | 41 | 33 | 29 | 21 | 22 | 17 | 26 | 3,957 |
| 18 | 36 | 42 | 35 | 28 | 31 | 26 | 32 | 2,916 |
| 26 | - | - | 37 | 38 | 36 | 30 | 38 | 2,415 |
| 39 | - | - | - | - | 40 | 46 | 67 | 1,875 |
| 42 | - | - | - | - | - | 46 | 82 | 1,766 |
| 42 | - | - | - | - | 40 | 37 | 67 | 1,701 |
| 44 | - | - | - | - | 49 | 44 | 73 | 1,484 |
| 45 | - | - | - | - | 45 | 15 | 47 | 1,787 |
| 22 | - | - | 46 | - | 46 | 35 | 55 | 1,896 |
| 40 | - | - | - | - | - | - | 82 | 1,492 |
| - | - | - | - | - | - | - | 85 | 1,482 |
| - | - | - | - | - | - | - | 85 | 1,245 |
| - | - | - | - | - | - | 48 | 92 | 1,242 |
| - | - | - | - | - | - | - | 106 | 1,493 |
| - | - | - | - | - | - | - | 93 | 1,400 |
| - | - | - | - | - | - | - | 113 | 1,496 |
| - | - | - | - | - | 50 | 47 | 84 | 1,904 |
| - | - | - | 45 | 43 | 36 | 38 | 62 | 2,974 |
Total Reported Sales: 733,361*
Total Sales in 2010: 613,603 (#4 album of the year)
Total Sales in 2011: 71,518 (#93 album of the year)

External Links