New user registrations have been disabled until further notice. If you would like to create an account, please message
Generasia on Facebook
. Thank you!
Final Cut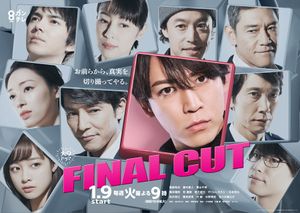 FINAL CUT (ファイナル・カット) is a Fuji TV/KTV TV dorama main-casting Kamenashi Kazuya. It aired between January 9th and March 13th, 2018. It had an average viewership rating of 6.9%.
Synopsis
12 years ago, Nakamura Keisuke's mother was falsely accused for the murder of one of the children at her nursery. While the police investigations began to pick up its pace at the time, one TV show covered the incident making it all seem like she's the actual murderer. Eventually, from all the pressure, his mother commits suicide. This is a story of revenge and pinning down those who had forced his mother into such a unfortunate situation.
Cast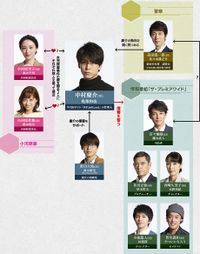 Main Staff
Screenwriter

Kaneko Arisa

Director

Music

Kanno Yugo

Producer

Toyofuku Yoko
Episodes
Episode
Japanese subtitle
Airing date
Director
Rating
01
Haha no tame boku wa terebi ni fukushuu suru
(母のため僕はテレビに復讐する)
2018.01.09
Miyake Yoshishige
7.2%
02
Kesareta mokugeki shougen
(消された目撃証言)
2018.01.16
6.5%
03
Tokudane wa daigohou!?
(特ダネは大誤報!?)
2018.01.23
6.5%
04
Haha wo hannin ni shita otoko
(母を犯人にした男)
2018.01.30
Higurashi Ken
6.5%
05
Giwaku wo shinjitsu ni shita otoko ninki shikai-sha no shoutai!
(疑惑を真実にした男 人気司会者の正体!)
2018.02.06
Miyake Yoshishige
6.7%
06
Aisuruhito he… shinhannin wa, kimi no nii-san da
(愛する人へ… 真犯人は、君の兄さんだ)
2018.02.13
Higurashi Ken
6.8%
07
Shinhannin wa soko ni ita… issen wo koeta yoru!
(真犯人はそこにいた… 一線を越えた夜!)
2018.02.27
Miyake Yoshishige
6.9%
08
Origami ga katatta shinjitsu… aisuru kimi ni fukushuu wo
(折り紙が語った真実… 愛する君に復讐を)
2018.03.06
Higurashi Ken
7.1%
09
"Satsujin-han" no shougeki kokuhaku!?
(殺人犯"の衝撃告白!?)
2018.03.13
Miyake Yoshishige
7.5%
Music
Theme song
Soundtrack
Releases
The dorama was released in a compiled box in both DVD and Blu-ray formats. It was released on August 13th, 2018.
Home-media Releases
Format
Release date
Catalog Number
Price
Oricon Charts
DVD
2018.08.13
TCED-3995
¥22,990
#12 / 3 weeks
Blu-ray
TCBD-0736
¥29,040
#11 / 2 weeks
External Links