New user registrations outside of OpenID have been disabled pending a review of a recent influx of spam accounts. Apologies for any inconvenience this may have caused.
Full Moon wo Sagashite
From generasia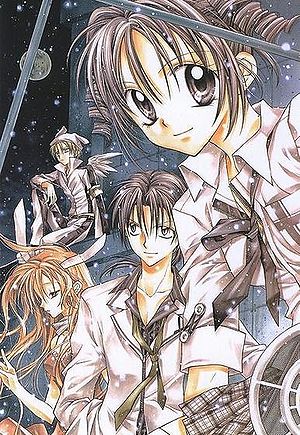 Full Moon wo Sagashite (満月をさがして; Searching for the Full Moon) is a shojo manga created by Tanemura Arina. The series started in the January 2002 issue of Ribon magazine. The series ran for a total of seven volumes and ended it's run in the June 2004 issue of Ribon.
It was such a big hit when released in the magazine that an anime adaptation was created before the manga series was even concluded. Because of this the two stories are quite different. The anime started airing on April 06, 2002 and ran for a total of 52 episodes with the last episode airing on March 29, 2003.
Synopsis
Full Moon wo Sagashite follows the dramatic story of the 12 year old Koyama Mitsuki. Mitsuki loves singing and it is her aspiration to become a famous Japanese pop-star. The only thing stopping her from attempting her dream is a cancerous tumor in her throat and the curable treatment is a surgery that could cost her her vocal chords and her ability to sing. So she refuses the surgery.
After her grandmother rips up her audition application, she meets a pair of comical shinigami (God of Death) named, Takuto and Meroko, who call themselves Negi-Ramen (Onion Ramen). When these two magically pop through her bedroom wall one day, they are shocked to find that Mitsuki can see them. They then realize that she can see them since she is so close to death. They then accidentally inform her that she has only one year left to live. Upon learning this, she decides that she must become a singer right away. So, Takuto grants her a very special power: with just a snap of his fingers, Mitsuki can transform into "Full Moon" a 16-year-old version of herself.
Anime/Manga Differences
Since the anime and manga of Full Moon wo Sagashite were being created at the same time, the stories deviated and became very diferent. One element that seperated the two was the passage of time. Mitsuki has only one year to live, and the story starts at the beginning of that year, and ends around the end of that year. Of course, there are many flashbacks and explanations of past events that have influence on the characters, their lives, and their relationships. This is the case in both the anime and manga. In the manga, things feel somewhat rushed. With the many filler episodes and side stories in the anime, it gives off the feeling of that year passing by, whereas the manga feels as if it covers a much shorter amount of time.
Another large difference between the two is Eichi's story (see characters). In the manga, he dies when his plane to America crashes, and Mitsuki finds out, but blocks the revalation from her mind and goes on believing he is alive. In the anime, Eichi dies in a car crash after he arrives in America, and Mitsuki knows nothing of his death until she is able to travel to America.
Yet another difference regards the character development. In the anime, the audience gets to know the characters, however, in the manga the audience is able to see the characters grow, and much more is learned about their past. Characters such as Meroko and Izumi, whose pasts were not even touched upon in the anime, have their pasts explained.
Lastly, many of the supporting/side characters appearing in the manga do not appear in the anime and vice-versa. The same is true of the side/filler-stories themselves.
Characters
Note: This is not a complete list of the characters
Humans
Koyama Mitsuki (神山満月) / Full Moon: Mitsuki's greatest dream is to be a singer, so she can be reunited with her lost love, Eichi. She is kind, strong, mature, and maybe a little confused. As her manager says, "Mitsuki is a pure girl. She has all the qualities a girl needs to be happy." She may seem like a very typical shoujo manga character, but she displays very real emotions throughout the story. As she struggles to live in a world that seems to have taken everything from her, she continues to smile and help those around her. Both of her parents are deceased. Tanemura Arina has stated that Mitsuki is a character she can't understand, and that she is most like Madoka. She is voiced by myco.
Oshige Masami (大重正実): Oshige is Mitsuki/Full Moon's loyal manager throught her musical career. She feels alot of motherly feelings towards Mitsuki. In the anime, she states that she wants to protects Mitsuki, and support her not only as a singer, but as a girl as well.
Wakaouji Keiichi (若王子圭一): Keiichi starts out in the series as Mitsuki's doctor, and later comes in to produce for her during her musical career. He was a friend of her late father, and former keyboardist of the super-popular band "Route:L", which Mitsuki's father was also a member of. She is voiced by Seo Tomomi.
Sakurai Eichi (桜井英知): Eichi lived in the same orphanage as Mitsuki. The two were very close, and he confessed his love to her. However, shortly after, he was adopted and went to America with his new parents. Mitsuki never had a chance to answer him, and though she really loves him, she hasn't heard from him since. He is voiced by Kimura Ryohei
Shinigami
Takuto Kira (タクト・キラ): Takuto is the shinigami assigned to take Mitsuki's soul when it is time for her to die. Although he acts cold and tough, he has a soft spot for Mitsuki, and he violates the laws of the shinigami in order to help her. He is voiced by Sakurazuka Yakkun.
Meroko Yui (めろこ・ユイ): Meroko is Takuto's partner, and a typical girly-girl character. She might fall in love easily, but she is serious about it. She has her doubts about Mitsuki, and sometimes even turns against her (more so in the manga), but really she cares deeply for Mitsuki. Like other shinigami in the story, she regards Mitsuki as a sort of light in the darkness. She is the type to make mistakes often, and regret them, and she somtimes comes off as mean or self-centered, but she is truly kind at heart. She is voiced by Honda Chieko.
Izumi Rio (いずみ・リオ): Izumi is a very mistrusting person. When he was a human, his mother abused him and he knew no love. Early on as a shinigami, he was Meroko's partner. She confessed her love to him many times, however he could not find it in himself to trust a person's emotions, which he felt to be temporary and insecure. When Meroko, after moving on to Takuto, calls for his help, he's returns and begins to aim to win Meroko back at any cost. After getting to know Mitsuki, he also harbors an intense desire to protect her. He is voiced by Ogata Megumi.
Music
The music for Full Moon wo Sagashite was produced by Toshiba EMI. The opening theme song were performed by female lead Japanese rock band, THE★SCANTY, whom also breifly appear as animated characters in the anime version. The series also worked closely with the pop group, Changin' My Life, which is head by Koyama Mitsuki's seiyuu myco They performed several songs for the series that were used as the songs that Full Moon writes and sings during her musical career, the song also have significant lyrics, especially in the context of the series.
Opening themes
Ending themes
Insert Songs
Discography
Albums
Singles
Tankobon
Japan
[2002.06.14] Volume One
[2002.10.15] Volume Two
[2003.03.14] Volume Three
[2003.08.08] Volume Four
[2004.01.15] Volume Five
[2004.06.15] Volume Six
[2004.06.15] Volume Seven
External Links