It is thanks to each and every one of you that has made Generasia the largest resource for Asian media info. To our wonderful contributors, thank you!
Kishimoto Hayami
From generasia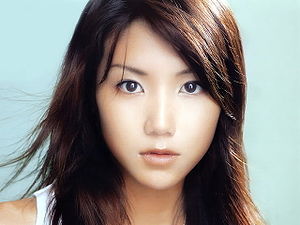 Kishimoto Hayami was a Japanese pop singer and dancer under the GIZA studio label. She debuted in 2003 with the single "MeiQ!?-Meikyuu-MAKE★YOU". The PVs for her songs show off her jazz- and hip-hop influenced dance skills.
Profile
Stage Name: Kishimoto Hayami (岸本早未)
Nicknames: Hayamin, Haya
Real Name: Kishimoto Miwako (岸本美和子)
Birthdate: June 25, 1987
Blood Type: A
Height: 174 cm
Favorite Artists: Britney Spears, Christina Milian, Destiny's Child, Lil' Kim, Janet Jackson
Favorite Clothing: B-STYLE
Favorite Color: Pink
Information
Hayami started dancing while in her fifth year of elementary school at the age of ten. She became interested in it thanks to the influence of her older sister. Soon after she started her dance lessons she started taking voice training lessons to learn how to sing. She took lessons in the jazz, hip-hop, lock, and and house styles of dance, and later mentioned that she liked jazz the best.
In October 2002 she auditioned at "GIZA studio PRESENTS "DIG STAR"" and won. On her sixteenth birthday she released her debut single, "MeiQ!?-Meikyuu-MAKE★YOU". The song was used as the opening theme for the anime Tantei Gakuen Q. She soon then released her debut album ("Meikyuu") less then three months later. Hayami began writing her own lyrics at this time. She wrote one song ("記憶") for her debut album, and wrote 2 B-sides for each of her singles up until "Dessert Days". Starting with her "Yume Real" single, Hayami has written all of her own lyrics, with the exception of a few on her "JUICY" album.
Hayami has continued to release music. Starting in November of 2003 she released "Mienai Story" and released four more singles and her second album "JUICY" all in the time span of a year.
After that, her releases became much more inconsistent. She only released one single, ("JUMP!NG↑GO☆LET'S GO⇒") in 2005, and a year later released another single, ("PEACH:LIME//SHAKE"), which was followed by the release of her "LOVE DROPS" mini-album. A month after the mini-album was released, Hayami came back with the singles "Go! MY HEAVEN" and "See you Darling," the latter of which which was released in February 2007.
She mentioned in her blog entries in early 2008 that she was still writing and recording songs, but there was no announcement or further information on them until a live performance in March of that year. She performed four unreleased songs: "Body ship," "DARK WHITE," "RETURN or RUN," and "DIG WAY." This performance would be the last live performance of her singing career, so the songs were never released before the termination of her singing career later in 2008. She stopped updating her blog, and the end of her contract was later confirmed. She is no longer listed on GIZA Studio's official website, and her official site was eventually deleted.
For a while, she worked as a manager at a clothing store in Osaka, updating a promotional blog for the store assisted by other staff members. She attended Osaka Seikei College and graduated with a Life Design major. She now has a blog and Instagram under her real name, Miwako Kishimoto, where she promotes various fashion design and brands that she works with. She will occasionally post karaoke videos on her Instagram as well.
Discography
Albums
Mini-Album
Singles
Other DVDs
Compilations / Other
External Links