Due to an influx of spam accounts getting through and joining the site, user registrations have once again been disabled until further notice as we work on a different solution.
Senritsu Kanano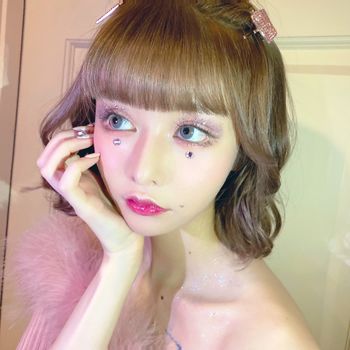 Senritsu Kanano (戦慄かなの) is a Japanese idol and is currently a member of duo femme fatale and group Chibanyan Jihen (Kakko Kari).
Profile
Information
Kanano didn't have a easy childhood. Neglected by her mother, her father divorced, and in junior high school bullied up to a point where she tried to commit suicide. She fell into the wrong crowd of friends and the results were several arrests. Because no one could stop her rebellious behavior, she was sent to a women's juvenile training school for almost 2 years. This school changed her life. She started working as a clerk at a pharmacy, but quit after a few month. Around that time she came up with the idea of becoming an idol. Someone from a entertainment agency contacted her through Twitter after seeing a dancing video of her. She was invited to an event, and her popularity on Twitter started to grow. Within this time, another person asked her to be part of the group No Plan. Her activities with the group, however, weren't for long, only lasting for half a year. One of the reasons was her application for the audition of Miss iD 2018. She didn't win the audition, but got a Miss iD2018 Survival Award for her life story. After that, she went back to a life outside of the idol world for a couple of months. Within this time, she organized crowdfunding for childcare, which reached 3.53 million yen. In 2019, she became the representative director of a non-profit organization for this cause.
During 2018, Oomori Seiko chose her to be part of a new girl group. Kanano was, for the next 2 years, part of ZOC. With her sister, Tonchiki Sakina, she started a new idol group, femme fatale, in 2018. Not being able to do much with the group due to her work with ZOC, she had to decide what was best for her. Her contract with ZOC ended in 2020 due to a "possibility of interfering with compliance in line with our management philosophy". Since then, she has collaborated with YouTubers and other underground musicians. At the end of November there was a hack attack on her SNS. Twitter and Instagram as well as the group pages have been deleted. On the femme fatale Twitter Site the hacker wrote in the Bio, that they only answer the Miss ID Girls.
Discography
Compilations/Other
External Links