It is thanks to each and every one of you that has made Generasia the largest resource for Asian media info. To our wonderful contributors, thank you!
TAKERU
From generasia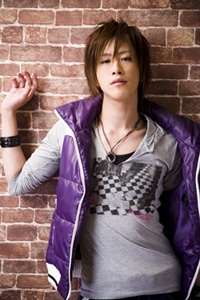 TAKERU (タケル) is a Japanese pop musician, stage actor, and voice actor. His first foray in the entertainment world was in November of 2005 when he entered JUNON's 18th "JUNON SUBERBOY CONTEST". He won the judge's special prize award in the Rock Boy category. After the contest he was signed to one of the judges', Tsunku, production company TNX and indies label Good Factory Record. Since early 2008 TAKERU's focus has been with his group TAKERU SOLDIERS with former visual-kei band Bergerac guitarist Kazuki.
Profile
Real Name: Mukaitsubo Takeru (向坪健)
Stage Name: TAKERU (タケル)
Nickname: TAKERU CHAMP
Birth Date: July 8, 1985
Birth Place: Kagoshima Prefecture, Japan
Blood Type: O
Height: 182cm (5'11½")
Weight: 62kg (136lbs)
Hobbies: Watching Movies
Skills: Drawing Pictures
Favorite Color: Black
Favorite Brand: HARE
Favorite Things: Babystar Ramen, Tomato Juice, Frozen Meats
Dislikes: The Sound of Breaker Switches, Bills
Biography
When he was 20 years old, TAKERU entered into the 18th "JUNON SUBERBOY CONTEST" on November 7th, 2005. The contest is sponsored by JUNON magazine and is held every year since 1988. The judges for the 18th contest was: actress Darvish Saeko, comedians Morisanchuu, TV producer Ochi Masato, and Tsunku. TAKERU was in the Rock Boy category which was in its second year. He didn't win, but was awarded with the judges' special prize award along with Kobayashi Gou. The winner, Kurei Soushi, would also in the future be signed with TNX and Good Factory Record.
Soon after the contest TAKERU signed with Tsunku's production company TNX along with the indies label Good Factory Record. His first and only release through Good Factory Record was his mini-album TAKERU Dake ni Ai wo, which was released on June 19th, 2007. The title is a pun on the phrase "Kimi Dake ni Ai wo" which means Love for Only You, "Kimi Dake ni Ai wo" is also a track on the mini-album. He wouldn't release anymore material through that label, but would still be managed by TNX.
In March of 2008 he opened the official website for his pop rock group TAKERU SOLDIERS. At this time they were a session band, with live support members active in the visual-kei scene. Their debut single "3 minutes venus" was released on May 28th, 2008. At the CD release in-store events on June 21st and 22nd it was announced that Kazuki (ex-Bergerac) was joining as an official member and they would become an official group. As an official band, the previous support members left and they acquired two new support members.
On July 31st, 2008 TAKERU was featured in the Nintendo DS rhythm game Rhythm Tengoku Gold, where he contributed the song "That's Paradise". The game was developed by both Nintendo and TNX and features music by other TNX artists such as THE Possible and Canary Club. The soundtrack compilation for both Rhythm Tengoku Gold and its prequel Rhythm Tengoku was released three months later as Rhythm Tengoku Zenkyoku Shuu.
The international edition of Rhythm Tengoku Gold, called Rhythm Heaven (in North America) and Rhythm Paradise (In Europe) was released on: April 5th, 2009 N.A., May 1st, 2009 EUR, and June 4th, 2009 AUS. The compilation sountrack for Tengoku Rhythm Gold feauring all the songs in all the languages (Japanese, English, German, French, Spanish, and Italian) was released a year after the last sountrack as Rhythm Tengoku Gold Kokunai-ban Kaigai-ban Zen Vocal Shuu on July 29th, 2009.
TAKERU had also in 2009 voiced the character LUKE ROCKWELL in the PS2 romance adventure game Lucian Bee's RESURRECTION SUPERNOVA, which was released on July 30th, 2009. The game was developed by HuneX and was manufactured by 5pb.Games. A character single as LUKE was released three months later on the 21st called "Ai no Tame ni Tatakaou! -love future-", this was released through 5pb.Records. Two more Lucian Bee's games titled EVIL VIOLET and JUSTICE YELLOW were released in Japan on May 20th, 2010, with TAKERU reprising his role as LUKE.
Discography
Mini-Albums
Character Singles
Compilations / Collaborations
Other Works
Stage Performances
NEKOMECLUB (猫目倶楽部) - 2008.11.27~30
KURA-POP (猫目倶楽部) - 2009.08.26~30
Seiyuu Roles
[2009.07.30] Lucian Bee's RESURRECTION SUPERNOVA - as LUKE
[2010.05.20] Lucian Bee's EVIL VIOLET - as LUKE
[2010.05.20] Lucian Bee's JUSTICE YELLOW - as LUKE
External Links