New user registrations have been disabled until further notice. If you would like to create an account, please message
Generasia on Facebook
. Thank you!
Wada Akiko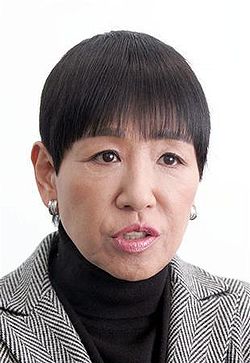 Wada Akiko (和田アキ子) is a Japanese singer, comedienne, and radio personality under the label Teichiku Records.
Profile
Korean Name: Gim Bokja (김복자)
Real Name: Iizuka Akiko (飯塚現子)
Nicknames: Akko (アッコ), Jotei, God Nechan (ゴッド姉ちゃん), Akkochan (アッコちゃん), Ako (アコ)
Birthdate: April 10, 1950
Birthplace: Osaka Prefecture, Japan
Height: 174 cm
Debut: October 25, 1968
Information
Wada Akiko got her start by singing at tea houses in the 60s after dropping out high school. One day, Horipro director Hori Takeo spotted Wada at a tea house for her height and singing voice and invited to the office for a contract.
She debuted as a singer with the single Hoshizora no Kodoku in 1968. Her aim during that time to be a Japanese-made Rhythms and Blues Queen. She became quickly a hit after her second single, Doshaburi no Ame no Naka de, topped the Oricon charts. The next year, she made her first appearance on the end of the program Kouhaku Uta Gaseen with the single, Waratte Yurushite. Wada has appeared on Kouhaku Utagseen even since 1970 and has been on the program 32 times. She also been the leader of the red team in 1997. She also made her first acting appearance in the movie Onna Banchou Noraneko Rock in the same year. And then, two years later in 1972, she finally won the Best Song Award at the Japan Record Awards for the single Ano Kane wo Narasu no wa Anata.
In 1973, she started to appear in various variety shows like Kinyou 10ji! Uwasa no Channel, where she earned the nickname God Nechan. Twelve years later, she would start her own variety show Akko ni Omakase!, which still on television and going strong today.
Wada later on collaborated with the R&B group m-flo for the song HEY!! in 2005. The single broke the top 10 on the Oricon charts and garnered Wada's first appearance on the white team of that year's Kouhaku Utagassen. In 2007, she opened her first produced restaurant Wada Ie in Tokyo and Shinjuku. Then three years later, Wada performed at the Apollo Theater in New York City to celebrate her forty years in being in show business.
Facts
1968 was the year when she debuted professionally as a singer
Loves Ray Charles
Is a foster parent
Owns a race horse
Loves playing pachinko
Does not like Japanese politics
Once when she was young, she went into a Luis Vuitton store in Paris and the owner told her that she should wait a few more years because she was too young. "Well, today, it's all different. Japan got rich too quickly. We are the No. 1 consumer of Louis Vuitton. Japanese girls buy these bags, thinking it makes them classy or like celebrities, when in reality, they are far from it."
Charity
As a victim of ovarian cancer, Wada was never able to have children. Due to this, she has become a foster parent to Filipino children. She explained that she doesn't want her name to be displayed everywhere but she does try to do her part.
Quotes
"I wish people wouldn't judge each other on physical appearance. I don't care if you are skinny, fat, big or whatever. We should all get along."
"There was no artist like me in Japan before, so I guess fans thought I was cool, honest and refreshing. That's one reason why I keep my hairstyle the way it is. Too many women in Japan look alike, with the same hairstyle and clothing. I like to express my individuality."
"Ray Charles experienced a lot of injustice as a black and blind man. I identify with him, perhaps, because I went through a similar experience being bullied. When I was in junior high school, he was the first black guy with sunglasses that I saw. I asked someone who he was and I felt I should help him, so I bought eight of his records for ¥270 each."
On Ray Charles: "He is my god. I met him many times and I cried so much when he died. Last year my mother died and the year before that, my father died. But I didn't cry for them as much as I did for Ray Charles. My apartment is full of his photographs. When I get up, I wish him good morning and when I go to bed, I bid him good night."
On Japanese Politics: "I'm embarrassed by Japanese politics. We never pick the right people. We often pick celebrities or athletes, never based on whether they have Japan's best interests at heart. There are too many useless politicians here."
Discography
Albums
Best Albums
Live Albums
Singles
Compilations / Other
DVDs
External Links