Due to an influx of spam accounts getting through and joining the site, user registrations have once again been disabled until further notice as we work on a different solution.
Z-Pop School: A to Z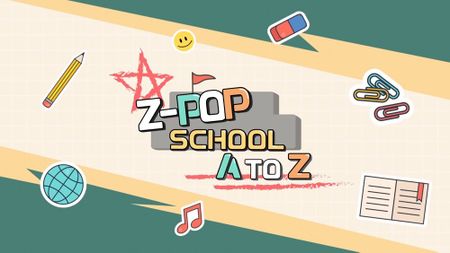 Episodes (Z-BOYS)
1: First Day of School (feat. VAV)
2: Variety Shows, Let's Go!
[2019.01.24] - B Team, Roy, Josh, and Mavin, were assigned to variety training. The group plays three games, with 1st place being treated to a full meal at Yoojung restaurant, 2nd place to an SBS Inkigayo sandwich, and 3rd a diet meal of girl groups. Roy came in 1st place winning the ping-pong ball dance and the toy hammer game, Josh came in second winning the mystery box game, and Mavin came in 3rd.
3: New Year, New Me
[2019.02.05] - The boys learn Korean culture, trying on traditional Korean clothing and learning the sabae new year ritual bow.
4: My Heart Flutters! (Seol-rae!)
[2019.02.07] - Continuing with Korean culture, the boys use various ingredients to make mandu. Zenith Media Contents' CEO Kang Jun joins them and they show off their creations and bowing. Later, they go to MBC TV station to watch K-Pop idols perform. They meet with idols ATEEZ and Chungha backstage.
5: Last Episode
[2019.02.19] - The boys randomly choose a member to buy a gift for and go shopping. They have a pre-debut celebration dinner after which they exchange their gifts.
Episodes (Z-GIRLS)
1: We Want to Meet DIA!
2: A Day with DIA
[2019.02.14] - Bell, Joanne, and Carlyn meet DIA, who give them various K-Pop lessons, including "girl group one-shot" tips on facial expressions for close-ups, "special skill", and "special lecture" where the girls got to ask the group questions.
3: Let's Take Over Hongdae!
[2019.02.18] - The members create their own banners and promote their busking in Hongdae.
4: Busking at Hongdae
[2019.02.20] - The girls do busking in Hongdae, which includes dancing to Meghan Trainor's "Me Too", singing a Vanya-penned song, and Carlyn singing Beyonce's "Listen".
5: Last Episode
[2019.02.22] - The girls hold a pre-debut celebration.
External Links