New user registrations have been disabled until further notice. If you would like to create an account, please message
Generasia on Facebook
. Thank you!
generasia:Featured article for 2020 week 26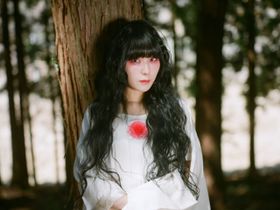 DAOKO (だをこ) is a Japanese pop singer from Tokyo. She first made her debut posting rap music on Nico Nico Douga and was later signed to the indie label LOW HIGH WHO? PRODUCTION in 2012. For the first few years of her career DAOKO had to keep her face hidden, seeing as her school had a strict policy about their students being part of the entertainment industry. Her first activity as an artist under LOW HIGH WHO? was to provide backup vocals for labelmate Fukashigi/wonderboy's 2012 song "Sekai Seifuku Yameta". Her debut EP, Shoki Shojo, was released a few weeks later as a free download from LOW HIGH WHO?'s website. Her first full-length album, Hyper Girl -Mukougawa no Onna no Ko- dropped in December 2012.
☆Taku Takahashi of m-flo liked her music, which led to m-flo collaborating with her in the song "IRONY" in September of 2013. It was then used as the theme song for the movie Taka no Tsume GO Utsukushiki Elleair Shoushuu Plus. In 2014, she caught the eye of film director Nakajima Tetsuya, and her song "Fog" (originally included in her debut full-length album) was used in his film Kawaki. In April, fellow LOW HIGH WHO? artist Paranel released his Time Limit Parade album, on which DAOKO provided some backing vocals for one song. In November, she worked with TeddyLoid to provide the song ME!ME!ME! for Studio Khara and Hideaki Anno's video series entry into the Japan Animator Expo, and attracted a great deal of attention worldwide. Then, on Christmas Eve, she released her third EP, Kireigoto EP. All the songs on the EP were written and produced in collaboration with koducer.
In 2015, she signed to with the label major TOY'S FACTORY. Since graduating from school, DAOKO has been showing her face starting with her 2015 single "ShibuyaK / Samishii Kamisama". That same year, DAOKO was nominated for "Next Break Artist" at the 2015 MTV Video Music Awards Japan. In January 2016, she went on her first tour, called "DAOKO THE FIRST TOUR". On August 14th, she appeared on the Amazon streaming series "Invisible Tokyo", speaking openly about her connection to music and her struggles as a human.
In 2018, DAOKO was nominated for and won "Song of the Year" for her song "Uchiage Hanabi" and "Best Breakthrough Artist" at the Space Shower Music Awards.
Her seventh studio album, anima, is released digitally this week on June 24th.