Due to an influx of spam accounts getting through and joining the site, user registrations have once again been disabled until further notice as we work on a different solution.
the brilliant green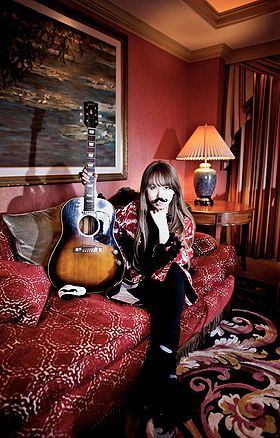 the brilliant green (ザ・ブリリアント・グリーン; Also known as BuriGuri) is a Japanese alternative rock band from Kyoto that formed in 1995. Their major debut single under Sony Music Entertainement, "Bye Bye Mr. Mug", was released in 1997. The band are most famous for their singles "There will be love there -Ai no Aru Basho-" (dorama Love Again's theme song), "Tsumetai Hana" and "Sono Speed de" (dorama Over Time theme song). In 2001, the brilliant green were named in Time Magazine's '10 Best Bands on Planet Earth' article, alongside Radiohead and U2. All of the brilliant green's songs feature lyrics from Kawase Tomoko, while the majority songs (including all single A-sides) were composed by Okuda Shunsaku, Matsui Ryo composed the rest of the songs. Vocalist Kawase Tomoko has also released solo work under the pseudonyms Tommy february6 and Tommy heavenly6. In 2008, their contract with Sony Music Entertainment ended, and on December 1, 2009, the band announced that they had signed with Warner Music Japan.
Members
Former Member
Information
Pre-Brilliant Green
Okuda Shunsaku was first part of a band in junior high school; he was the bassist of a RED WARRIORS cover band that was formed with his friends. Matsui Ryo was also in a junior high school band (they went to different schools in Kyoto) that covered songs from such artists as the Sex Pistols and the Stray Cats. Matsui was the vocalist for this band. The pair first met up as they happened to have a few friends in common, and later became stronger friends as they went to the same senior high school. After leaving high school (Okuda to a music school, Matsui to a design school) they lost contact, however when they decided to meet up later Okuda was invited to be part of Matsui's band. Influences by Western artists, the band started to compose their own music.
In the summer of 1994, Okuda and Matsui met Kawase Tomoko. They saw a poster in a music store advertising that new members were needed for Kawase's band. This was a band that Kawase had been the vocalist for since the start of senior high school; they covered such artists as The Flipper's Guitar and Pizzicato Five. They went to see Kawase perform at a live house in central Kyoto and decided that Kawase was the perfect vocalist for their band. They invited her to join, and in March of 1995 the band first formed. Immediately after they formed the band started to create demo tapes. They disbanded their other bands to focus working on the brilliant green. Kawase's first recording was a cover of The Cardigans' song Rise & Shine. Kawase was asked to write the lyrics to the band's songs in English.
Only two months after they first formed, at a guitar pop event a scout from Sony Records saw the potential in the band and scouted them. For two years, the band continued to train up, and finally in mid 1997 debuted under Sony Records.
Major Debut
In 1997 the band released two four-tracked singles, "Bye Bye Mr. Mug" in September and "goodbye and good luck" in December. Both singles featured all their tracks in English, and did not gain much attention (both singles reached around the #70 mark on the charts). However, in April 1998 the drama Love Again started to air, with the band's new song "There will be love there -Ai no Aru Basho-" used as its theme song. When it was released later in mid-May, it struck #14 (the band's first top 20). However, as the drama was still airing during this time, the single gained in popularity, and five weeks after its first release reached the #1 position.
The band sky-rocketed to fame. This is most illustrated by the band's fourth single "Tsumetai Hana", debuting at #1 on the charts despite only having a minor tie-up of being the late night music show CDTV's opening song. Following up these singles, the band's self-titled debut album was dropped in September, debuting at #2 (under the hyper-popular rock duo B'z's first 'best of' album). Interestingly, the songs of the band's first two singles did not appear on this album. The album would eventually sell over 1,400,000 copies by the time it finished charting.
the brilliant green bounced back in early 1999 with another song for a popular drama, "Sono Speed de" for the drama Over Time, grabbing #1. An insert song also by the brilliant green that was featured in the drama, "Nagai Tameiki no You ni", was released later on, however did not match the success of the band's previous singles.
The band toured extensively in 1999 with several groups of concerts under the name There will be live there. In late 1999, the band followed up their debut album with a second TERRA2001 (with the lead-up single being "Ai no♥Ai no Hoshi").
Several weeks after the album was released, a recut single "CALL MY NAME" was released, featuring a Japanese version of the English song from TERRA2001 on it. This single was the first since their popularity boom not to reach the top 10 or sell over 100,000 copies. Also released as a recut single from the album was BYE! MY BOY!, during while the band were on tour.
The band returned to prominence in 2000 with the single "Hello Another Way -Sorezore no Basho-", and yet another drama tie-up single (Manatsu no Merry Christmas' theme song) "angel song -Eve no Kane-", finishing off with a third album, Los Angeles, released on New Year's day.
Solo Project, Continued Work
The band went on hiatus in March 2001 so that Kawase could start her own solo project under the persona Tommy february6. This persona was an innocent character who wore bright red glasses and released '80s-style synth pop, in comparison with The Brilliant Green's usual downbeat rock music. Her debut single "EVERYDAY AT THE BUS STOP", was a carefree cheerleader-influenced song that sold over 100,000 copies. After a further two similarly themed singles, Tommy february6's debut self-titled album debuted at #1 and sold more than double the copies that Los Angeles had.
The band returned two months after the solo album had been dropped, with yet another drama tie-up single "Forever to me ~Owari Naki Kanashimi~" (dorama Nemurenu Yoru wo Daite's theme song). However, it was clear from sales that the band's popularity was dropping off significantly. The band's fourth album THE WINTER ALBUM, did not even sell more than 100,000 copies.
Hiatus, Return
After the release of this album, the band went on an unexplained hiatus. Kawase started releasing music under her Tommy february6 moniker again (including releases under a new stage name, the more rocky Tommy heavenly6). During the hiatus, the members got married. Matsui got married to a designer of silver jewellery on July 29, 2003, and on November 23, 2003, bandmates Kawase and Okuda married each other.
Matsui started a solo project in 2004, under the name Meister (featuring collaborations with such artists as BONNIE PINK).
In 2007, the band made a comeback for their 10th anniversary. During Kawase's Heavy Starry Tour '07, her bandmates were featured as support members, prompting rumors among fans. Their come-back single, titled "Stand by me", was used as the ending theme song for the drama Tantei Gakuen Q that began airing July 3, 2007. On December 12, 2007 their sixteenth single "Enemy" was released. Another single, titled "Ash Like Snow", was used as the second opening theme song for the anime Mobile Suit Gundam 00. On February 20, 2008 the band will release a best album and best DVD featuring not only their older material but these three new songs.
In 2009, it was announced that the brilliant green's contract with Sony Music Entertainment ended along with Kawase. In the same year, they singed to Warner Music Japan. In 2010, they made their comeback to the music scene after a short hiatus since their best album in February 2008 with the single "LIKE YESTERDAY". On May 11, 2010, Matsui Ryo left the group and did not reveal the reasons for his departure.
Discography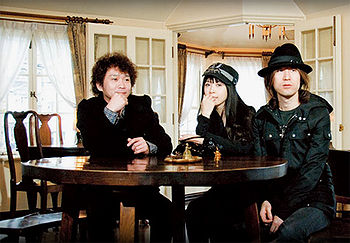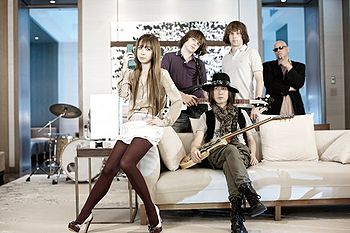 Albums
Best Albums
Cover Albums
Singles
Digital Singles
Video Releases
Compilations / Other
External Links