Welcome to the
new Generasia
, now with new features and a mobile-friendly browsing experience. Be sure to check out our
Facebook page
for the latest changes and to interact with thousands of fans worldwide just like you!
Oku Manami
From generasia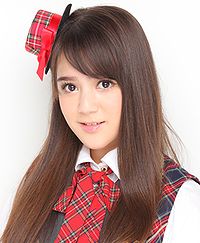 Oku Manami was a Japanese idol singer. She graduated from AKB48's Team B on April 8th, 2011.
Profile
Name: Oku Manami (奥真奈美)
Nickname: Maachan (まぁちゃん), Manamana (まなまな)
Birthdate: November 22nd, 1995
Blood Type: A
Likes: Horror movies
Height: 153.5 cm (5'0")
Bust: 81 cm
Waist: 60 cm
Hips: 87 cm
Agency: office48
Units:
Single Participation
Discography
[2010.05.12] Katatsumuri (かたつむり) (Released as 'Ogu Manami')
AKB48 Singles
Senbatsu
Other
Other Singles
Stage Units
Works
Modeling
[2008.02 - ] Little Miss Matched image model
Magazines (solo)
[2008] Playboy - Hatsu Natsu (U-15 special edition)
[2008.10] Hina Musume (as Cover Girl)
TV
Appeared in Karada de Asobo with Honegumi members.
Dramas
Trivia
She is half Japanese (Mother) half Italian (Father).
Says "I'm sorry" often.
Good friends with Noro Kayo.
Used to often practice dancing with Umeda Ayaka and Noro Kayo at the backstage.
Her favorite actress is Ayase Haruka.
She is very friendly at the backstage while reserved on the stage, but recently she has improved.
Likes scary stories even if that will make her cry.
Seems close with Ono Erena since their audition.
Originally a member of Team K, she was moved to Team B after the team shuffle.
External Links