Gips (Shiina Ringo)
From generasia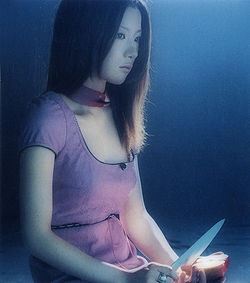 Artist

Single

Gips (ギブス)

Released

2000.01.26

Catalog Number

TOCT-22051

Price

¥1,200

Tracklist
Gips (ギブス; Plaster Cast)
Tokyo no Hito (東京の女(ひと); Tokyo Woman)
Information
"Gips" is Shiina Ringo's fifth-equal single. It was released at the same time as her other fifth-equal single, "Tsumi to Batsu". The B-side "Tokyo no Hito" is a cover of the 1970 song of the same title by The Peanuts. Gips reached #3 in Oricon charts (one place above "Tsumi to Batsu") and charted for 12 weeks. Gips sold 714,240 units in Japan, becoming the #27 single of 2000.
The single has an internal symmetry it shares with "Tsumi to Batsu": the single starts with a three kana song, then is followed by a cover song, then ends with a song sung in English. Similarly, a song on each single also features a famous guest artist (on "Σ" Tabuchi Hisako of Number Girl and moOog of Buffalo Daughter are featured, while Asai Kenichi of BLANKEY JET CITY is featured on "Tsumi to Batsu").
The first line of the chorus is written not as I wanna be with you as you would assume, but as "i 罠 Β wiθ u"; where 罠 is the kanji for 'trap' (and is pronounced wana), and both Β and θ are Greek letters (pronounced B and TH respectively). In the song lyrics there is also a reference to Nirvana vocalist Kurt Cobain ("Because you're like Kurt, so wouldn't that make me Courtney?"). Interestingly, this is not because she liked Nirvana (in fact in interviews she said that she did not really like the band), but because the boy the song is written for liked the band.
"Gips" was featured as one of Shiina's demo recordings, however titled Don't You Think?.
Song Information
Lyrics

Music

Other Information
Music Video
The PV for "Gips" was directed by Banba Shuichi. It features Shiina performing with a band in a morbidly coloured graveyard. Occasionally neon static flashes grace the screen. Occasionally Shiina is shown through in a room with the skull of an animal through a brown filter. In several scenes a girl dressed in a traditional kyoukatabira (経帷子) (Edo-period white burial kimono) appears.
The band in the music video is made up of the members of one of Shiina's Zecchoushuu bands, Tensai Praeparat.
Disambiguation
There are three known versions of Gips to be found in Shiina Ringo's discography. These include:
Gips

Found on the Gips single as #1, and #4 on her Shouso Strip album. This is the standard version set to the PV.

Gips (Electric Mole Live)

Found on the Electric Mole DVD as track #15.

Gips (Ringohan Taikai Live)

Found on the Dai Ikkai Ringohan Taikai no Moyou DVD as track #12.
Oricon Chart Positions
| Date | Week Rank | Week Sales | Total Sales |
| --- | --- | --- | --- |
| 2000.02.07 | 3 | 400,330 | 400,330 |
| 2000.02.14 | 9 | 78,870 | 479,200 |
| 2000.02.21 | 7 | 80,740 | 559,940 |
| 2000.02.28 | 14 | 46,670 | 606,610 |
| 2000.03.06 | 12 | 41,630 | 648,240 |
| 2000.03.13 | 13 | 21,340 | 669,580 |
| 2000.03.20 | 27 | 11,370 | 680,950 |
| 2000.03.27 | 26 | 10,910 | 691,860 |
| 2000.04.03 | 31 | 9,630 | 701,490 |
| 2000.04.10 | 38 | 6,870 | 708,360 |
| 2000.04.17 | 49 | 3,790 | 712,150 |
| 2000.04.24 | 78 | 2,090 | 714,240 |
Total Reported Sales: 714,240
External Links