Several exciting updates will soon be happening to both the wiki and the front page! Be sure to check out our
Facebook page
for the latest changes and to interact with thousands of fans worldwide just like you!
Super Junior
From generasia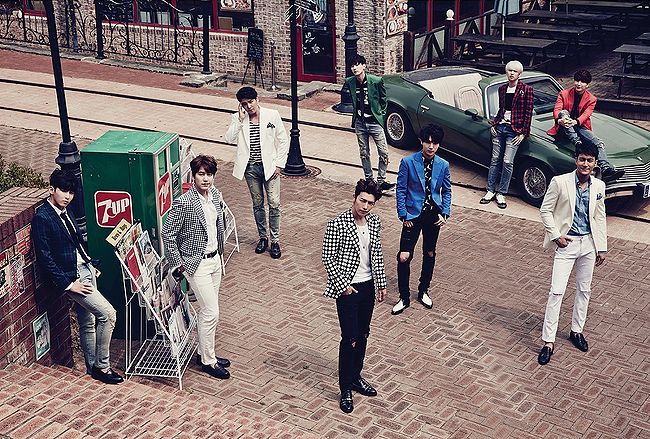 Super Junior (슈퍼주니어) is a eleven member (with two members currently on hiatus) Korean pop boy band under the SM Entertainment label and production agency. They are managed by producer Lee Soo Man and were the largest group under SM Entertainment for almost 7 years. They debuted in 2005 with the album SuperJunior05 (TWINS) as a twelve member group but added a thirteenth, Kyuhyun, in May of 2006 with the release of their single "U". They became well known after their hit 2009 song "Sorry, Sorry". In 2010, Chinese member Han Geng left the group, and Kibum left in 2015, making Super Junior a eleven member group. Super Junior's popularity has spread across Asia and they have held concerts in such places as Taiwan, Thailand and Japan.
Members
Hiatus
Former
Subunits
Information
2005 – 2006: Debut, 1st Studio Album: SuperJunior05 (TWINS) and 1st Single: "U"
Before the group settled with their current name, the company labeled them as simply Junior, a representation of the members' young ages when they first joined SM Entertainment. However, after the members' showcased their different talents to the company, their company finalized their name to Super Junior. Soon the group became officially Super Junior 05, the first generation of Super Junior. Super Junior had been known for their line-up, a concept being very similar to Japan's girl group Morning Musume. Intended to be a rotational group, there was to be new members replacing some of the old members each year, forming a new Super Junior generation every time.
They unofficially debuted at a showcase on the channel M.net, on September 11, 2005. At the showcase, they performed various styles of hip-hop dancing, where they danced to B2K's "Take It to the Floor". The main dancers, Han Geng, Eunhyuk, and Donghae, performed a separate dance together, dancing to Usher's "Caught Up". However, the performance was only aired on May 16, 2006 as a segment in the Super Junior Show, the group's first television documentary.
Super Junior first performed as a group on November 6, 2005 on SBS Inkigayo, where they performed songs from their debut album, SuperJunior05 (TWINS). The album sold 28,536 copies in the first month of release and debuted at number three in the monthly chart of December 2005. Soon after the release of their album, Super Junior collaborated with fellow SM Entertainment group Dong Bang Shin Ki and released the single "Show Me Your Love". At the same time Super Junior continued to promote songs from their first album. In February 2006, Super Junior began performances for "Miracle", the second promotional single from their debut album. "Miracle" topped the music charts of Thailand, drawing interest from international markets.
On May 23, 2006, SM Entertainment revealed a new member, Kyuhyun, who was discovered through a singing competition in 2005, as the thirteenth and youngest member. The new thirteen-member group released their new single, "U", online for free download on May 25, 2006 in Super Junior's official website. "U" had over 400 thousand downloads within five hours of release and it ultimately exceeded 1.7 million downloads, crashing the server. The physical edition of "U", with a total of three tracks, was released on June 6, 2006, eventually selling over 81,000 units by 2007. The single became one of Korea's most popular songs of the year, taking up #1 spots for five consecutive weeks on Inkigayo and M! Countdown. By the end of the year, Super Junior collected over seven awards in five of South Korea's top music award ceremonies, and was one of the three "Best Newcomer" winners at the 21st Golden Disk Awards.
At that time, Super Junior K.R.Y., the first subgroup of Super Junior that debuted on November 5, 2006, began to give separate performances away from the group to promote their new songs in the latter months of 2006.
2007: New subgroups and 2nd Album: Don't Don!
Super Junior-T
, debuted. The group released their debut single "
Rokkugo!!!
" on February 23. Two months later, in April, Super Junior members participated on an original soundtrack for the first time, singing the opening and ending themes "
Success
" and "
H.I.T
" for the Korean drama, "
H.I.T
".
On April 18th, 2007 Super Junior members Leeteuk, Eunhyuk, Shindong, and Kyuhyun were involved in a car accident. Kyuhyun was severely injured and suffered from a fractured hip, broken ribs, and various abrasions on his face. He was discharged 78 days later on July 5th, 2007. Leeteuk had glass impaled in his back and face, and had operations to remove the glass done by a plastic surgeon. Eunhyuk was also reported as having glass in his back, while Shindong walked out of the accident with only minor injuries. All activities were canceled for these four members. All Super Junior members, except Kyuhyun, managed to attend the "2007 Korea Times Music Festival" appearance in the United States.
On September 20th Super Junior released their second album
Don't Don!
. With this release they launched their new, much harder image, including shaved heads, black clothing, and lots of hair dye. Their first single from the album, the title track, featured a violin solo performed by
Henry
, a new
SM Entertainment
recruit raised in Canada.
Don't Don!
sold over 60,000 units the first day of release and debuted at number one on the monthly chart of September 2007. Two months later a repackage edition was released, including three new tracks. Although
Don't Don!
received mixed reviews from critics, the album went to sell more than 160,000 copies by the end of the year, becoming the second best-selling record of 2007. Super Junior received seven nominations at the
2007 Mnet/KM Music Festival
, winning three of them which included "Artist of the Year", termed by many as the highest recognition of the ceremony. Super Junior collected two more recognitions at the
22nd Golden Disk Awards
, including a "Disk Bonsang".
For a while there was much speculation that Henry would be added to Super Junior. However, on October 2, 2007, SM Entertainment officially announced a third Super Junior sub-unit, Super Junior-M, a subgroup designated for the Chinese market, and Henry was part of it. The announcement of the new sub-unit created a controversy between the fans and the management as fans did not support to add new members to the subgroup. SM Entertainment further expounded on the fact that Super Junior's name should be considered a brand searching to unearth new talent worldwide. From October to December Super Junior worked on the project "Make the world a happy place with Super Junior" in which they participated and promoted various charity events including blood drives.
2008: 1st Asia Tour and Japanese Debut
Super Junior's first major tour, THE 1ST ASIA TOUR SUPER SHOW, started on February 22 to February 24 in Seoul. The tour covered nine different cities, including Bangkok, Shanghai, Beijing, Taipei, Kuala Lumpur, Tokyo, and Hong Kong.
Despite the controversies, Super Junior-M debuted in April 2008, consisting of Han Geng, Siwon, Donghae, Kyuhyun, Ryeowook, and the chinese members Henry and Zhou Mi, with a remake of Super Junior successful single, "U". On June 7, a new subgroup, Super Junior-Happy, debuted performing their first single at the 2008 Dream Concert. On the day before their debut, the subgroup held their first sign fan meeting to celebrate the success of the sales of their mini-album, COOKING? COOKING!.
On July, the group announced that Super Junior will end subgroup activities at the end of the year and will come together to prepare for their third studio album, which was slated to release in 2009. Super Junior's held their Japan fanmeeting in the Nippon Budokan in Tokyo as a celebration for the grand opening of their official Japanese homepage that was opened on April 1, 2008, selling out 12,000 tickets in several days.
Their first Japanese single "U/TWINS", was released in Japan on July 9, 2008. The single peaked at #4 on Japan's Oricon Daily Chart in its first day of release. The single broke a new record for being the first single from a Korean group to debut in top 10 on Japan's Oricon Weekly charts.
On August 2, Super Junior expanded their routes to Genting Highlands, Malaysia, being one of the top guest performers at the MTV Asia Awards 2008. They were the third SM artist to win "Favorite Artist Korea" at the MTV Asia Awards after Kangta and BoA.
2009: 3rd Album: SORRY, SORRY and 2nd Asia Tour
Super Junior's third album, SORRY, SORRY, was released on March 12, 2009 with acclaimed reviews. The title track of the album, "SORRY, SORRY" was digitally released on March 9, 2009. In less than a week after preorders were announced, over 150,000 copies were pre-ordered. SORRY, SORRY was their first album to debut at #1 on the Hanteo Charts, and it sold over 29,000 copies the first day, defeating Seo Taiji's record of 25,000 copies.
Promotions for the album started March 13 with the performance of "SORRY, SORRY" and "Niga Joheun Iyu" on Music Bank. Two weeks later, "SORRY, SORRY" became the number one song of the week on the same program. During the group's performance on music program Inkigayo on March 15, ratings went up to as high as 14%, the highest in recent years. From March to May, "SORRY, SORRY" collected a total of ten #1 awards with consecutive wins in Korea, having the single becoming a national and international success, and has since been the group's best-selling single in South Korea.
Only a month after it's release, the album became South Korea's best-selling album of 2009. "
SORRY, SORRY
" was also a critically and commercially successful hit in other Asian countries, opting the group to become the only overseas representative for the second time at Taiwan's annual Golden Melody Awards. The single collected a total of ten number-one awards for ten consecutive weeks in Korea, and stayed as number one for a record-breaking 37 weeks in Taiwan's K-pop singles chart.
SORRY, SORRY
was a best-selling Korean-language album in Taiwan,
Super Junior won three awards in the 1st M.net Asian Music Awards "Overseas Viewers Award", "Mobile Popularity Award" and "CGV Popularity Award", despite not attending. Super Junior's SORRY, SORRY won "Disk Daesang" at the 2009 Golden Disk Awards.
On December 10, 2009, a music video called "SORRY, SORRY - Answer" was released through SM Entertainment's YouTube page. The song was included on their second live album, The 2nd ASIA TOUR CONCERT ALBUM SUPER SHOW 2, also released on the same date. That same month, selected member of Super Junior released the single "SEOUL" in a collaboration with also selected member of Girls' Generation.
Also in December, Han Geng filed for contract termination from SM Entertainment, claiming that the provisions of his contract were unlawful, harsh, and against his rights and Kang In announced his hiatus to fulfill his two-year mandatory military service.
Trivia
Official Fanclub: E.L.F (Everlasting Friends)
Official Color: Pearl Sapphire Blue
Korean Discography
Albums
Live Albums
Other Albums
Singles
Digital Singles
Video Releases
Compilations / Other
Japanese Discography
Albums
Mini-Albums
Live Albums
Singles
Video Releases
Other Video Releases
Filmography
Movies
Television
Publications
Photobooks
[2006.09.15] Boys in City Season 1 - Kuala Lumpur
[2008.12.12] Boys in City Season 2 - Tokyo
[2010.05.14] Boys In City Season 3 - Hong Kong
[2012.11.08] Boys In City Season 4 - Paris
[2013.11.20] Super Junior Memory in Hawaii: Aloha
[2013.12.06] Super Junior Memory in Hawaii: Mahalo
Books
[2013.08.19] Super Junior's Experience Korea Vol. 1
[2013.08.19] Super Junior's Experience Korea Vol. 2
[2014.07.23] All About Super Junior "Treasure Within Us" DVD Preview
Awards & Achievements
2006 - M.NET/KM Music Festival (Best New Group)
2006 - Golden Disk Awards (Best New Group & Best Music Video)
2006 - SBS Popular Songs Mutizen Song (U (3 weeks) Dancing Out (1 week))
2006 - M.NET M!Countdown 1st Place (U (2 weeks) & Dancing Out (1 week))
2006 - Korean Television Arts Awards (Best Group)
2006 - Korean Visual Arts Awards (Most Photogenic)
2006 - Digital Music Awards (Best New Group)
2006 - SBS Song Awards (Best New Male Group)
2007 - M.NET/KM Music Festival (Artist of the Year, Auction Netizen Popularity & Netizen and Mobile Popularity)
2007 - Golden Disk Awards (Top 10 Artists & TPL Anycall Popularity)
2007 - Summer Break 20's Choice Awards (Best New Asian Artist, Best Group, Best Dresser at Blue Carpet, Best Performance (Haengbok), Best Pretty Boy (Heechul), Best Bad Boy (Kangin)
2007 - M.NET M!Countdown 1st Place (Don't Don (1 week)
2007 - MTV Seoul Song Awards (Best New Group & Mobile Popularity)
2007 - Asia SEED Awards (Best New Asian Artist)
2007 - Asia Song Festival (Appreciation Award)
2007 - Korean Performing Arts Award (Best Male Dance Artists)
2007 - Korea Best Dresser Swan Awards (Best Dressed Singer)
2007 - Korean Popular Entertainment Award (New Generation Artist of the Year)
2007 - Tencent Stars Magnificent Ceremony (Asia's Artist of the Year)
2008 - MTV Asia Awards (Favorite Artist Korea)
2008 - Asia Model Award Ceremony (Entertainment: Asia Special Award)
2008 - Seoul Music Awards (Top Artist & Mobile Popularity)
2008 - Music King Awards (Asia's Most Popular New Group (Super Junior-M)
[2013.12.15] KoreanUpdates Awards: Best Boyband
[2015.01.22] 24th Seoul Music Awards: Bonsang
TV Music Shows
External Links