New user registrations have been disabled until further notice. If you would like to create an account, please message
Generasia on Facebook
. Thank you!
Arc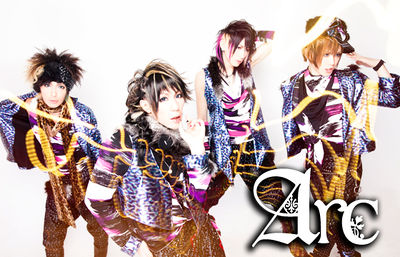 Arc was a four member Japanese rock band in the visual-kei scene, signed with the indies label UNDER CODE PRODUCTION. The band formed on April 1st, 2003 somewhere in the Kansai region of Japan as an oshare-kei band called Arc ~Otona ni Naritakunai Kodomo-tachi~. For the first two years the member line-up was unstable, and since April of 2005 Arc has had the same line-up.
During their one-man concert on December 19th, 2010 Arc announced that the group will disband after their final one-man on April 30th, 2011.[1] Their last releases will be the memorial best of album End at time and memorial DVD Michi no Kakera, which will be simultaneously released on April 13th, 2011.[2] On August 1st, 2011 it was revealed that the members formed a new band, FUTURISM.BOYZ.
Members
Current Members
Former Members
Chiyu (我拉) - Bass
YOU - Bass
KENTARO - Bass
Shiito (詩厭) - Guitar
Biography
2003~2006
Arc first started out as a colorful oshare-kei band called Arc ~Otona ni Naritakunai Kodomo-tachi~ on April 1st, 2003. They also started to perform live around the Kansai region of Japan starting on that date. Not a lot of specific details are available about their schedule from 2003 to 2006, other than they released two distributed singles ("Kaisatsu / Hana" and "Kodomo Abare"), a demo of their debut single, and their debut single (all of these CDs were self-released). At this time Arc had an unstable member line-up with the last member, Toshiya, joining in April of 2005. He replaced Chiyu, who left on January 22nd, 2005. Chiyu would later join the bands Nana and SuG. After Toshiya joined Arc has had a stable line-up.
2006 began with a string of seven lives, starting on February 3rd at Osaka MUSE and ending on March 20th at Nishikujo BRAND NEW. At the end of March, on the 29th, Arc released their second single "Amedama". It is their last self-released single, and was allotted to 3,000 copies. A tour to support and promote their single, titled Omatsuri Yomise Meguri, was held in April. It began on the 1st at Umeda HOLIDAY and concluded on the 18th at Shinjuku HOLIDAY, hitting six stops. The tour's finale was on May 5th at Nishikujo BRAND NEW. It was a one-man concert called "Dai Ikkai Kodomo Matsuri da! Ongakusai!!" and the single "Hitoribocchi no Futari Heya" was distributed for free.
A live on May 28th at Umeda HOLIDAY and another on June 11th at Shinkobe Oriental Gekijou preceded Arc's participation in u-20 Inu's free pre-release event. The self-explanitory event was for the release of the compilation album u-20 Inu on June 28th. Arc had contributed a new track, "13-sai Ningyou", for the album. June's last activity was a free one-man performance titled "Kinkyuu Juudai Happyou Live Arc no Gottsuee Kanji!!" on the 27th at Umeda HOLIDAY. It was at this live that the band announced that they joined the visual-kei and oshare-kei indies label UNDER CODE PRODUCTION, which took effect on July 1st.
The group's first live with label backing was on July 6th at Nishikujo BRAND NEW. The band then took part in two RISKNOTE magazine events, one on July 9th at Shinjuku RUDIO K4 and the other on the 14th at Osaka MUSE. A live on July 23rd at Osaka MUSE came before a hysteric sponsored event called "Colorful☆Capsule Museum ~Dai Ichikan~" on August 3rd at Umeda HOLIDAY. Arc was then one of the bands in UNDER CODE PRODUCTION's special event titled "Nihon Seiatsu 2006 -Wakayama Shingetsu Kichi- ~KISAKI Gaisen Live~" on August 18th at Wakayama Marina City Adventure Hall in PORTO EUROPE.
Completing August was two lives that took place in consecutive days starting on the 26th, the first at Nagoya HEART LAND and the second at Nanba ROCKETS. In September they participated in Siva's sponosred TouNaKa (東名阪; Tokyo, Nagoya, and Osaka) based CD release events called "Prediction from a prophet". The events stetched over three consecutive days starting on the 15th at HOLIDAY OSAKA, HOLIDAY NAGOYA, and HOLIDAY SHINJUKU.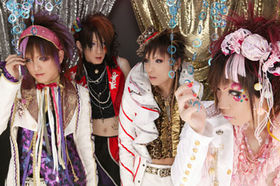 A concert at the very start of October at HOLIDAY SHINJUKU preceded Arc's first sponsored events with label backing. They were held on two consecutive days starting on the 8th, both at HOLIDAY OSAKA, and were collectively titled "Owaranai Yasumi Jikan". After a live on October 15th at HOLIDAY NAGOYA, the band participated in 12012's sponsored event "Genba Kenshou" on October 16th at Osaka BIG ACT.
Their first single with label backing and third overall single "Rakugaki Kyoukasho", was released on November 1st. It is their first single to be released in more than one versions, and also the first to include an optional DVD. The band then played two lives: one on November 4th at HOLIDAY SHINJUKU and the other on the 18th at HOLIDAY NAGOYA. On November 20th, Arc held a CD release one-man concert called "Tsuppari!! A~rc da Rock'n'Roll" at OSAKA MUSE. During this live advanced releases of their debut mini-album Natsumelo Mix were sold, which was then released two weeks later. The last activities of the year was a string of nine lives, beginning on November 25th at Takadanobaba AREA and concluding on December 31st at HOLIDAY OSAKA.
Discography
Studio Albums
Best Albums
Mini-Albums
Singles
Other Singles
DVDs
Compilations
References
External Links
<br=/>