Due to an influx of spam accounts getting through and joining the site, user registrations have once again been disabled until further notice as we work on a different solution.
Leah Dizon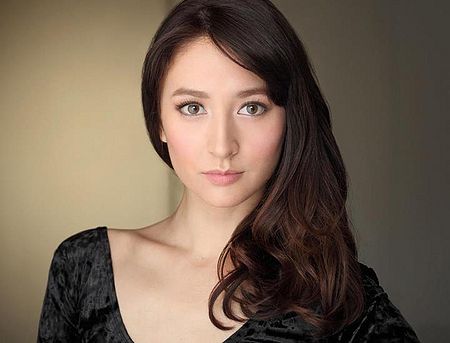 Leah Dizon (リア・ディゾン) is a Japanese pop singer under the Victor Entertainment Inc. record label, model, gravure idol, and race queen from Las Vegas, Nevada. She successfully debuted in Japan with the release of her first photo book "Petite Amie" that sold over 200,000 copies in 2006. She made her singing debut with her first digital single titled "FEVER", a cover of Kylie Minogue's song of the same name, and officially debuted in 2007 with her first single "Softly". Dizon's most successful single was "Koi Shiyou♪" which she performed at Kouhaku Uta Gassen in 2007.
Profile
Information
Leah Dizon was born in Las Vegas, Nevada and is the fourth of six children. Her father was a Chinese-Filipino pastor and her mother was a French-American casino director. She has four brothers and one sister, and is extremely close to her brother Brad. When she was at High School, she considered herself a loner and did not have many friends.
Upon graduation from high school, she moved to Los Angeles and did various types of work, such as working in a go go bar, posing as a lingerie model, being a race queen and an event companion. Dizon managed to attend film school for a year. She even set up her own website in 2005 (leahdizon.com, now redirected to her official Japanese site), attracting a lot of traffic, especially from Japan. She started to mail Japanese entertainment companies, in hope of making a break there. Her demo tape featured a recording of Amuro Namie's "I WILL". In spring 2006 she was signed to Sky Corporation talent agency. When she traveled to Japan in April 2006, she only had $200USD with her.
She started writing a blog about her experiences in July 2006, in both Japanese and English. In October she released her first photobook, titled "Petite Amie", as well as her first musical release, the digital single "FEVER", a cover of Kylie Minogue's song of the same name. "Petite Amie" was a smash hit photobook, selling over 200,000 copies and becoming one of the most sold photobooks of the year.
From February 1 2007, Leah Dizon auctioned off some valentine's day chocolates for a charity cause. By the 6th, the chocolates were selling for ¥900,000, and by the end date of the auction managed to rack up a final bid of ¥8,421,000. On Valentines day, Dizon debuted with her first single, "Softly". It was a ballad, however the single's more up-tempo B-side "Everything Anything" also received a music video. Both were shot when Dizon traveled to Australia in November 2006. The single eventually reached #7 on Oricon charts. Dizon's second single, "Koi Shiyou♪", was released in May. It was an upbeat J-Pop-style dance song, and reached #7 on the charts as well (though eventually outsold "Softly").
Dizon started to collaborate with famed photographer Leslie Kee, who shot the cover shoot for her third single "L·O·V·E U", as well as later on shooting for her "HEAVEN" photobook and 2008 calendar. "L·O·V·E U" preceded her debut album, Destiny Line, by only a few weeks, and hence was a lot less successful than her other singles. Her debut album, showing Dizon with a more conservative image, peaked at #9.
Dizon held her first live in November, and later performed at Kouhaku Uta Gassen in December. Her next single, "Love Paradox", was released on the same day that her first overseas live in Taiwan was staged.
In 2008, Leah Dizon tearfully announced at her concert that she was going to marry a Japanese hair stylist and was going on a break due to being pregnant. She gave birth to her first child, a daughter named Mila (美蘭), on April 24, 2009. Later in October 2010, she and her husband had separated and Dizon filed for divorce. The divorce was finalized in December 2010 and Leah was granted full custody of Mila. She and Mila currently live in New York City. Leah has stated that she plans to return to work in Japan someday.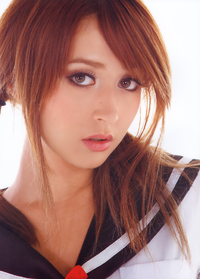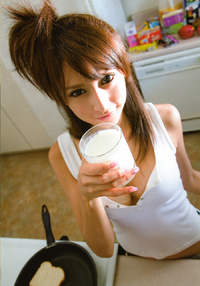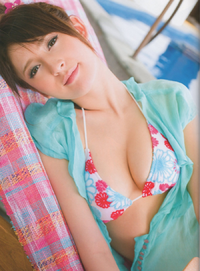 Discography
Albums
Mini-Albums
Singles
Digital Singles
Video Releases
Compilations / Other
Photobooks
[2006.10.01] Petite Amie
[2007.02.14] Hello Leah! (ハロリア!)
[2007.10.05] HEAVEN
[2008.03.26] Pure Leah! (ピュアリア!)
Filmography
Movies
Trivia
She co-writes her own lyrics, but wanted to start composing her own music.
Dizon spoke a little bit of Tagalog when she was a child.
Utada Hikaru was a fan of Dizon and gave her song "Kiss & Cry" the tentative title "Dancing Leah".
Her brother Brad Dizon was the vocalist/guitarist of the amateur band called Before You Fall. He helped Dizon compose her song "Again and Again" when he visited her in Tokyo in May 2007.
Bra Size: C
Shoe Size: 24cm
Languages: English, Basic Japanese
Skills/ Hobbies: Singing, Dancing, Shopping, Painting, Tennis, Badminton
Favorite Musicians: Amuro Namie, B'z, Cassie, Deftones, GLAY, Hamasaki Ayumi, Kanzaki Keishi, Korn, Moriyama Naotaro, Nirvana, Red Hot Chili Peppers, Shiina Ringo, The Smashing Pumpkins, Utada Hikaru, X JAPAN
Favorite Books: The Catcher in the Rye, The Kitchen God's Wife, Harry Potter, Memoirs of a Geisha, Of Mice and Men, Slaughterhouse-Five, The Virgin Suicides
Favorite Foods: Phở, McDonald's, Shabu-shabu, Yakiniku
External Links