Generasia would not be what it is today without the countless contributions by both staff and members alike! Thank you for all that you do!!
Abe Mao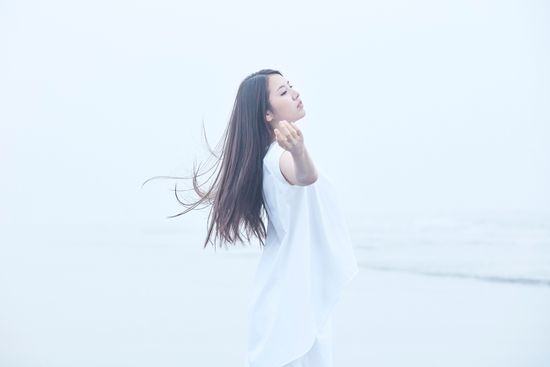 Abe Mao (阿部真央) is a Japanese pop singer-songwriter signed to Pony Canyon. She released four acoustic songs on iTunes before making her debut in January 2009 with the album Free, which managed to become #1 on Billboard's Japan Hot 100 chart.
Profile
Name: Abe Mao (阿部真央)
Birthdate: June 24, 1990
Birthplace: Oita, Japan
Blood Type: A
Family: Ex Husband Iizuka Akira, Son
Likes: Orange, green, chocolate, Asano Tadanobu, Tsuchida Teruyuki, Yanagiba Toshiro, rice, being alone, people
Dislikes: Caterpillars, black beans, insects, rain, studying, mathematics
Personality: Has difficulty in falling asleep and waking up, shy, doesn't like to lay down and pity herself, has migraines, enthusiastic, independent
First Composed Song: "My Baby" in her first year of high school
First CD Purchased: Hamasaki Ayumi's "UNITE!"
First Live Performance Attended: SKIN-HEADz live in the summer of her second year of high school with her friends
Favorite Artists: Avril Lavigne, SKIN-HEADz, Midori, HOT SPRING, Sum 41, Hoobastank, ASIAN KUNG-FU GENERATION, RADWIMPS, RIP SLYME, Murashita Kozo, Hamasaki Ayumi
Information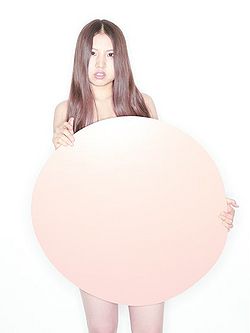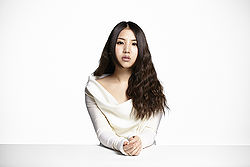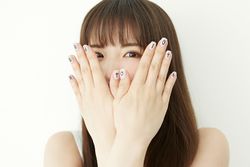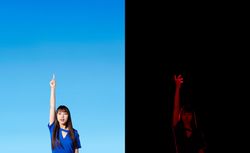 Abe Mao began playing piano when she was in third grade, and by junior high, she decided she wanted to be a singer.[1] When she was high school, she dropped piano and started playing guitar. During the summer of her second year of high school in June 2006, the manager of a music store recommended that Abe should participate in Oita's YAMAHA TEENS' MUSIC FESTIVAL 2006. She won, with her song "Haha no Uta".[2] The following November, she participated in the same competition at the national level and was awarded an encouragement prize.[3] She graduated from high school in Spring 2008 and proceeded to move to Tokyo.
In October, Abe's song "want you DARLING" was used as the theme song for the drama Tetsudo Musume ~Girls be ambitious!~. She also released an acoustic version of her song "MY BABY" on iTunes, which was featured as the single of the week.[4] Soon, Abe gained feature coverage on MySpace and au one music.[5] Her popularity slowly rose, achieving high ranks on BARKS, Google, and mixi. In one day, her MySpace received 20,000 listens.[2]
In January 2009, Abe released her debut album, Free. The album ranked #17 on the weekly Oricon chart. Later, she embarked on her first live tour, Abe Mao Live No.0, in March, starting in her home of Oita and stretching across seven prefectures in Japan.[2] Since then, she has released two singles, "Tsutaetai Koto / I wanna see you" and "Anata no Koibito ni Naritai no Desu", of which two of the three A-sides were previously released as acoustic versions on iTunes before her debut.[6] An unreleased song called "15 no Kotoba" has been chosen as the theme song for the 2010 movie version of the novel Hanbun no Tsuki ga Noboru Sora.[7]
Discography
Studio Albums
Best Albums
Live Albums
Other Albums
Singles
Digital Singles
Video Releases
Compilations / Other
Publications
Band Scores

References
↑ "Abe Mao Official Website". Retrieved September 1, 2009.
↑ 2.0 2.1 2.2 "Abe Mao Biography on Pony Canyon". Retrieved September 1, 2009.
↑ "TEENS' MUSIC FESTIVAL 2006 National Competition". YAMAHA. Retrieved September 1, 2009.
↑ "Abe Mao Rainen 1gatsu ni Major Debut Tettei". livedoor. November 12, 2008. Retrieved September 1, 2009.
↑ "Choujitsuryoku Ha Shinjin! Star e no Kiseki Start!!". au one music. October 8, 2008. Retreieved September 1, 2009.
↑ "Abe Mao on MySpace". MySpace. Retrieved September 1, 2009.
↑ "Abe Mao, Eiga Hanbun no Tsuki ga Noboru Sora no Judaiga wo Tantou". BARKS. August 24, 2009. Retrieved September 1, 2009.
External Links