User registrations have now been re-enabled. If you previously had an account and logged in via OpenID, please create a new account. Thank you!
BAROQUE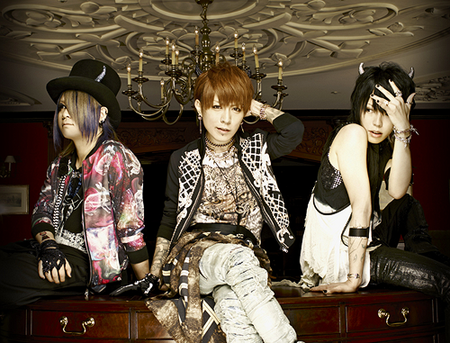 BAROQUE (formerly baroque (バロック) from 2001 to 2015) is a Japanese band formed in 2001. At the end of 2004 they disbanded. In 2012 the group reassembled.
Members
Former Members
Information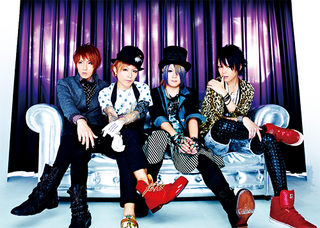 baroque was a Tokyo based band that quickly rose in popularity, becoming 'Major' with unheard of speed. They were only together for three years, but they left their mark on the music scene and had a world-wide fanbase.
Their music style was and is, still, unique. In the beginning they played more of a punky sound, not really gothic or heavy. It was, in itself, melodical and punk at the same time. As time went by, their music progressed to have a more electronic whine to it which meshed with playful guitar sequences and was topped off by Ryo's ever-changing, versatile voice. Their first (and last) major album, Sug Life, had a very loungy, calming sound to it that you can't find in their earlier years. Overall, baroque, as a band, grew and changed as did their music.
Style was another thing that came into the picture with baroque. While not being stricktly Visual-kei, even in the beginning, they carried a more Oshare-kei (meaning stylish-look) to them. As they progressed, the lost even that Oshare-kei look and developed a more laid back sense of dressing that went along with their music. After all, their music came first, their style simply followed it.
The lyrics written by Ryo were generally up-beat, happy-go-lucky phrases, along with a lot of that 'lyrical-freedom' thing going on. They didn't always make sense, but they were always catchy. According to fans his voice was compelling, soft, loud, crooning as well as the music that backed him.
They broke up on September 11, 2004 just 10 days after the release of their only majors album. The reason told to the fans for this, was that Bansaku doubted his skills as a bassist, and wanted to leave baroque. The other members, unable to see their band going on without their friend, also decided to end the band.
History
The idea of baroque began in May of 2001 when AKIRA (ex-Shiver) and Bansaku (ex-After Effect) decided they wanted to start a band. After seeing kannivalism perform live in June, AKIRA asked Ryo (vocalist of kannivalism) to join the band. Ryo accepted and Kei (guitarist of kannivalism) also joined, forming baroque. July 8, 2001 marked their very first live performance, and the one-man live held in August at Shinjuku Loft placed them as an offical band. They continued to play shows and lives continuously, growing in popularity until around late December of 2001. They took a short one month-long break before emerging back onto the scene to their awaiting fans. After this, things went smoothly until around April of 2002 when Naru left the band. Another drummer didn't appear on the scene until June of '02 (Yuuji). He left them in May of '03 after nearly a year.
In January of 2003, baroque began its last indies tour. They ended it in April for Yuuji had started to get sick. He was replaced for a few lives by Junji (ex-SIAM SHADE). In July of 2003, they released their major debut single, Gakidou. However, they later halted their activites in September of that year. No one knew why or what was going on until November when they finally had an interview with Arena37. With the new year, 2004, they began activities again, but slowly. A few lives, releases, and a DVD. But things went downhill from there and in September, after just reforming 9 months prior, they disbanded. On December 25, 2005 Ryo and Kei announced that they would be reforming kannivalism along with Yuichi (ex-k@mikaze).
Discography
Albums
Best Albums
Mini-Albums
Singles
Digital Singles
Vinyls
Demotapes
Video Releases
External Links