New user registrations have been disabled until further notice. If you would like to create an account, please message
Generasia on Facebook
. Thank you!
Fukada Kyoko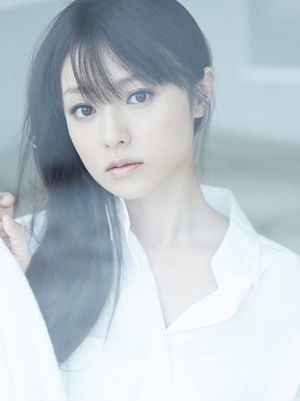 Fukada Kyoko is a Japanese actress, singer, and former gravure idol. Since winning Horipro's 21st Talent Scout Caravan Grand Prix Pure Girl Audition in 1996 at the age of 14, Fukada has been involved in several careers. She has acted in TV shows, modelled for top fashion magazines, been a gravure idol, and even has released several music singles. Fukada has been the recipient of several awards for her work; Shimotsuma Monogatari is what made her most popular among Western fans.
Profile
Name: Fukada Kyoko (深田恭子 - is also her real name)
Nicknames: Fukakyon (深キョン), Kyokorin (恭子りん), Kyokorin-hime (恭子りん姫)
Birthdate: November 2nd, 1982
Blood type: O
Height: 164cm
Shoe size: 26cm
Hobby: Karaoke, watching movies, shopping
Information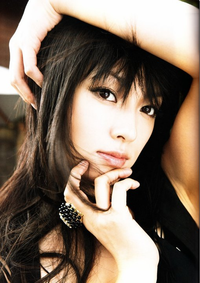 Fukada Kyoko won the 21st Talent Scout Caravan Grand Prix Award as part of the "Pure Girl Audition" in 1996 at the age of 14. Her reason for entering the audition was because she yearned to be like her idol, Kahala Tomomi. She made her official debut in 1997 with three dramas, and in 1998 was part of Horipro's idol group "HIP" (Horipro Idol Paradise). Fukada began appearing on several radio programs and Horipro events before her graduation from the group in summer of 1999. She also began her career as a gravure idol in 1998, releasing several photobooks and idol videos before focusing solely on acting after 2002. A DVD of clips from her idol videos was even licensed for the United States in 2001 from Tokyopop.
She garnered much attention in 1998 for co-starring in the drama "Kamisama, mou sukoshi dake" alongside famed actor Kaneshiro Takeshi as Kano Masaki, a 16-year-old who contracts HIV after a one-night stand to earn money for concert tickets. October of that same year she was given her first radio program, "Fukada Kyoko IN MY ROOM", which lasted until March 2002. The next year she starred for the first time in the drama "Oni no Sumika".
Fukada's debut as a musician came in 1999 with the single "Saigo no Kajitsu" in May and a mini-album in November. The mini-album, "Dear..." showcased not only her vocal talents, but an instrumental track of Fukada playing "Do They Know It's Christmas?" on the piano was also included. (Her original composition "Into the Light" was featured as well.) Meanwhile, Fukada was still pursuing her acting career and in 2000, her song "How?" was used for the film "Shisha no Gakuensai", which was also her first starring role in a film. In 2002 Fukada co-starred in the Japanese/Korean drama Friends with Korean actor Won Bin, a mini-series about two people from different countries who both meet in Hong Kong on vacation. The drama was the first to be broadcast simultaneously in both countries. She also held a major role in the popular film Dolls as fictional idol Yamaguchi Haruna.
Fukada became a model for the first time in 2003, modeling fashion designer Katsura Yumi's kimono-styled outfits for the Spring/Summer Paris Collection. Since doing "Shimotsuma Monogatari" in 2004, she has been a guest model several times for the magazine KERA and has appeared on the cover of one of their photomooks.
Fukada's most popular film by far is the 2004 hit "Shimotsuma Monogatari", the story of a lolita befriended by a yankee. Shortly after its release in Japan, it was licensed and made available for American audiences (however, it was not until 2006 that the film was released on DVD for Western viewing). It was this movie that truly put Fukada on the radar worldwide, as she has won four different awards for that movie alone. Fukada continues to be one of Japan's most recognized actresses with her continual appearances in dramas, films, and magazines.
Trivia
Discography
Albums
Singles
Photobooks
[1998.07.21] Pool (プール)
[1998.11.17] COLORS
[2000.05.23] WATER LOVING
[2000.06.20] Fukada Kyoko in Shisha no Gakuensai
[2001.05.15] AVENIR
[2002.01.25] friends
[2003.04.04] KYOKO 8203
[2004.05.07] Fukada Kyoko in Shimotsuma Monogatari (深田恭子 in 下妻物語)
[2006.01.xx] Fukada Kyoko meets Tenshi Eiga "Tenshi" Photo Making Book (深田恭子 meets 天使 映画『天使』Photo Making Boo)
[2008.11.xx] 25sai (25才)
[2009.02.xx] Fukuda Kyoko Shashinshuu "KYOKO TOKYO PIN-UP GIRL" (深田恭子写真集『KYOKO TOKYO PIN-UP GIRL』)
[2010.11.02] EXOTIQUE
Idol Videos
[1999.01.20] for me
[1999.02.17] to me
[1999.12.17] for you
[2001.06.20] to you
[2001.10.30] J-Idols - Fukakyon (American release [1])
[2002.11.02] Jikan no Kuni no Alice (時間の国のアリス)
[2002.11.02] Sugao no Kuni no Alice (素顔の国のアリス)
[2002.11.02] Jikan no Kuni no Alice]] & Sugao no Kuni no Alice Boxset
[2003.12.xx] Shoyuu Nonfiction The Lost Treasure Doujun Apaato ~Kioku no Keishou (女優ノンフィクション The Lost Treasure 同潤会アパート〜記憶の継承〜)
[2004.05.21] Fukada Kyoko in Shimotsuma Monogatari Making DVD (深田恭子 in 下妻物語 メイキングDVD)
[2006.01.xx] Fukada Kyoko "Tenshi" ni Naru Houhou Meking DVD (深田恭子 「天使」になる方法 メイキングDVD)
Works
Dramas
[1997] FIVE
[1997] Kaikyou
[1997] Sore ga kotae da!
[1998] News no Onna
[1998] Kamisama, mou sukoshi dake
[1999] Oni no Sumika
[1999] to Heart ~Koishite Shinitai~
[2000] Soshite, tomodachi
[2000] Imagine
[2000] Food Fight
[2000] 17 nenme no papa e
[2001] Strawberry On the Shortcake
[2001] Fighting Girl
[2002] Friends
[2002] First Love
[2002] Remote
[2002] Otousan
[2003] Futari ~Watashitachi ga eranda michi~
[2003] Hakoiri musume
[2004] Kanojo ga shinjatta.
[2004] Nouka no yome ni naritai
[2004] Minamikun no koibito
[2004] X'mas nante daikirai
[2004] Tokugawa Tsunayoshi inu to yobareta otoko
[2005] Fugou Keiji
[2005] Shiawase ni Naritai
[2005] Umeko
[2006] Fugou Keiji Deluxe
[2006] Akai Kiseki
[2007] Yama Onna Kabe Onna
[2007] Kimi ga Kureta Natsu
[2008] Mirai Koshi Meguru
[2008] Gakkou ja Oshierarenai! (Things You Can't Learn in School!)
[2009] Tenchijin
[2009] Kareinaru Spy
[2010] Message no Otoko
[2010] Natsu no Koi wa Nijiiro ni Kagayaku (Summer Romance Shines in Rainbow Colors)
[2010] Genya
[2010] Second Virgin
[2011] Sengyou Shufu Tantei ~Watashi wa Shadow (Call Me The Shadow: Adventures of a Housewife Detective)
[2012] Taira no Kiyomori
[2012] Tokyo Airport : Air Traffic Service
[2013] Na mo Naki Doku (Episodes 1-5)
[2014] Silent Poor
[2014] Onna wa Sore o Yurusanai (Girls in the Bar)
[2015] Second Love
[2016] Dame na Watashi ni Koishite Kudasai (Please Love Me!)
[2017] Gekokujo Juken (Grade A Reversal)
[2017] Hello Hari Nezumi (Hello, Detective Hedgehog)
[2018] Tonari no Kazoku wa Aoku Mieru
[2019] Eien no nishipa 〜 hokkaidō to nadzuketa otoko matsuura takeshirō 〜
Movies
[1998.04] Shinjuku Shounen Tanteidan (Shinjuku Boy Detectives)
[1999.01] Ring 2
[2000.08] Shisha no Gakuensai (School Day of the Dead)
[2001.02] Tokyo Zansu
[2002.10] Dolls
[2003.10] Onmyouji II
[2003.11] Ashura no Gotoku
[2004.05] Shimotsuma Monogatari
[2006.01] Tenshi
[2006.12] Inugamike no Ichizoku
[2009.03] YATTERMAN
[2009] Ururu no Mori no Monogatari (A Tale of Ululu's Wonderful Forest)
[2010] Renai Gikyoku: Watashi to koi ni ochitekudasai
[2011] Tofu Kozo (Little Ghostly Adventures Of The Tofu Boy)
[2011] Kochira Katsushika-ku Kamearikoenmae Hashutsujo: The Movie (Kochikame-The Movie: Save The Kachidiki Bridge! )
[2011] Sekando bajin (Second Virginity)
[2011] Yoake no Machi de (Before Sunrise)
[2011] Suteki na Kanashibari (A Ghost of a Chance )
[2011] Wild 7
[2013] Roommate
[2013] Kyou no Hi wa Sayonara
[2014] The Great Shu Ra Ra Boom
[2014] Samurai Hustle
[2014] Kyabin Atendanto Keiji: Nyu Yoku Satsujin Jiken (The Cabin Attendant)
[2015] Joker Game
[2016] Samurai Hustle Returns
[2018] Soratobu Taiya (Recall)
Commercials
Oji Paper Nepia
Lotte Ghana chocolate
NTT East Japan
Shiseido Sea Breeze
Kadokawa Shoten Kadokawa Bunko '99 Summer Masterpiece 150
Suntory
[2002] Nissin Food "Nissin Spa King"
NTT DoCoMo Kansai
Kose
Roth Pharmaceutical C Cube Series
Marutoshi in a fine clothes
Meiji Life
Menard cosmetics
[2008] Corporate CM
[2009] Facial Salon CM
[2008-2011] Kirin Chu Hai freeze
Ezaki Glico
[2011] Glyco dairy "Dolorich"
[2013] Otsuka Pharmaceutical " Pocari Sweat Ion Water "
[2013] Daito Gokyo "Good room net"
[2014] Daihatsu's " Mirais "
[2015] Nisshinbo Holdings
[2015] Takeda Pharmaceutical " Alinamin A"
[2016] Forex Undertones Com
[2016] Sports betting BIG
[2016] UQ Communications " UQ Mobile "
[2017] Sapporo Beer "Ebisu Haya Miyabi"
[2018] Nichirei Foods
[2018] Tokyo Gas Electricity
Awards
[1998] 36th Golden Arrow Prize - Broadcast Newcomer
[1998] Elandor Prize - Newcomer
[1998] Best Smile of the Year
[2000] 13th Nikkan Sports Movie Grand-Prix Award for Shisha no Gakuensai - Newcomer
[2001] 24th Nippon Academy-sho for best new actress in Shisha no Gakuensai
[2001] 12th Japan Jewelry Best Dresser
[2003] Hatachi no Best Pearl Dresser
[2004] 59th winner of the Mainichi Film Contest for leading actress in Shimotsuma Monogatari
[2004] 26th winner of the Yokohama Film Festival for best actress in Shimotsuma Monogatari
[2004] 28th winner of the Nippon Academy-sho for best actress in Shimotsuma Monogatari
[2004] 14th winner of the Tokyo Sports Movie first prize for best actress in Shimotsuma Monogatari
[2005] Yuubari International Fantastic Film Festival in 2005 (most likely for Shimotsuma Monogatari)
[2005] 18th winner of DVD & video first prize for best talent
[2006] Nail Queen 2006
Max Factor Beauty Spirit prize
External Links