Due to an influx of spam accounts getting through and joining the site, user registrations have once again been disabled until further notice as we work on a different solution.
Kahala Tomomi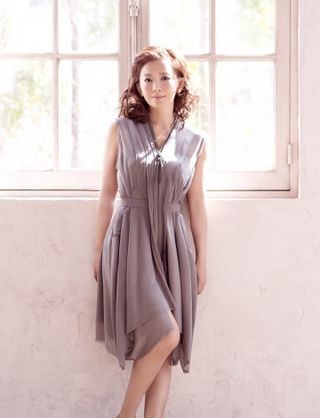 Kahala Tomomi (華原朋美) is a Japanese pop singer who debuted in 1995 and was successful in the late 1990's. At the time she was produced by the mega-producer Komuro Tetsuya. The two started dating and after rumors and hard break up, Tomomi's career started to go downhill. She made a comeback in 2001, after months of hiatus. She's still active today though she's not as successful as she used to be.
Profile
Stage Name: Kahala Tomomi (華原朋美)
Real Name: Shimogawara Tomomi (下河原朋美)
Birthday: August 17, 1974
Blood Type: A
Height: 160cm
Weight: 43kg
Sizes: B85-W58-H84
Information
Early Success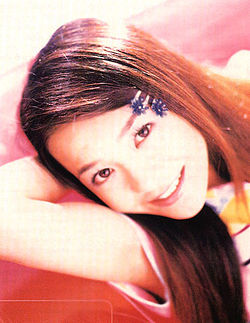 Kahala started off her career by becoming a model for Non-no (much like Hamasaki Ayumi and ex-TK artist, hitomi). She soon meet Komuro Tetsuya, whom then took her under his wing. He had her change her name from Shimogawara Tomomi to Kahala Tomomi so that their romaji name initials would be the same. It didn't take long before the two would become lovers.
In September of 1995 Kahala debuted with the single, "Keep yourself alive" under Pioneer's Orumok Records label. The single reached #8 on the Oricon, selling 370,070 copies. She followed a month later with the single, "I BELIEVE". The single was an instant hit reaching #4 on the Oricon charts and selling over 1,000,000 copies.
1996 provided to be Kahala Tomomi's most successful year. She released her third single, "I'm proud", which reached #2 on the Oricon chart. The single ended up selling more than her previous. Tomomi's debut album LOVE BRACE was released on June 3, 1996, and reached #1 on the Oricon. The album sold over 2 million copies, and TK dubbed the album his best work. A month later she released the album-cut single "LOVE BRACE" which sold less then all of her previous releases.
At the end of the 1996 Kahala was highly successful, making it onto the year charts with three singles in the top 50 as well as her debut album. "I'm proud" was the highest ranking because it sold 1,372,420 copies, making it the #8 single of the year out being her rival Amuro Namie (her single "Don't wanna cry" sold 1,371,730 being the #9 single).
Kahala Tomomi's next four singles, "Save your dream", "Hate tell a lie", "LOVE IS ALL MUSIC", and "Tanoshiku Tanoshiku Yasashikune" all sold very well and all managed to reach #1 on the Oricon charts. On December 24 1997, Tomomi released her second album, storytelling. The album reached #1 on the Oricon and only sold half of what her debut had.
Decline
In 1998, Kahala Tomomi's career and personal life took a turn for the worst. Her first single since "storytelling", "I WANNA GO" only reached #20 on the Oricon and didn't even sell 50,000 copies. Also her relationship with Komuro Tetsuya was gaining the attention of the media after a gossip magazine accusing the couple of drug use.
Her next two singles ("tumblin' dice" and "here we are") did much better ranking in at #2 and #5, and both selling over 150,000 copies. Her next single "daily news" was another flop. On November 26, 1998, she released her third album, nine cubes, which only reached #5 on the Oricon charts.
Soon after Komuro Tetsuya broke off the relationship with Kahala professionally and personally. She was devastated and went on a hiatus for almost a year. During this time, a best of collection was released of her work entitled, KAHALA COMPILATION. The album reached #1, becoming her last #1 album and selling 695,730 copies.
She bounced back in July 1999 with her first non-TK produced single, "as A person" The single reached #6 on Oricon and was a success selling 287,150 copies. After the release of another single ("be honest") she released her first non-TK produced album, One Fine Day.
Dealing with a lot of stress, Kahala Tomomi became depressed. This lead to many stunts and suicide attempts. There was one incident when she purposely left the gas running in her apartment in an attempt to asphyxiate herself. The aftereffects cause even more damaged to her already downhill career. After a string of unsuccessful single, Kahala released her fifth album, Love Again. The album was a complete flop and is her worst selling studio album to date.
Over the next couple years not much was released by Kahala except for best-of album and a couple of unsuccessful singles.
Return
She had re-emerged in the scene sometime after the gossips died down and when she had gotten herself together again.
In 2004, Kahala Tomomi switched over to the Universal Music record label. Her first single with the label was "Anata ga Ireba". The single although not successful on the Oricon, was well perceived. The single even won her the Japan Records Awards in 2005.
In her latest album, 2005's Naked, features Kahala in saucy poses implicating a new kind of career for her. The album was more successful than her previous album, Love Again.
She has been keen about doing nude shots and been trying to work on one. Though her talent agency is in dismay about this, the little success that gained her from the album Naked showed that it might work for her. Wanting to do these nude shots is influenced by her being detached to Komuro Tetsuya, whom had always dictated her what she was and she was not to do.
She released two photobooks, "crystallize" and "crystallize II" which include racy photos and butt shots of Tomomi. The most recent of the two even came with two strawberry flavored condoms. Both photobooks have sold unexpectedly well.
Most recently, on June 29 2007, Kahala was dropped by her talent agency Production Ogi1. She signed with the company back in 1999 after her break up with Komuro Tetsuya. The company stated that after years of recovery, she is still not well and is unreliable.
In 2010, it was announced that Kahala will make a full comeback under the label avex and once again be working with former producer and boyfriend Komuro Tetsuya.
Works
Studio Albums
Best Albums
Cover Albums
Singles
Videos
Compilations / Others
Photobooks
[2000.01.27] Mirai wo Shinjite
[2001.07.25] Ku Ari Raku Ari ~Mirai wo Shinjite Part2~
[2001.12.xx] SHOWBIZ
[2005.12.20] crystallize
[2006.02.27] crystallize II
Filmography
Commercial
[1995] Japan Oracle
[1995] Minami '96 JOY OF SPORTS
[1996] TBC Tokyo Beauty Center's the Lady Esthetic TBC
[1996] DDI Pocket
[1996] Lotte's Sasa
[1997] Kanebo Cosmetics's REVUE / Bronzelove
[1997] Kanebo Cosmetics's REVUE Esthetical Foundation
[1997] NTT PC Communication's Infosphere
[1998] Meiji Dairies Corporation's Folett Torukeru Pudding
[1998 - 1999] JT HALF TIME's Miss Parlor Momo no Tennen Mizu
[1998] Kanebo Cosmetics's REVUE Esthetical Foundation Cool
[2001] Shiseido's SUNBLOCK
[2001] Lawson's Bento Campaign
[2001] JRA
[2002] Pokka Canned Coffee's FIRST BLACK DRIP
[2004] FIELD's CR Kahala Tomomi to Minashigo Hatch
[2005] Nissin Food Products's Nissin Yakisoba
[2005] Nissin Food Products's Yakisoba Dekimashita
[2005] KOSÉ's Mousse Cleansing Oil
[2005] KOSÉ's Perfect Clear Gel
[2005] TU-KA's Purikei
[2006] JT's Miss Parlor
[2006] JT's Miss Parlor Momo no Tennen Mizu and Ringo no Tennen Mizu
[2006] au by KDDI's au MNP Ashi Campaign
Dramas
Movie
Television
[1997 - 1998] TK MUSIC CLAMP
[2000 - 2001] 進ぬ!電波少年 〜華原朋美の電波少年的全米デビューへの道〜 (Susume! Denpa Shounen ~Kahala Tomomi no Denpa Shounendeki Zenbei Debut he no Michi~)
[2002 - 2005] にっぽん愉快家族 (Nippon Yukai Kazoku ~Dai 33 Bu Saishuukai Aki Jikan Special~)
[2005 - 2007] Shin Doumoto Kyoudai
Works
Backup Vocals
Concerts / Dinner Shows
[2001] TOMOMI KAHALA FIRST LIVE TOUR 2001 〜待っててくれてアリガトウ〜 (TOMOMI KAHALA FIRST LIVE TOUR 2001 ~Matte Tekurete Arigaiu~)
[2002] Tomomi Kahala Concert Tour 2002 "Natural Breeze"
[2003 - 2004] Tomomi Kahala Dinner Show
[2004] TOMOMI KAHARA CONCERT 2004
[2004] Tomomi Kahara Summer Dinner Show
[2004] Tomomi Kahara Christmas Dinner Show 2004
[2005] 10th Anniversary Celebration 華原朋美 Concert 2005 (10th Anniversary Celebration - Kahara Tomomi Concert 2005)
[2005] Tomomi Kahara Christmas Dinner Show 2005
[2006] 華原朋美 NEW YEAR LIVE 2006
[2006] 華原朋美コンサート2006 (Kahala Tomomi Concert 2006)
[2006] Tomomi Kahara Christmas Dinner Show 2006 〜華やかに艶やかに〜 (Tomomi Kahara Christmas Dinner Show 2006 ~Hanayaka ni Adeyaka ni~)
Musical
[2005 - 2006] 赤毛のアン (Anne of Green Gables)
[2006] ザ・ビューティフル・ゲーム (The Beautiful Game)
[2006] ユーミンソング・ミュージカル"ガールフレンズ" (Yuming Song Musical "Girlfriends")
Radio
[1996 - 1999] CATCH A BRANDNEW
[2001] 華原朋美のLIPS PARTY 21.jp (Kahala Tomomi no LIPS PARTY 21.jp)
External Links