Due to an influx of spam accounts getting through and joining the site, user registrations have once again been disabled until further notice as we work on a different solution.
Midori (band)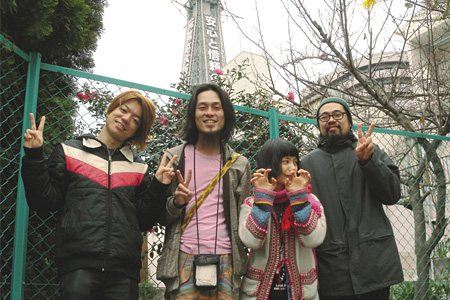 Midori (ミドリ) was a Japanese noise rock and jazz fusion band, signed to Sony Music Associated Records. They have been billed as Osaka's warped JUDY AND MARY. Their disbandment was publicly announced by vocalist Goto Mariko on December 25, 2010, with their last show titled Sayonara, Goto-San being played on December 28, 2010.
Members
Former Members
Information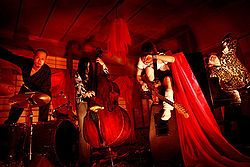 The members of Midori first met when they were members of two different bands. Goto Mariko and Kuwano Yoshifumi were members of the band Usagi. The two were friends with a fellow band in Osaka known as Teromeya. The two expressed in interest in wanting to play in band with Teromeya's drummer Kozen Yoshitaka. Soon enough the three got their wishes when the two band's broke-up.
In July 2003, Midori first formed. At the time the group was a cover band, playing the songs in Kayokyoku musical style. It was not long before Kuwano Yoshifumi left the group, leaving them to play as a duo for a while. Before the end of the year the duo was able to recruit four more members: Hiroshi Satoshi (a noise and sound engineer), Yano (a performance dancer), Io Ryota (a guitarist), and an unnamed member. This line-up last a while, and the band was able to record and release a demo tape, First. By October 2004 all the new members had left except Hiroshi Satoshi, and the band welcomed keyboardist and pianist Hajime. With this line-up the band released their second and final demo, Second.
After the release of their final demo in 2005, the band signed with an indie record label, GYUUNE CASSETTE. After signing Hiroshi Satoshi left the group and Tsurugi Jujin joined. Tsurugi added a unique quality to the band as he played an upright electric bass. On 2005.11.25 Midori released their first studio album, First. During the recording for the band's next release Tsurugi left the group. Former member, Kuwano Yoshifumi returned as a supporting member to help play live shows.
In 2007, the band accomplished a lot. They started out the year by releasing their second album, Second♥. It wasn't long after that the band was approached by major record label Sony Music Entertainment. The band made the decision to go major and signed with Sony's Associated Record. The band ended the year by releasing their third album and major label debut, Shimizu. The band started out the new year by adding Iwami Keigo (an electric upright bassist) to the band's line-up. In May 2008 they released, Aratamemashite, Hajimemashite, Midori Desu. followed by their first live album, Live!! in November.
In 2009, the band got to work with one of their idols, TAKUYA of JUDY AND MARY fame. Goto Mariko had met TAKUYA at a party he threw, and he agreed to work with them. He worked with the group on their debut single, swing. The band also recorded a cover of JUDY AND MARY's Music Fighter for JUDY AND MARY 15th Anniversary Tribute Album. Both of these releases were released on the same day. In fall Midori worked with the Hello! Project group Melon Kinenbi. The band composed and arranged the song while Goto wrote the lyrics for "sweet suicide summer story", which later appeared on their rock album MELON'S NOT DEAD.
In 2010 they released their fifth album shinsekai, and it was their highest one yet reaching #17 on the Oricon charts. Sadly, the band decided to disband and their disbandment was publicly announced by vocalist Goto Mariko on December 25, 2010, with their last show titled Sayonara, Goto-San being played on December 28, 2010.
Discography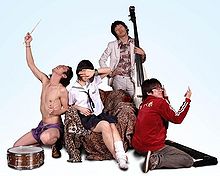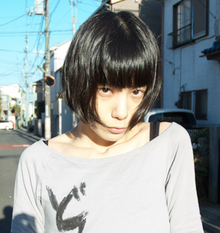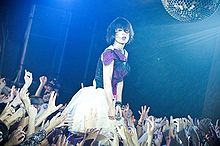 Albums
Other Albums
Single
DVDs
Compilations / Other
Publications
Band Scores

[2008.10.27] Band Score / Aratamemashite, Hajimemashite, Midori Desu. (バンドスコア/あらためまして、はじめまして、ミドリです。)
Magazines

[2010.08] MARQUEE Vol. 80 (マーキー Vol.80) (Cover & Feature)
External links