Due to an influx of spam accounts getting through and joining the site, user registrations have once again been disabled until further notice as we work on a different solution.
Asanuma Takuya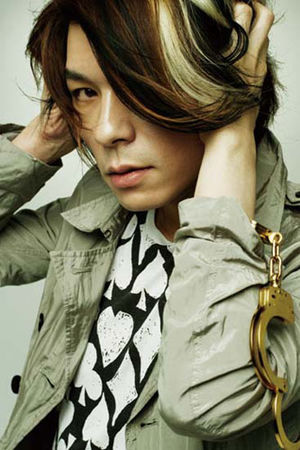 TAKUYA is a Japanese rock singer-songwriter, guitarist, vocalist, lyricist, composer, and producer. He rose to fame in the 1990's as the guitarist and one of the principle songwriters for the famous rock band JUDY AND MARY. Along with YUKI the two penned many lyrics for the band under the name "Tack & Yukky". After the band split in 2001, TAKUYA started working on his solo career. In 2005 he became the producer for Takahashi Hitomi.
Profile
Real Name: Asanuma Takuya (浅沼拓也)
Stage Name: TAKUYA
Pen Name: Tack
Birthdate: September 9, 1971
Height: 174 cm
Weight: 63 kg
Blood Type: O
Informations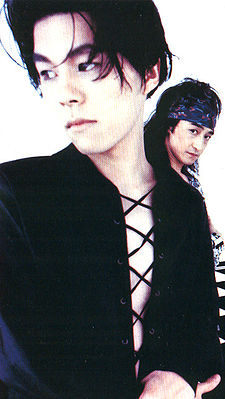 Early years: 1971 - 1991
Asanuma Takuya was born in Kyoto, Japan on September 9th 1971. TAKUYA entered the Notre Dame elementary school in 1978. In 1984, he transferred to an all boy's junior high school in Nagasaki and lived in a dormitory. While in high school he took a major interest in music and wanted to become a keyboard player. During this time he called his parents to ask for money to buy a keyboard, but they didn't answer his call. He later learned that they reason they didn't answer his call was due to a their house being on fire. Not long after, he learned that one of his friend's was selling his guitar for ¥15,000, so TAKUYA decided to buy it and become a guitarist instead. [1]
In 1989 TAKUYA made his official musical debut at the YAMAHA TEENS' MUSIC FESTIVAL. He made his debut as the guitarist for the short-lived band Relish of Rose. He later moved to Tokyo in 1990 to pursue a career in the music industry. In 1991 he became the guitarist for SKAFUNK. After he accepted the offer from SKAFUNK he recieved another from Mad Capsule Market. TAKUYA has stated since stated that SKAFUNK wasn't a musical fit with him, but he took what he could get and learn a lot from his time with them. The group released a major label album with Sony Music Entertainment, which wasn't successful. Sony told they band they could record another album if they wanted, but be prepared that it wouldn't sell. Discouraged by this, the band unventilated broke up. [1]
Initial success: 1992 - 2001
In 1992, TAKUYA started up the rock band ROBOTS with a few friends. Not long after starting the band, TAKUYA heard about auditions for a new band called JUDY AND MARY. He went to the audition with only his "guitar and one pedal. [1]", while all the other guitarist came with equipped with all their equipment. The band liked TAKUYA's audition and added him to the band's line-up. After finding the guitarist they knew that if they couldn't get things moving that they would be dropped by their label, EPIC Records. The band started out re-recording some of their songs from their indie career, releasing two of them as singles: "POWER OF LOVE" and "BLUE TEARS". All the songs on the band's debut album, J・A・M, were composed by Onda Yoshihito (with the exception of YUKI's "LOVE ME DO!"). TAKUYA's first musical contribute to the band was the song "Kiken na Futari", which was the B-side from their re-cut single, "DAYDREAM". Lyrics for the song were written by TAKUYA and YUKI and credited to "Tack and Yukky".
For the band's second album, Orange Sunshine, TAKUYA became more active in songwriting. He composed the band's fifth single "Cheese 'PIZZA'". Onda composed the music for the album's other singles, while TAKUYA composed their B-sides. After the release of the band's signature hit, "Sobakasu", things started to change and TAKUYA took over writing the A-sides. The band's fourth studio album, THE POWER SOURCE, featured the majority of the songs written by TAKUYA.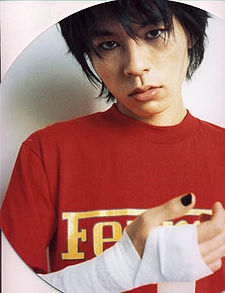 In 1997, YUKI under went throat surgery and the band went on a small hiatus. During this break TAKUYA returned to his recording music with ROBOTS. During this time though the group was really just him and a backing band, as he wrote, composed, arranged, and produced all the music. Because of his fame, he was able to sign with EPIC Records and they released their first single "Koibito" in September 1997. By the end of the year came their first album, GUITAR DE POP., and went on tour, ROBOTS TOUR 1997.
In early 1998 JUDY AND MARY reunited, and TAKUYA continued to work on both projects. The band released "Sampmichi" in February, and the two songs on the single were the only tracks not composed by TAKUYA on the band's fifth studio album, POP LIFE. According to reports the band was in a bad spot at the time, and there was talk to breaking-up, and TAKUYA was the only one still showing up in the studio to record. One of the songs on the album, "Irotoridori no Sekai" was released as a re-cut single on 1998.09.09, and on the same day TAKUYA released his ROBOTS' self-cover as a single. After the tour for the album the band went on another hiatus.
During this hiatus TAKUYA continued his work with ROBOTS. He released a few more singles with them and another album, Cloud Collector. It was also around this time that he became the producer for the group Λucifer, who were based on a fictional band from Shinjo Mayu's Kaiken Phrase manga. He composed and produced several of the band's singles as well as their first album, Limit Control and the majority of their second album, BEATRIP.
In 2000, JUDY AND MARY returned for one final go. The band released three more singles: "Brand New Wave Upper Ground", "motto" and "Lucky Pool", which was followed by the band's sixth and final studio album, WARP. This album is seen as TAKUYA's vision of the band, as he was the main influence on the record. For the first time the record was arranged solely by TAKUYA. After a big tour to support the album, the band final disbanded for the final time.
Solo venture: 2002 - 2004
Not long after the break, TAKUYA started working on launching a solo career. His career ended up launching around the same time as YUKI's solo career. TAKUYA parted ways with EPIC Records and signed a deal with Universal Music Japan. In September 2002 he released his debut solo single, "i love you". A month later he followed with "HOTARU" and in December he released his debut album, THE WIDE WILD WORLD. The sound of the album was a lot calmer to his previous recordings with JUDY AND MARY and ROBOTS.
In 2003, he was contracted to write a few songs for artists. He worked with the famous lyricist for the pop idols Akimoto Yasushi, to write the song "Reset" for the short-lived duo Juemilia. He also contributed a song to SMAP's SMAP 016/MIJ album. After this he returned to writing songs for his second studio album, 54it. Although, the album flopped and failed to chart on the weekly Oricon.
Newfound success: 2005 - present
In 2005, TAKUYA became one of the judges on the television show Uta Star. At the end of the competition two girls tied for first place and the were both given record deals with Victor Entertainment Inc.'s Sweetstar Records. Out of the two winners: Matsubara Shizuka and Yuguchi Aimi, TAKUYA ended up working with Yuguchi. He produced her debut single, "Smile.", which was released later that year. In 2006 he became the producer for pop/rock artist Takahashi Hitomi. His first single with her was "Communication", and he worked with Takahashi to give her a harder rock sound which she wanted.
He worked with Takahashi for two years, producing a total of five singles and one album, Bamboo Collage. It was around this time that he was listed as being a contributor on misono's debut album, never+land. Though he failed to be seen on the album after it was release. A year later his composition with misono appeared on her second album, say.
In 2007, TAKUYA started up his ROBOTS project again. This time around the group was spelled as ROBO+S, and was a band instead of a solo project. The band released two more albums Dying Music (2007) and Korogare Sandy mo Sam mo (2009). After an extensive tour in 2009, the band once decided to disband. That same year TAKUYA also worked with Midori and released a single with Kamiki Aya, "W-B-X ~W boiled extreme~".
Discography
Albums
Singles
Split Singles
Compilations / Others
Composed Songs
In the start of his career TAKUYA started out just as a musician. In the beginning of JUDY AND MARY Onda Yoshihito composed most of the songs and YUKI wrote the majority of lyrics. As time went by, TAKUYA started to compose songs and by the time WARP came around he composed the majority of the band's work. He also co-wrote a lot of lyrics with YUKI. After the group's break-up he became well sought after producer, best known for working with Λucifer and Takahashi Hitomi.
Reset - (lyrics, music, and arrangement)
misono Aji (美苑味; misono Flavor) (music, guitars, and production)
Hatsukoi (初恋; First Love) - (lyrics, music, and production)
Smile. (music, arrangement, guitar, and production)
References
External Links