New user registrations have been disabled until further notice. If you would like to create an account, please message
Generasia on Facebook
. Thank you!
Onda Yoshihito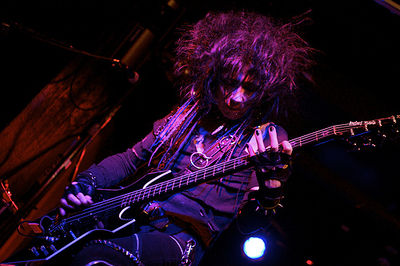 Onda Yoshihito (恩田快人) is a Japanese rock musician, composer, arranger, and producer. He started his career in 1981 as the bassist for the heavy metal band PRESENCE. However he is better known for being one of the members of JUDY AND MARY, whom debuted almost ten years later. After JUDY AND MARY's disbandment in 2001, Onda has joined a variety of bands and he has become a well known composer and producer.
Profile
Name: Onda Yoshihito (恩田快人)
Nick names: Ralph, RANDY
Birthday: December 13, 1963
Birthplace: Kobe, Hyougo Prefecture, Japan
Height: 176 cm
Weight: 54 kg
Blood Type: A
Bands:
Informations
Onda Yoshihito was born on December 13th 1963 in Kobe's Hyougo prefecture. Onda became musical at quite a young age, and first took up the electric organ during elementary school. In his second year of junior high school, Onda started to learn how to play the guitar. After graduating from Kobe's municipal high school, Onda went on to enter Kobe Gakuin University's Department of Economics.
Onda started playing music professionally after he join the heavy metal band PRESENCE in 1981. The group released music in the indie scene for a few years and went to a major label in 1987. However, two years later in 1989, the band disbanded and Onda went on to join JACKS'N'JOKER.
In June 1991, he met Isoya Yuki in Hakodate, Hokkaido after returning from a JACKS'N JOKER recording session and while she was on a film shoot for the film Itsuka Giragirasuru Hi [1]. The two met at a nightclub and Isoya made quite an impression on him, and the two became quick friends. A few months after Isoya returned home, she sent him a demo tape with some of her vocal samples. After hearing the demo Onda decided to start a band with her. He decided to leave JACKS'N'JOKER in 1992 and then formed JUDY AND MARY with the newly dubbed vocalist YUKI. The band recruited drummer Igarashi Kohta, and support guitarist Fujimoto Taiji. The band was soon signed to the indie label Chainsaw Records and released their debut mini-album, BE AMBITIOUS. All of the songs on the album were composed by Onda and even the song "GLAMOUR PUNKS" featured Onda singing. During their Kanto region tour the band became well known for their stage shows and it wasn't long before they were noticed by the major labels.
In February 1993 the band was offered a major label record deal with Sony Music Entertainment's EPIC Records sub-label. Fujimoto Taiji didn't want to continue on as a major band and left the group to join DIRTY TRASHROAD. Soon after his departure, Asanuma Takuya was added to the bands line-up as their new guitarist. The band's first two singles "POWER OF LOVE" and "BLUE TEARS" were re-recordings of songs from their indie mini-album. The band's debut studio album, J・A・M was completely composed by Onda (except for one song composed by YUKI).
Out of the band, Onda and Igarashi were the two seasoned musicians, while YUKI and TAKUYA were still quite new to the industry. Onda took TAKUYA under his wing and help him in his composing of songs. By the release of Orange Sunshine the two were each composing about 50% of the songs. The band's ninth single, "Sobakasu" (composed by Onda), became the groups biggest hit. It was used as the first opening theme song to the anime Rurouni Kenshin. The single went straight to #1 on the weekly Oricon chart, and in a matter of weeks, the single had sold over the rare one million copies mark. The song even got them invited to play at Kohaku Uta Gassen. The band's following album, THE POWER SOURCE, sold over two million copies.
By the release of their fifth album, POP LIFE, TAKUYA was composing the majority of the material. It was also around this time that Onda begain producing the group Whiteberry. He got them a deal with EPIC Records and composed a few of their early releases. After some tension in the band they decided to disband in 2001. Their final album, WARP was completely composed by TAKUYA.
After the group disbanded Onda went on to play in his band HOT ROD CRUE. Aside from that he aslo begain composing and producing songs for other aspiring pop-rock acts. He currently plays in ZAMZA as BANSHEE ALIOUXCE along side his JUDY AND MARY drummer KOHTA.
Discography
Albums
Compilations / Other
Composed Works
References
External links