New user registrations have been disabled until further notice. If you would like to create an account, please message
Generasia on Facebook
. Thank you!
Λucifer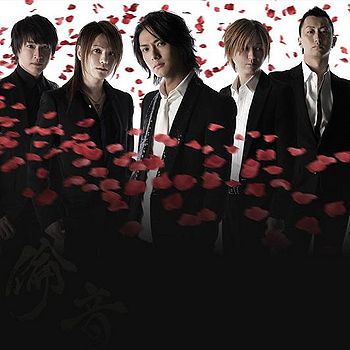 Λucifer was a Japanese rock band, who were best known for their tie-in with the Kaikan Phrase anime. The band was formed in 1999 and disbanded in early 2003. They officially debuted on September 15, 1999 with their single Datenshi BLUE, and went on to continue releasing and performing even after the anime had ended. The band's name is sometimes spelled as Aucifer, but pronounced as Lucifer because of the greek "L" (lambda, "Λ").
Recently, Mayu wrote on her blog that Aucifer are planning a comeback.[1] A tour called "Λucifer 10th Anniversary Live Tour" is set to take place in August and September, with 5 shows have been announced, including a show in Bangkok, Thailand. According to the Japanese version of Wikipedia, Λucifer will stop their activities after their show in Thailand in 25th September 2010, imitating the way they stopped their career 7 years ago.
Members
Information
Λucifer was put together to promote Kaikan Phrase anime. The anime was based on the popular shoujo manga by Shinjo Mayu. The band members of the real life Λucifer changed their names to match their anime/manga counterparts, with the exception of vocalist Makoto who kept his name instead of changing it to that of the main character Sakuya. Several of Λucifer's songs were used in the anime, along with songs of other Japanese rock bands like GLAY, FEEL, e.MU and Transtic Nerve. The band decided to go on even after the anime had ended, and continued to release more music afterwards.
Then finally on 25 October 2002, over two and a half years after the anime had ended, they announced that they were breaking up. Following the announcement, they did their last tour entitled "Λucifer Last Live 2002-2003 Energy" from 16 December 2002 to 10 January 2003, which included nine shows. After that, they appeared for the last time on a TV music show, PopJam, on 11 January and then did their very last show (which was also their first show done abroad) at the Impact Arena in Bangkok, Thailand on 19 January.
On the first album, the music was written by Asanuma Takuya (JUDY AND MARY), Chisato (Penicillin) and IPPEI & TAIZO (FEEL). After that, the members of the band progressively started writing more. While BEATRIP only featured one song from Atsuro and Santa and the rest were by Takuya and Chisato, by the third album, nearly all the music was composed solely by the band. The lyrics on the first two albums were all written by Mori Yukinojo (with the exception of one song on BEATRIP). On the third album, only the lyrics to the song by Takuya were made by Mori, with the rest being written by the band.
After the break-up of the band:
Makoto has gone on a solo career (first going with just his first name, now with his full name). Towa and Santa also played on his first mini-album "VIBRATION".
Towa is in two bands called OLIVE SUNDAY and Birth of Life and has done some solo work, as well as playing as a guest for several projects.
Santa is with Towa in OLIVE SUNDAY. He is also a working actively as a session drummer and has played on drums for numerous artists, such as Tsuchiya Anna, Moriyama Naotaro, Kawabe Chieco and Kato Miliyah to mention a couple of his projects.
Yuki is in a band called DUSTAR-3. He is also a supporting member in Acid Black Cherry, solo project of Janne Da Arc's yasu.
Atsuro has been playing session guitar for several popular artists, such as meg rock, Marika, Kawabe Chieco and Nakagawa Shoko, to mention a few. Recently he was also briefly in a band called Tokyo Anastasia.
Atsuro and Towa have also done songwriting and arranging for various artists.
Discography
Albums
Best Albums
Singles
Video Releases
Compilations / Other
External links
↑
http://www.aucifer.org/2010/02/aucifer-are-back/ Translation of Shinjo Mayu's blog entry