Generasia would not be what it is today without the countless contributions by both staff and members alike! Thank you for all that you do!!
misono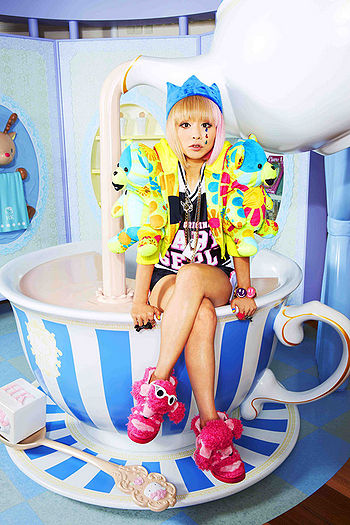 misono, currently going under the moniker Me, is a Japanese pop-rock singer-songwriter, talent, and actress from Kyoto. In 2002 she began in the music business as the vocalist and lyricist of the pop band day after tomorrow. She stayed with the unit for three years until the group disbanded in 2005. A year later misono started her solo career with the single "VS" in March. She has been acting in commercials since 2003, though it was in 2006 when she was cast in a feature film, Obachan Chips.
Profile
Stage Names: Me / misono
Birth Name: Koda Misono (神田美苑)
Nicknames: Miimo (みぃも)
Date of Birth: October 13, 1984
Blood Type: B
Height: 154cm
Labels:
Bands / Groups:
Biography
Despite originating from Kyoto in Japan, misono went to study at the prestigeous Okinawa Actors School in the southern islands of Japan. While at the school, she was a member in a popular group entitled B.B.WAVES. After being signed to the label avex trax, misono would debut in 2002 as the lead vocalist of a new band; day after tomorrow. Their self titled debut mini-album reached up to #10 on the Oricon weekly charts, and a following mini-album in November (day after tomorrow II) reached even further (peaking at #3).
Despite this success, it would not be until 2003 when day after tomorrow would reach their peak in popularity. Their single "moon gate", used as the theme song to the Namco game Tales of Symphonia, brought them their first #2 single. Six months after the debut of day after tomorrow, misono began to gain weight. Her chubby face was a reason for their diminishing popularity and the eventual disbandment of day after tomorrow.
Two years later in 2005, the band would disband. By this time they had achieved a total of two singles at #2 and two albums at #2 on the Oricon charts.
Solo Career
In late March 2006, misono would return to the music scene as a solo artist with the single "VS". Interestingly enough, this single was released on the same day as fellow labelmate and former Do As Infinity member Van Tomiko's debut solo album. By the end of the week, misono reached #4 on the Oricon weekly charts (with her sister's album BEST ~second session~ also charting at #4 in the very same week, but on the album charts).
"VS" would be quickly followed in a month's time by a second single, "Kojin Kugyou", a third two months after that, titled "Speedrive". In September of 2006, she joined a dieting program (MTV Girls Meets Beauty supported by Takano Yuri) on October 5th through MTV Japan. During this time she put out her fourth single "Lovely♥Cat's Eye". These singles were not as successful as "VS", but still charted within the top #20.
After five singles misono released her debut album, titled never+land. Unfortunately, the album flopped and debuted with low sales. The low sales have been thought to be from the lack of number of new songs on the album (only 4 songs out of 12 were new) and lack of promotion from avex trax. This in turn caused avex to cancel a previously mentioned mini cover album. In total, the album reached #20 on the Oricon weekly charts and sold 12,789 copies
misono released her sixth single "Pochi" in May of 2007 which later charted at a low number of #36 on the Oricon weekly charts. In September of the same year misono began the Rock Singles Project which would be rock themed singles produced by some of Japan's best rock acts. The first single in the project, "Zasetsu Chiten", was produced by STRAIGHTENER's bassist Hinata Hidekazu. In November of 2007 misono released the second single, "Juunin Toiro", which was produced by GO!GO!7188. Two months later misono released the third with a single produced by onso9line titled "Mugen Kigen". None of those singles entered the top ten on the Oricon charts.
The release of her second album was announced in early 2008, but it was unexpectedly pulled. It was later announced that in June misono would be releasing the main theme song for the game Tales of Symphonia -Ratatosk no Kishi- titled "Ninin Sankyaku". The single was the last of the rock project singles and had moderate success, charting at #10 on the Oricon weekly charts. Her second album say was released in June 2006, but failed to make an impact much like her debut album due to lack of promotion.
In October of 2008, misono released her 11th single, "Kazoku no Hi / Aburazemi♀ (Osaka Version) -Piano Version-". In November of 2008, misono collaborated with Satoda Mai and Toshifumi Fujimoto on a Christmas single called "Mou Sugu Christmas" in the new unit Satoda Mai with Goda Kazoku. The single was very well received and went to number #3 on the Oricon weekly charts. In January of 2009, they released a second single which was also well received and went number to #4 on the Oricon weekly charts, "Bye Bye". In February of 2009, she released her 12th single "Kyuukon / ?cm" and collaborated with her sister, Koda Kumi, on a joint "Koda Kumi x misono" single titled "It's all Love!" on March 31st, 2009.
Discography
Studio Albums
Mini-Albums
Singles
Vinyls
Compilations / Other
Filmography
Movies
Television
Theatre
External Links
<br=/>