Due to an influx of spam accounts getting through and joining the site, user registrations have once again been disabled until further notice as we work on a different solution.
YUKI (singer)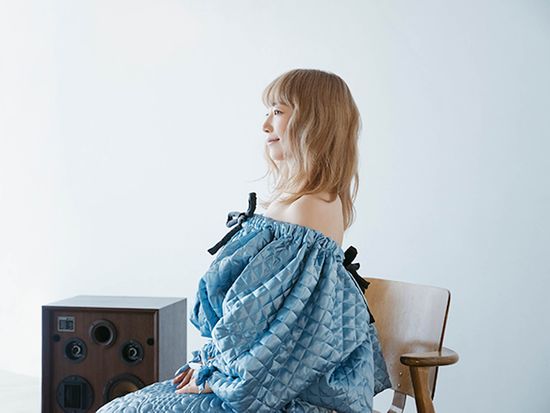 YUKI is a Japanese pop singer-songwriter under Sony Music Entertainment's EPIC Records sub-label. YUKI rose to fame in the 1990's as the vocalist of the Japanese rock band, JUDY AND MARY. She's had various side projects, and she was even a drummer for the short lived girl-band, Mean Machine. YUKI made her solo debut in 2002 with the single, "the end of shite".
Profile
Stage Name: YUKI
Maiden Name: Isoya Yuki (磯谷有希)
Married Name: Kuramochi Yuki (倉持有希)
Nickname: Yukky, Yukiss, Sarah
Birthdate: February 17, 1972
Birthplace: Hokkaido, Japan
Blood Type: A
Height: 156cm
Weight: 46kg
Family: YO-KING (husband), their three sons (names not public), Ryouko (mother), Mou (father), Yukari (older sister), Taminori (little brother)
Bands:
Information
Early life: 1972 - 1990
Isoya Yuki was born on February 17, 1972 in Hakodate, Hokkaido, Japan. She was born to her father Isoya Mou and her mother Isoya Ryouko. She is the younger sister of Yukari and the older sister of her brother Taminori. She attended an all-girls high school in Hakodate and continued her studies at Hakodate Otani College. After graduation, she worked briefly as a tour guide and beautician.
Growing up music was a big part of Isoya's life. She cites the 1980's band REBECCA as a huge source of inspiration, saying that they where "the place where my music began". She grew up with the members of GLAY (as they lived in the same town) and has known them since the late 1980's.
JUDY AND MARY's era: 1991 -1998
Main article: JUDY AND MARY
In 1991, Isoya was a junior in college. While on location in Hokkaido for the film Itsuka Giragirasuru Hi [1], she Japanese rock musician Onda Yoshihito. The nightclub where Onda was playing with his band, JACKS'N'JOKER. Isoya made quite an impression on him and the two became quick friends. A few months after their meeting, she sent him a demo tape with some vocal samples. Soon afterwards, they began to form a band and recruited drummer Igarashi Kohta and guitarist Fujimoto Taiji. Here Isoya decided to take on the stage name YUKI.
The band made their indie debut in 1992 with the mini-album, BE AMBITIOUS. TThe album featured lyrics penned by Yuki and music composed by Onda. After a successful live tour the band was offered a record deal Sony Music Entertainment and signed with EPIC Records. At this point Fujimoto left the band, and they began auditions for a new guitarist. The group decided on Asanuma Takuya, whom took on the stage name TAKUYA. The group was under pressure by Sony to hurry up and release some material, so their first few releases where re-recordings of songs from their indie career.
In 1994, the band released their debut studio album, J・A・M. The album did well, peaking at #23 on the weekly Oricon chart. This was the band's first release to contain new material since signed with Sony. Much like their indie debut this album was mainly composed by Onda, with YUKI composing the song "LOVE ME DO!". Around this time YUKI started hosting the radio program All Night Nippon, which lasted until 1996.
From this point and on, the band started to become more popular. They started breaking into Oricon's top 25 with singles like "Hello! Orange Sunshine" and "Cheese PIZZA" and top ten albums like Orange Sunshine and MIRACLE DIVING. With the release of their ninth single "Sobakasu" the band's popularity to skyrocket. The single was as the first opening theme to the anime Rurouni Kenshin and ended up reaching #1 on the weekly Oricon chart and selling over a million copies. Their following album, THE POWER SOURCE reached #1 on the weekly Oricon and sold over two million copies. During this height of popularity YUKI started contributing a monthly illustrated journal page for the magazine WHAT's IN?, titled "YUKI no Hateshinai Tawagoto" (YUKIの果てしない戯言; YUKI's Endless Nonsense). Throughout the 1990s and early 2000s, YUKI created dozens of pages for WHAT's IN? and those pages were later compiled and published in her three autobiographies, Girly Swing, Girly Boogie, and Girly Tree. YUKI still occasionally creates these pages for her official fan club newsletters and certain special occasions
In late 1997, YUKI learned that she need to have throat surgery. This forced the band to take a couple months off so that she could recover. During this time the other member went on to pursue different side projects. After only a four month break, the band bounced back with two successful singles, "Sampomichi" and "Music Fighter". After the release of their fifth studio album, POP LIFE the tension in the band started to grow and they decided to take another hiatus.
Side projects: 1998- 2001
During this time, YUKI began working on a few different side projects that had been in the works. She started writing songs with Chara, some for their all girl band for Mean Machine, which would resurface later. The two also released the joint single "Ai no Hi 3tsu Orange", which performed very well on the charts. YUKI also teamed up with Kate Pierson (of The B-52's fame) and members from The Plastics to form the experimental pop group, NiNa. During the bands short life they release two singles and a self titled album.
The band returned in early 2000 and released their 18th single, "Brand New Wave Upper Ground". In September 2000 YUKI announced her marriage to YO-KING, who is the frontman for the band Magokoro Brothers, which she had previously worked with on the song "KIMOCHI E". On January 9th 2001, the band made an announcement via a full page ad in the newspaper stating that they would be disbanding after their final album and following tour. The band released their last original single, "Lucky Pool" on 2001.01.24, and was the lead-in single for the band's final album, WARP.
Not long after the group disbanded, YUKI joined the band Mean Machine. The group was composed of actress Ito Ayumi (vocals), DJ and radio personality Chiwaki Mayumi (guitarist), YUKARI (bassist), and featured YUKI and Chara on drums. The premise of the band was to "play an instrument you never have before." by the end of the year they release two singles and their only album, CREAM.
Solo debut: 2002 - 2004
YUKI made her first post-JUDY AND MARY apperance in the pages of ROCK ON JAPAN, where she talked about her up coming solo single. Her debut solo single, "the end of shite" was written, composed, arranged, and produced by former Seagull Screaming Kiss Her Kiss Her front women, Higurashi Aiha. The collaboration came about because "YUKI was a fan [of Higurashi]" and she contacted Higurashi looking for a "producer, songwriter, and musician [2]." At the time Higurashi had five songs written as she was getting ready to launch her own solo career, she played the songs for YUKI and she loved the songs, and used three of them for this single.
A month later in March of 2002, YUKI followed up with the "Prism" single. Three weeks after it's release YUKI released her first full-length solo album, PRISMIC. The album's sound, for the most part, was rock. It contained compositions from well known Japanese rock artists such as Higurashi Aiha, Spitz, and Tokyo Ska Band. YUKI herself also composed several songs on the album, making them her first released compositions since 1993. The album managed to reach #3 on the weekly Oricon chart and sold over 300,000 copies.
YUKI then went out on tour to promote the album. The tour was called, PRISMIC TOUR 2002 and even though there were shows recorded and aired on television, it was never released for purchase. It was also around this time that YUKI announced she was pregnant with her first child. She ended 2002 with the release of "Stand Up! Sister". This release showcase a change in style for YUKI, moving from a harder alternative rock to a softer acoustic rock sound.
In early 2003, YUKI continued the acoustic trend with the release of two new singles: "Sentimental Journey" and "Hummingbird". The singles didn't chart as well as her previous singles, but both singles were able to garner her a lot of attention with their Noda Nagi directed music video.
In March 2003, she released her second studio album, commune. This album continued the sound started by YUKI found in the singles leading up to it. The majority of the songs on the album contained a gentle, acoustic-rock sound with a slow, 1970s-feel and which showed influence of her pregnancy (she was pregnant during the recording) [3]. The album didn't fair as well as PRISMIC and only reached #11 on the weekly Oricon chart.
On April 18th 2003, YUKI gave birth to her first son. A few months after his birth YUKI headed out on her second tour, Sweet Home Rock'n Roll Tour on September 22nd 2003. She then finished out the year by releasing her eighth single, "Hello, Goodbye". It was also around this time that pop-rap duo HALCALI released their second album, Ongaku no Susume (with album cover art done by Noda Nagi). The album contains the song "Densetsu no Futari", which features lyrics by YUKI and music composed by YO-KING.
Rise in popularity: 2005 - 2007
YUKI started 2005 out with the single, "JOY". Even though the single only peaked at #10 on the weekly Oricon chart, the song was quite popular and garnered a lot of attention and charted for eleven weeks. The song also showed a another change in style for YUKI, moving from a more rock oritented sound to a more experimental electro and pop sound. The music video was very popular, winning the "Best Video of the Year" award at the annual Space Shower TV Music Video awards.
February 2005, YUKI released her third studio album, joy. This album showcased YUKI's new style, with the majority of the songs being up-beat electro-pop songs. The album also had a mix of pop-rock tunes. joy reached #1 on the weekly Oricon, a first for YUKI's solo career. A month later she started out on her TOUR "joy" concert tour.
Sadly, on March 17th, 2005 - a few days prior to the start of Tour "joy" - YUKI's first son died from unknown causes. The concerts were at first canceled, but were then un-canceled. Aside from a brief letter to fans thanking them for their condolences and expressing their grief, YUKI & YO-KING have not publicly discussed the tragedy. After her son's death, YUKI stopped appearing on television to promote her music, and her music videos for "Dramatic" and "Nagai Yume" were the first in which she did not appear.
YUKI finished out 2005 with a string of successful singles. "Nagai Yume" was used as the CM song for the Sony Ericson Mobile au W31S cell phone, "Dramatic" was used as the opening theme song to the popular josei anime adaption of Honey and Clover, and "Yorokobi no Tane" was used as the theme song to the film Touch. The singles reached #4, #2, and #5 on the weekly Oricon chart, respectively and they all sold over 65,000 copies.
2006 started out with the release of YUKI's 13th single, "Melancholinista". Not long after the release, YUKI announced that she was pregnant with her second child. In light of her pregnancy her activities slowed, although in August she released another single "Fugainaiya". For the song's music video YUKI was dressed as a big red chair which hid her pregnant stomach; this was third time she appeared pregnant in a music video (the first two being "Sentimental Journey" and "Hummingbird"). On August 29th 2006, YUKI gave birth to her second son and a few days later YUKI released her fourth studio album, WAVE. The album was highly successful, peaking at #1 on the weekly Oricon and it became the #38 best-selling album of the year.
It'd be almost a year before there was another physical release from YUKI. However, in May of 2007 she released her first download exclusive single, "Biscuit". The song was released through Sony cell phones. In August of 2007 she released her 15th single, "Hoshikuzu Sunset". For the song YUKI collaborated with well known pop-rock composer mugen. In October YUKI released five-star, a best of album collecting her singles from her first five years as a solo artist. Much like her previous two studio albums, the album was successful reached #1 on the weekly Oricon and it became the 33rd best-selling album of 2007. YUKI finished out the year by releasing another single in December, "Wonderline".
Recent activity: 2008 - present
Although she didn't release much material, 2008 was a busy year for YUKI as she spent much of the year on tour. She spent the first part of the year finishing up the YUKI LIVE "5-Star" tour, after which she preformed at Suido Hashi YUKI 2008, YUKI Concert New Rhythm Tour 2008, YUKI Live Blitz Pop Generation, and Hot Stuff 30th Anniversary "Black and Blue". She also released one single, "Kisha ni Notte", which reached #5 on the Oricon and it became her first single to chart on the newly established Billboard Japan, reaching #9 on their Hot 100.
In February 2009 it was announced via YUKI's official homepage that she was due to give birth to her third child in June. It was reported by Eltha that she gave birth to her third son on May 31st, 2009 [4]. In March she released her 18th single, "Rendezvous". The song was used as the theme song to the film Instant Numa and was another collaboration with mugen. Later in November, YUKI released her 19th single, "COSMIC BOX". Both of these singles reached #6 on the weekly Oricon chart.
YUKI started off 2010 with the release of her 20th single, "Ureshikutte Dakiau yo". On February 12th she preformed the song on the 1000th special episode of Music Station, marking her first television performance in five years. The following month YUKI released her fifth studio album, Ureshikutte Dakiau yo. The album reached #1 on the weekly Oricon, and became her fourth #1 album. In July she started a tour for the album entitled, YUKI Concert Tour 2010 "Ureshikutte Dakiau yo". The summer of 2010 was spent touring, including a performance at Rock In Japan, where she was the final act.
Much of the summer of 2010 was spent touring for Ureshikutte Dakiau yo. On September 15th 2010, YUKI released her 21st single, "Futari no Story". The single debuted at #4 on the weekly Oricon chart, making it her highest ranking single since 2007's "Wonderline". YUKI was also featured on a track "Bedtime Story" by DJ and composer Jazztronik, which was used as the theme song to the film Shikeidai no Elevator. In December 2010, YUKI will release her first solo live album, YUKI "The Present" 2010.6.14,15 Bunkamura Orchard Hall, which features new orchestral arrangements of her songs.
Discography
Studio Albums
Best Albums
Live Albums
Split Albums
Box
Singles
Split Singles
Digital Singles
Vinyl
Video Releases
Other Video Releases
Compilations / Other
Publications
Photobooks
Band Scores
Composed Works
Various Artists
Tours / Concerts
[2002.05.01] PRISMIC TOUR 2002
[2002.08.10] Rock in Japan Festival 2002
[2002.08.11] J-WAVE LIVE 2000+2
[2003.12.08] From Diva's County
[2004.01.25] Soul of Donto 2004
[2004.05.08] Sony Music Festival 2004
[2004.07.25] MEET THE WORLD BEAT 2004
[2004.08.21] HIGHER GROUND 2004
[2004.08.29] J-WAVE LIVE 2000+4
[2004.09.20] SWEET LOVE SHOWER 2004
[2004.09.22] Sweet Home Rock'n Roll Tour
[2004.12.02] Joy to the Music, Joy to the World
[2005.01.30] Soul of Donto 2005
[2005.03.25] YUKI TOUR "joy"
[2005.07.31] HIGHER GROUND 2005
[2005.08.05] Rock in Japan Festival 2005
[2005.08.21] J-WAVE LIVE 2000+5
[2005.09.03] Otodama ~Fountain Soul Sound~
[2005.09.04] TREASURE 052 with ZIP-FM ~walking on air~
[2005.09.15] SMA Bali 3 Carnival
[2006.01.27] Soul of Donto 2006 -7th Anniversary-
[2007.11.02] YUKI Live "5-Star" ~The Gift Will Suddenly Arrive~|YUKI LIVE "5-Star"
[2008.03.22] Suido Hashi YUKI 2008
[2008.04.17] YUKI concert New Rhythm Tour 2008 (Tour Start Date)
[2008.06.04] YUKI live Blitz Pop Generation
[2008.06.22] Hot Stuff 30th Anniversary "Black and Blue"
[2010.05.06] SUNSTAR ora2 presents J-WAVE LIVE SPRING! hajimari no hajimari~ featuring YUKI
[2010.06.14] YUKI "The Present"
[2010.06.15] YUKI "The Present"
[2007.07.03] YUKI concert tour 2010 "Ureshikutte Dakiau yo"
[2010.08.08] Rock in Japan Festival 2010
[2011.10.15] YUKI tour "MEGAPHONIC" 2011
[2012.04.27] YUKI LIVE "BREATHS OF TEN"
[2012.05.06] YUKI LIVE "SOUNDS OF TEN"
[2012.06.08] YUKI TOUR "BEATS OF TEN"
References
External Links