New user registrations have been disabled until further notice. If you would like to create an account, please message
Generasia on Facebook
. Thank you!
Higurashi Aiha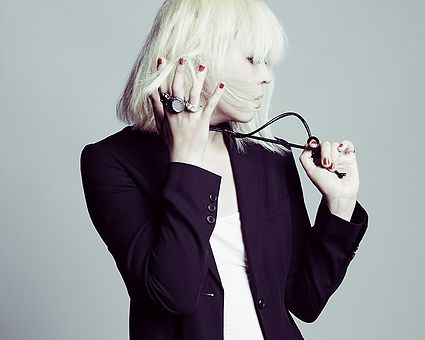 Higurashi Aiha (日暮愛葉) is a Japanese rock singer-songwriter, composer, musician, and producer. Higurashi started out her career in the early 1990s as the lead singer for indie rock band Seagull Screaming Kiss Her Kiss Her, which disbanded in 2002 but reformed in 2014. In 2003, she signed with Sony Music Entertainment and started work on a solo career. In 2005, she left the label to work with her new band LOVES. In 2011, she started another new band, THE GIRL. She is best known for writing and producing YUKI's debut single, "the end of shite".
Profile
Name: Higurashi Aiha (日暮愛葉)
Birthdate: November 8, 1971
Bands:
Information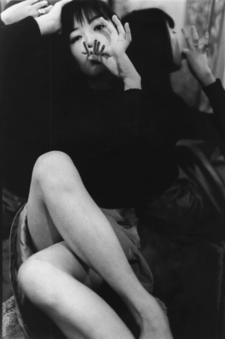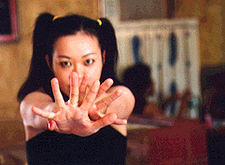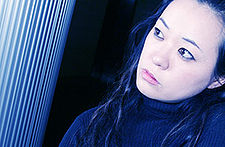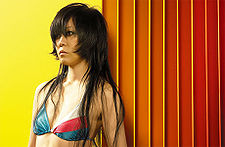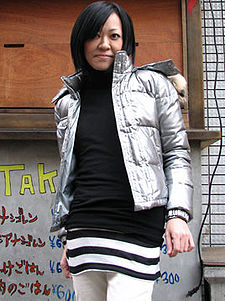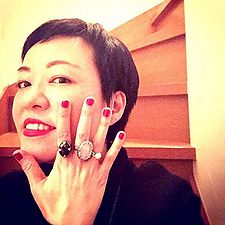 Higurashi Aiha first started making music as a teenager. She started out by recording her voice with a tape-recorder. At this point, Higurashi could not play guitar at all. She would start out with humming a melody and then try and translate a phrase from her brain to the guitar. Higurashi's father Higurashi Shinzo is a well known copywriter, and her uncle Higurashi Shuuichi (日暮修一) is a manga-ka for Big Comics. As a teenager she waited outside of a sold-out Sonic Youth concert in Tokyo, and she was able to meet with them after the show ended. In high school she formed a new wave band. Later on she met Ito Sachiko, and asked if she played the bass. Ito didn't play the bass, but Higurashi felt that Ito looked good with a bass and that she should learn to play it.
In 1992, Higurashi and Ito started playing as a two piece band, neither of which knew how to play. For the duo first several shows they played as an un-named band. In the beginning the duo had more of a cute pop-rock style, but soon became sick of the style wanted to try something different. Ito was very interested in languages and instead wanted to study abroad in Germany. Higurashi liked the idea of studying abroad, because she would be able to learn another language, experience a new culture, and hear different music. After talking it over with her parents, Higurashi went to London, England at the age of 19. While in London she mainly went out to clubs and shows instead of going to school. She saw many noise rock bands such as Dinosaur Jr. and Lush. After her visa expired, Higurashi went to New York were she attended a New York University prep-school. Since the school was connected with NYU, Higurashi spent a lot of time there, most of which was spent with the film department. She also spent a lot of time going to see bands play such as: Sonic Youth, John Zorn, Jad Fair, Ween, Mo Tucker, and Slant 6.
It wasn't until after the girls returned from being overseas that they dedicated themselves to the band. At this point one of their friends suggested the name "Seagull Screaming Kiss Her Kiss Her", which came from a song of the same name by British new wave band XTC. They keep the name because they liked that it was too long. Ito didn't stay with the band long and left in 1994 and then Higurashi called upon the help of bassist Koyama Nao and drummer Karashima Takaharu aka "Takape".
Higurashi was the most active member of the band. She came up with all the ideas for the lo-fi effects and sonic experimentation for the band's second album, It's Brand New. Not only that but she also acted as writer, composer, arranger, player, and producer for the album. After the stress from that and after a long tour, she stated she was exhausted. Higurashi has stated that she suffers from manic–depressive disorder, and during the recording for 17, she was suffering from depression, which affected the songs on the album.
It was around this time that Higurashi got married to drummer Watanabe Yoshiki. It wasn't too long before the couple had a child, Higurashi Juniha. After Higurashi fired Takape from the band, her husband stepped in and helped record the new material. While recording No! No! No! she "clinging to her job as a musician", and put everything she had into the music. She has since revealed that this was because she suffered from postpartum depression after giving birth and found it easier to deal with work instead. Six months after the birth of their daughter, the couple divorced.
In 2002, the band split and the girls went their separate ways. Higurashi started writing material for her first solo record. During this time she received a call from YUKI, the former vocalist of the Japanese rock band JUDY AND MARY. YUKI was a fan and was looking for a producer, songwriter, and musician to help her make her solo debut. At this time Higurashi had five songs written for her solo career, which she played for YUKI. YUKI loved the songs and asked if she could use them. Higurashi ended up writing the lyrics, composing the music, arranging, producing, singing back-up, and playing the instruments on all three songs on YUKI's debut, "the end of shite".
After the buzz around the single, Higurashi signed with the major label, Sony Music Entertainment under their indie rock sub-label Ki/oon Records. She made her debut in 2003 with the single "NEW LIFE", which contained a self-cover of "the end of shite". To help record her solo album she recruited the help of the band DOWNEY. She went on to record two albums BORN BEAUTIFUL and Platonic.
In 2005, she went on to form a band called LOVES. with drummer Takahiko Akiyama and guitarist and sound engineer Iwatani Keishiro, who had worked with Higurashi on her solo albums. They released their debut album, Lucky Me in 2007. Higurashi left Ki/oon Records later that year. The following year the group renamed themselves Higurashi Aiha and LOVES!, and released their second album Now Is The Time! to great success.
In 2009, Higurashi started working on solo material once again, as well as new LOVES. material, and started work on tracks for a new RAVOLTA album. In November of that year she released her third solo album, Perfect Days, released through her own label chance!dance!records and is able to express herself as she sees fit.
In 2011, Higurashi formed a new three-piece band, THE GIRL with bassist Hayashi Tabasa (from Scarlet) and drummer Okamoto Naoko (previously in Tsubaki). They released two albums of new songs: Lost In Wonder in 2011 and UR Sensation in 2013.
On January 1 2014, Higurashi announced the resurrection of Seagull Screaming Kiss Her Kiss Her on her Twitter account, alongside ex-LOVES. bassist Kentaro Nakao (Crypt City). The newly expanded six-piece line-up played their first show at WWW in Shibuya on May 5. The band has been highly active on the Tokyo and Osaka live scene, and will release their first album of original material in 14 years, Eternal Adolescence, on September 9 2015 featuring ten new songs. The album's release will be supported by a new tour of Japan.
Discography
Studio Albums
Best Albums
Singles
Compliation / other
Radio programs
Composed works
External Links