Due to an influx of spam accounts getting through and joining the site, user registrations have once again been disabled until further notice as we work on a different solution.
Shugo Chara!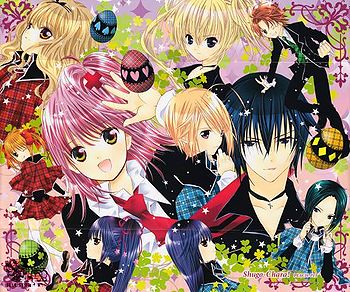 Shugo Chara! (しゅごキャラ!) is a Japanese shoujo manga series created by the manga author duo PEACH-PIT. Shugo Chara! is serialized in the magazine Nakayoshi and published by Kodansha in Japan. Del Rey has licensed the English language manga rights, releasing the first volume on March 27, 2007. It won the 2008 Kodansha Manga Award for best children's manga.
Shugo Chara! has also been adapted into a 51-episode anime television series of the same title produced by Satelight under the direction of Kenji Yasuda that debuted on October 6, 2007 on TV Tokyo. The second season, titled Shugo Chara!! Doki (しゅごキャラ!!どきっ), began airing October 10, 2008 and ran for another 51 episodes. The third and final season, titled Shugo Chara! Party! (しゅごキャラ!パーティー!), consisted of both animated and live-action portions, titled Shugo Chara!!! Dokki Doki (しゅごキャラ!!!どっきどき) and Shugo Chara! Pucchi Puchi (しゅごキャラ!ぷっちぷち!), respectively. Shugo Chara! Party! began airing October 3, 2009 and ran for 25 episodes. The last episode aired on March 26, 2010.
Synopsis
The heroine of the story, Hinamori Amu, is a student at Seiyo Elementary. At first glance, her classmates refer to her as "cool and spicy" and rumors speculate about her personal life. However, her real personality is that of a very shy girl who has trouble showing her true personality. One night, Amu wishes for the courage to show her "would-be" self, and the next morning finds three brightly colored eggs in her bed. At first, she is alarmed, but realizes she must have really wished to change. These eggs hatch into three Guardian Characters: Ran, Miki, and Su. The Guardian Characters aid Amu in discovering who she truly is and help fulfill Amu's dreams. Amu's life becomes much more complex as she struggles to deal with her "would-be" selves and the Seiyo Elementary's Guardians, who recruit Amu as the Joker to search for X Eggs and X Characters, the corrupted forms of people's dreams.
Meanwhile, the Easter Company is extracting people's eggs in search of a special egg called the Embryo. The Embryo is believed to grant any wish to the one who possesses it. However, the process creates X Eggs and X Characters. The Embryo Egg is described as a white egg with a heart and yellow wings.
Later on in the series a fourth egg, containing the Guardian Character Dia is born. She was seen infrequently as an X Egg until she was purified, at which point she would appear in times of great crisis.
Characters
Main Characters
Music
The music for Shugo Chara! was released on the Pony Canyon label. The theme songs were sung by Buono!, Shugo Chara Egg!, and Guardians 4, all who were part of Hello! Project.
Opening themes
Ending themes
Discography
Albums
Singles
Works
Manga
Japan
[2006.07.06] Shugo Chara! ①
[2007.01.06] Shugo Chara! ②
[2007.05.20] Shugo Chara! ③
[2007.07.20] Shugo Chara! ④
[2007.11.20] Shugo Chara! ⑤
[2008.03.19] Shugo Chara! ⑥
[2008.07.18] Shugo Chara! ⑦
[2008.12.05] Shugo Chara! ⑧
[2009.06.05] Shugo Chara! ⑨
[2009.10.23] Shugo Chara! ⑩
[2010.03.05] Shugo Chara! ⑪
United States
[2007.03.27] Shugo Chara! 1: Who Do You Want to Be?
[2007.08.28] Shugo Chara! 2: Friends in Need
[2008.02.12] Shugo Chara! 3: Can a Bad Guy Turn Good?
[2008.05.20] Shugo Chara! 4: Character Swap!
[2008.12.30] Shugo Chara! 5: The New Kids!
[2009.04.28] Shugo Chara! 6: Betrayal
[2009.09.29] Shugo Chara! 7: Black Cat
[2010.01.26] Shugo Chara! 8: With a Little Help From Their Friends
[2010.07.27] Shugo Chara! 9: A Big Discovery
[2010.12.28] Shugo Chara! 10
Anime
[2008.02.20] Shugo Chara! 1 (episodes 1–3)
[2008.03.19] Shugo Chara! 2 (episodes 4–6)
[2008.03.19] Shugo Chara! Amulet BOX 1 (episodes 1–13)
[2008.04.16] Shugo Chara! 3 (episodes 7–10)
[2008.05.21] Shugo Chara! 4 (episodes 11–13)
[2008.06.18] Shugo Chara! 5 (episodes 14–16)
[2008.07.16] Shugo Chara! 6 (episodes 17–19)
[2008.08.20] Shugo Chara! 7 (episodes 20–22)
[2008.08.20] Shugo Chara! Amulet BOX 2 (episodes 14–26)
[2008.09.17] Shugo Chara! 8 (episodes 23–26)
[2008.10.15] Shugo Chara! 9 (episodes 27–29)
[2008.11.19] Shugo Chara! 10 (episodes 30–32)
[2008.11.19] Shugo Chara! Amulet BOX 3 (episodes 27–39)
[2008.12.17] Shugo Chara! 11 (episodes 33–35)
[2009.01.21] Shugo Chara! 12 (episodes 36–39)
[2009.02.18] Shugo Chara! 13 (episodes 40–42)
[2009.02.18] Shugo Chara! Amulet BOX 4 (episodes 40–51)
[2009.03.18] Shugo Chara! 14 (episodes 43–45)
[2009.04.15] Shugo Chara! 15 (episodes 46–48)
[2009.05.20] Shugo Chara! 16 (episodes 49–51)
[2009.06.17] Shugo Chara!! Doki 1 (episodes 52–54)
[2009.07.15] Shugo Chara!! Doki 2 (episodes 55–57)
[2009.08.19] Shugo Chara!! Doki 3 (episodes 58–60)
[2009.09.16] Shugo Chara!! Doki 4 (episodes 61–64)
[2009.10.21] Shugo Chara!! Doki 5 (episodes 65–67)
[2009.11.18] Shugo Chara!! Doki 6 (episodes 68–70)
[2009.12.16] Shugo Chara!! Doki 7 (episodes 71–73)
[2009.12.16] Shugo Chara!! Doki DVD-BOX 1 (episodes 52–76)
[2010.01.20] Shugo Chara!! Doki 8 (episodes 74–76)
[2010.02.17] Shugo Chara!! Doki 9 (episodes 77–79)
[2010.03.17] Shugo Chara!! Doki 10 (episodes 80–82)
[2010.04.21] Shugo Chara!! Doki 11 (episodes 83–86)
[2010.04.21] Shugo Chara Pucchi Puchi! 1 (episodes 1–12)
External Links