New user registrations have been disabled until further notice. If you would like to create an account, please message
Generasia on Facebook
. Thank you!
Virgil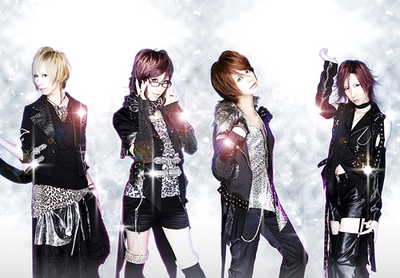 Virgil, also known as Goshujin-sama Senyou Kisai Gakudan -Virgil- (御主人様専用奇才楽団; The Genius Orchestra That Only Plays for the Lord), was a Japanese rock band in the visual-kei scene. They formed in February of 2009 with seasoned musicians. The band itself and the members each have fictional backstories, with every member having a "part" in the band (i.e. ROA is the Steward Presiding Over All).
In June of 2010, it was announced that all members, save for ROA, would be leaving the band after their live on June 19th.[1] Four months later, Virgil moved its official website and announced their future plans. Three new members have joined: newcommer guitarist Haruki, guitarist kei (ex-MASQUERADE), and bassist Asa (ex-Re: volver).[2] They released their debut mini-album innocence, the first with the new line-up, on November 24th.
Members
Current Members
Former Members
Biography
2009
Goshujin-sama Senyou Kisai Gakudan -Virgil- was formed in February of 2009 with the line-up of: ROA (ex-CODE, Wyse) being an all around player except for bass, Daichi (ex-Kisnate) on guitar, Haku (ex-ANUBIS, IZABEL VAROSA) on guitar and vocals, Zekusu (ex-Akihabara Shounendan☆Dennou Romeo) on bass, and Takumi (ex-Guy's Family) on drums. For the next three months Virgil would have one important date in each.
The first thing is that they signed with Future Link Japan, with their music being distributed by SPEED DISK DISTRIBUTION. On March 1st the band opened up their official website. In April, on the 22nd, Virgil released their debut single "broke stone awake sevendays". The single would eventually reach #7 on the indies Oricon charts, and #141 on the major charts where it charted for a week.
The last bout of activity for their first three months was their debut live at Shibuya BOXX on May 1st. Virgil had perfomed songs that are even currently unreleased. The concert was titled "Goshujin-sama Senyou Kisai Gakudan Hossoku Kinen Tandoku Ensoukai ~Okaerinasaimase, Goshujin-sama~" and it was also their first filmed live. The footage was released later on November 11th as the DVD Tandoku Ensoukai ~Okaerinasaimase, Goshujin-sama~ I.
For the next two months (June and July) they would only play in four events and lives, two in each. Two of them worth mentioning were the "Kakumei no Anthology" live organised by Versailles on June 16th at Takadanobaba AREA and and the CELLT sponored event "C no Gekijou -Sono Kyuu-" on July 12th also at Takadanobaba AREA. August was more busy for Virgil, beginning with the release of their first drama mini-album Kisai Gakudan Monogatari "Zekusu no Shou". The drama centers around the band's fictional backstory and focuses on bassist Zekusu.
Virgil's first sponored event was called "Atsumarimashou, Goshujin-sama". It was held at Takadanobaba AREA on August 17th. The last activities in August were two events, the first being a commemorative live. On the 22nd the band participated in one of Bottom Lines' 20th anniversary lives titled "Obon wo Sugita Natsu wo Yori Atsuku" at Nagoya BOTTOM LINE. On the 26th they took part in the "Revolutions -NEW AGE ATTACK '09 Vol.2" event sponored by the website Visunavi at Shibuya BOXX.
In September they were one of the bands participating in Visunavi's "Revolutions" -Aki no Shuukaku TOUR 2009- tour. Virgil only performed in two dates on the tail-end of the tour; on the 20th at Sendai HOOK and the 21st at Niigata JUNK BOX mini. They did however, play in the tour's finale. The finale was titled "Nihon Soukaishin TOUR FINAL ~Tokyo Shuuchuu Chiryoushitsu~", and it was held on September 29th at Takadanobaba AREA.
The end of 2009 was met with a live and a release, one in November and the other in December. On November 6th Virgil had a versus live with ALiBi presented by Like an Edison called "Goshujin-sama to Love Date☆" at Meguro LIVE STATION. Their second single "-Loyal-" was released on December 9th. The single is their first to be released in three different types and also the first to have PVs. It managed to reach #45 on the indies Oricon charts.
Discography
Mini-Albums
Drama Mini-Albums
Singles
Other Singles
DVDs
Compilations
References
External Links