New user registrations have been disabled until further notice. If you would like to create an account, please message
Generasia on Facebook
. Thank you!
Versailles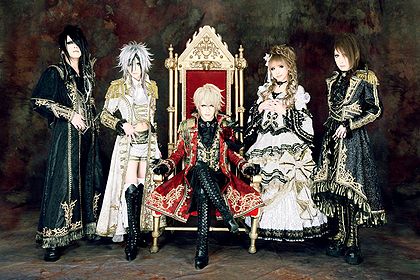 Versailles (ヴェルサイユ), also known as Versailles -Philharmonic Quintet-, is a five member Japanese metal band that formed in June of 2007. The band is composed of several notable figures in the visual-kei scene and as well has the concept of Descendents of the Rose. Having been under KAMIJO's indies label Sherow Artist Society, Versailles signed with Warner Music Japan and debuted as a major act two years after formation.
Members
Honorary Member
Biography
The idea for Versailles came from KAMIJO (ex-LAREINE) and HIZAKI (ex-SULFURIC ACID) in the fall of 2006, after both of their respective bands disbanded. They then spent the following months creating the band's concept and acquiring members. The band's concept is the story of the Descendents of the Rose (薔薇の末裔) told through KAMIJO's lyrics and in the future, promotional videos. For their visuals and sound, the pair wanted to have the "extremes of aesthetics" expressed through "youshikibi sound". Youshikibi (様式美) is a term meaning the form of beauty and used to describe the many different visual-kei aesthetics.
Jasmine You (ex-Jakura) was the first member asked to join the band, as he was already a member of HIZAKI's solo project HIZAKI grace project. YUKI (ex-SugarTrip) was the second one, he came as a recommendation from the owners of the live venue Meguro Rockmaykan. TERU (Aikaryu), similar to Jasmine You, was asked while he was in HIZAKI's project. He wouldn't officially join the band until a few days after his band disbanded in July of 2007, he was until that point Versailles' support guitarist.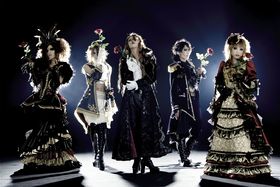 KAMIJO revealed Versailles and its member line-up (save for TERU) through his blog on March 30th, 2007. The band's first live, titled "CHATEAU DE VERSAILLES -Descendant de Rose-", was planned for June 24th at LIQUID ROOM ebisu. The rest of the artists performing that night were Sugar, Kaya, UnsraW, RENTRER EN SOI, and DaizyStripper. Versailles' official website was launched in May and Sherow Artist Society had also uploaded a introduction video on YouTube. It was during this video that Versailles revealed that TERU would be their second guitarist.
The band received many interview requests from publications in Japan and overseas because the introduction video became popular. Versailles' first interview was done by a German TV channel's crew for a documentary. Because of the video's popularity, the phrase "Versailles Band" was the fifth most searched keyword in early June on YAHOO! Japan.
Although their first live was planned for June 24th, they actually debuted the day before. The live was at Meguro Rockmaykan and was only limited to their male fans and the press. At the concert both their debut single "The Revenant Choir" and its DVD counterpart were sold. The June 24th live went ahead as scheduled; a second version of the DVD single "The Revenant Choir" was also sold.
Discography
Studio Albums
Mini-Albums
Best Albums
Live Albums
Singles
Digital Singles
Other Singles
Video Releases
Compilations / Other
Publications
Books
[2008.10.15] Versailles -Philharmonic Quintet-
[2010.04.23] JUBILEE -METHOD OF INHERITANCE-
Magazines
[2011.03.xx] SHOXX May 2011 Issue (Feature)
External Links
<br=/>