Due to an influx of spam accounts getting through and joining the site, user registrations have once again been disabled until further notice as we work on a different solution.
hide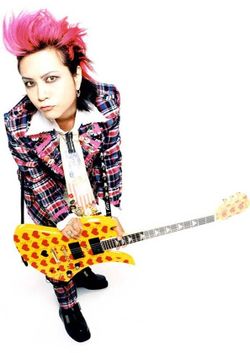 hide was a Japanese musician, guitarist, singer-songwriter and producer. His debut in the music business was as the guitarist of the Japanese rock band X JAPAN. In 1993, hide went solo with the single "EYES LOVE YOU". In 1997, X JAPAN announced their disbandment and hide focused on solo works. On May 22nd, 1996, he opened his production company "LEMONed" and created a solo band consisting of his close friends that played at his solo tours and concerts, hide with Spread Beaver. On May 2nd, 1998, he was found hanged with a towel tied to a doorknob in his Tokyo apartment.
Profile
Information
Matsumoto Hideto, known as hide, was born in Yokosuka, Kanagawa Prefecture on December 13, 1964. hide was overweight as a child, Hideto was known as the shy bookworm who had trouble interacting with other children. But everything changed when he was 15 years old, at a friend's house, and heard "Alice" by KISS.
KISS' commanding sound and wild visual aesthetics enthralled him, and later that same year, his grandmother bought him a Gibson guitar, a gift that would forever change hide's life.
In 1981, hide formed the independent rock band SAVER TIGER, where he served as both lead guitarist and songwriter. But hide's talent couldn't stay hidden for long, and not long after, he was discovered by a man named Hayashi Yoshiki, and in 1987, hide joined Yoshiki's band X JAPAN, then called simply X. He became the lead guitarist and secondary composer, while YOSHIKI was the main composer and drummer.
X's sound was nothing like anything currently existing in the Japanese music scene. Their wild costumes, sky-high hairdoes and in-your-face sound quickly attracted crowds, and they became the first band in history to completely sell out the Tokyo Arena, not once, but three consecutive nights. But after ten years together as a band, lead singer Toshi announced his official departure from X, and the band dissolved.
hide set off on what would become a remarkably successful solo career. He recorded his first album, HIDE YOUR FACE in 1994, and played all guitars (including bass guitar) and performed all vocals. Two years later, he recorded the album PSYENCE, which is regarded as hide's best album due to its remarkable versatility, and thus began the PSYENCE a Go Go tour.
In 1995 hide formed a band ZILCH in USA where he was the lead vocalist and guitarist, and later also teamed up with other artists in Japan and began working on his 3rd solo album, but just before the completion of these projects a tragedy struck.
On May 2, 1998, after a night of drinking and partying with his girlfriend, hide returned to his apartment around 6:30 in the morning. An hour later, at 7:30, hide's girlfriend returned to the apartment and found hide suspended from his bathroom doorknob by a towel tied around his neck. hide died en route to the hospital.
hide's death shocked the nation of Japan. Hundreds of fans came to his funeral; so many, in fact, that the line stretched more than a mile down the streets of downtown Tokyo, and the city essentially ground to a halt. By the end of the day, twenty-six fans had been hospitalized due to excessive screaming, crying, or injury in the crowd. In the days following hide's death, three young girls died in copycat suicides, and many more tried, but failed.
hide's death has been the source of much speculation. Some believe that it was an accident, as a result of a botched attempt at autoerotic asphyxiation or some other means, while some believe that it was a suicide. hide was, by his own admission, an alcoholic, and after X JAPAN's disbandment, his drinking became even more pronounced. Though there was no note to indicate suicide, some believe that his song "Pink Spider" was in fact his suicide note, as the song speaks of a 'spider' who wishes for wings so he can 'be free.'
His work was nonetheless honored, albums were finished and released the same year, ZILCH's debut album 3.2.1 on July 23th, then his 3rd solo album Ja,Zoo on 21st November 1998. After this, his bandmates toured as hide and Spread Beaver with Ja,Zoo which skyrocketed the sales of this album, published a tour book and re-released 5 singles recorded together. There are also numerous post-humous tribute, compilation and remix releases, and hide's official website, hide-city.com, remains active to this day.
Former X JAPAN drummer YOSHIKI sent this message out to his fans following the death: "Everyone, please watch over his eternal sleep warmly." Thirteen years later, hide's bandmate, Taiji, also committed suicide by hanging himself.
Discography
Studio Albums
Compilation Albums
Remix Albums
Live Albums
Tribute Albums
Other Albums
Singles
VHS / DVD
Publications
Books
Photobooks
Band Score
Calendars
[2011.10.01] Calendar 2012
Magazines
[2011.09.xx] SHOXX ARCHIVES (Feature)
External Links
hide
Topics
Studio Albums
Compilation Albums
Remix Albums
Live Albums
Tribute Albums
Other Albums
Singles
VHS / DVDs
hide with Spread Beaver Album
hide with Spread Beaver Singles
hide with Spread Beaver DVD
Official Website