Due to an influx of spam accounts getting through and joining the site, user registrations have once again been disabled until further notice as we work on a different solution.
ClearVeil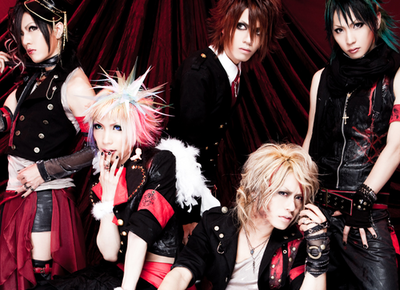 ClearVeil was a five member live focused Japanese rock band in the visual-kei scene. They formed in Nagoya under the independent label Sequence Records in February of 2007. Despite hailing from Nagoya, the band isn't usually seen as being Nagoya-Kei. At the start of 2008, ClearVeil relocated to Osaka to join the label UNDER CODE PRODUCTION, which they stayed with until their disbandment.
In late April of 2010 it was announced that ClearVeil will disband on July 4th after their Termination tour finale at Nagoya E.L.L. The reason for the breakup was revealed to be musical differences and the future direction of the band.[1] After the disbandment, they had special a one day revival performance during UNDER CODE's new year count down event "Kansai Seiatsu 2010~2011" at Osaka amHALL.[2]
Members
Biography
Early Days in Nagoya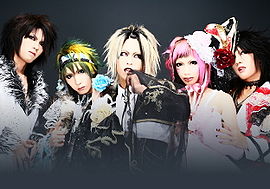 ClearVeil was formed on February 1st, 2007 originally as a four member band with vocalist Saki (ex-Clorcian), guitarist Nozomi (also ex-Clorcian), guitarist Ryuto (ex-Teddy), and bassist HISAYOSHI (ex-HYBRID-ZOMBIES). They would use one of two support drummers, Yuize of ASS'n'ARRow, and Naruka (ex-Jaguar); Naruka would later join the band as their official drummer.
The band's first live was next month on March 26th, called "RAISE A VEIL" at HOLIDAY NAGOYA. During this live the single "Voice" was distributed for free. This song would be contributed as their first appearance on a compilation album, which was released on April 15th. They then took part in its release event two days later at Takadanobaba AREA. A live at HOLIDAY NAGOYA on the 20th preceeded a Sequence Records SUMMIT three days event tour, stopping in Meguro Rockmaykan, HOLIDAY NAGOYA, and Shizuoka Sunash.
ClearVeil participated in their first tour, as a part of Sequence Records' 2007 tour along with other label-mates. It started on May 5th at Kokura FUSE and ended with the finale on June 15th at HOLIDAY SHINJUKU, hitting eight stops altogether. The band contributed a brand new song on a new compilation album on June 20th. The release led into a string of summer lives, which began on June 25th and ended on August 23rd.
On September 5th, the band contributed another new song to another compilation album. Three more lives in September prefaced the release of a compilation DVD that ClearVeil had an appearance in. The DVD was a digest of the Sequence Records three days SUMMIT that took place earlier in the year. The band's part in the DVD was two live performances. October 8th was the date that Naruka officially joined the band. It was at HOLIDAY NAGOYA's second anniversary event called "HOLIDAY 00 ~EXIA~". On the 14th, ClearVeil appeared at Pashya's sponsored event "Eiyuu Kyousougeki Saishuu Yoru".
They released their debut self titled mini-album on October 17th. The band held two release events: one on the 19th at HOLIDAY SHINJUKU and the other on the 21st at Hamamatsu LIVE HOUSE FORCE. They started playing lives again on November 3rd, which then started another string of lives, ending on December 31st. Lives of note are: December 25th at OSAKA MUSE for the UNDER CODE PRODUCTION special event "NEW BORN 'organization'", the 29th at Harajuku ASTRO HALL for another UNDER CODE special event, the 31st at HOLIDAY NAGOYA for the "YEAR END of HOLIDAY 2007-2008" live, and a Sequence Records organized event called "2007-2008 Last Supper All Night Event" also on the 31st. On December 26th, the band contributed their last new song for a compilation album.
Relocation to Osaka
On January 1st, 2008 ClearVeil relocated from Nagoya to Osaka and switched labels from Sequence Records to UNDER CODE PRODUCTION. Their first activity as a UCP band was at HOLIDAY OSAKA on the 4th for Riku's birthday party event. Their next activity was on the 13th at Shibuya O-WEST for the "Fool's Fest ~STAGE.5~" event. On the 20th the start of five monthly consecutive ClearVeil organized events called baptize was held, they would also all be at HOLIDAY NAGOYA. Before volume two of baptize started, they took part in three lives: one an ART POP ENTERTAINMENT presents live on the 26th, the second one a Plug presents live on February 1st, and the third an Arc sponsored two consecutive month event called "Be addicted film" on the 16th.
Volume two of baptize was held on February 17th. Before the third volume, they participated in a E.L.L and SPEED DISK presents "Shiranbanshow" event at Nagoya E.L.L on the 22nd. Volume three of baptize was held on March 7th. On the 12th, ClearVeil's first "real" single was released. It was titled "the dropping sky" and it's the first in a three month consecutive single release plan. Before the next event, they took part in two events: a Siva CD release event on March 23rd at Shibuya CLUB CRAWL, and a Dali fourth consecutive month sponsored event called "pulse plus 9 academies" on April 5th at HOLIDAY SHINJUKU. They played in an event called "Chika Kore '08" (Chikasen (地下線)=UNDER CODE) on the 6th also at HOLIDAY SHINJUKU.
Their second single "Shinja ni Sasagu Uta" was released on April 16th. It reached #13 on the indies Oricon chart. The fourth volume of baptize was held on the 19th. On the 20th ClearVeil again appeared in Dali's sponsored event, this time at Shinsaibashi RUIDO. The last of the three singles, "lapis ~Ao no Yuuutsu~", was released on May 14th. It later reached #12 on the indies Oricon chart. Before the last volume of baptize, the band participated in the last Dali sponsored live on the 23rd (at Shinsaibashi FANJ-twice) and played a live on the 25th (at Meguro Rockmeykan). The fifth and last volume was held on the 24th.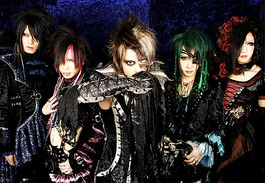 After a chariots organized live on June 8th, they had their first one-man concert. It was also used as the CD release party for the three singles. The event was titled "the other side of Veil" and was at Nagoya e.l.l FITS ALL. Starting on July 12 and ending on September 12th, they played a string of lives. Five of those lives was a part of the Tribute to Phantasmagoria 2008 tour, which was all in August.
On September 24th, ClearVeil released their fourth single "Haiiro no Kakera". It reached #18 on the indies Oricon chart. Preceeding the next release, they took part in six different events and lives starting on the 28th and ending on October 24th. Some of note are: the SIVA and Dali event "art / smash" at ESAKA MUSE on the 28th, the Tokyo Michael. event "Omotesando Button Kari" at Omotesando FAB on October 15th, the chariots event "carnage opera VOL:8" at OSAKA MUSE on the 19th, and the Megaromania event "Bishuu no Yakata -Cardinal Circle-" at HOLIDAY SHNJUKU on the 24th.
Their second mini-album, The future of despair, was released on October 29th. ClearVeil then had a three date CD release event tour to support the mini-album during November. The end of the year was met with a Kiryu presents live at Shibuya BOXX on December 13th, and the "YEAR END of HOLIDAY 2008-2009" event at HOLIDAY NAGOYA on the 31st.
Debut Album and First Tour
2009 began with a special one-man event called "The festival of five Veils" on January 11th at HOLIDAY NAGOYA. The next day they played a second one-man called "The future of despair ~Yami ni Saku Hana~" at Nagoya e.l.l FITS ALL. On March 1st the band, along with other UNDER CODE label-mates, began the UNDER CODE PRODUCTION country-wide tour Nihon Seiatsu 2009. It started on the 2nd at Sendai HOOK and ended on the 15th at Nagoya CLUB QUATTRO, hitting seven stops. Later, on the 17th, ClearVeil started their first country-wide tour, titled the gleam of reborn. It started at Shinsaibashi FANJ-twice and ended on March 21st at Meguro Rockmaykan, hitting 17 stops. During the tour, on March 18th, the band released their debut album RE:BORN. March concluded with their second anniversary live called "F.R.e.A.k Party" on the 26th at HOLIDAY NAGOYA.
On April 5th at Shibuya RUIDO K2, the band was a part of the finale in the Nihon Seiatsu 2009 tour called "Shibuya Seiatsu 5DAYS". On the same day and location, they also took part in Arc's fifth anniversary and CD release event. After two lives (one on the 12th, and the other on the 17th), ClearVeil participated in another Nihon Seiatsu 2009 final on the 22nd. This time it was called "Nihon Seiatsu 2009 -FINAL-", was at Osaka BIGCAT, and was the venue's 10th anniversary celebration.
The band started their first CD release event tour on April 19th. It was titled the dazzle of RE:BORN and was held to support the release of their debut album. The tour was only three dates; the other two were the 25th and the 29th. On May 3rd they participated in Nagoya BOTTOM LINE's 20th anniversary live "Kyoumei ~Nagoya Suppression~", it was presented by Like an Edison and was produced by KISAKI. May ended with Shun of Arc's brithday party at HOLIDAY OSAKA on the 24th.
June was four events and lives, starting with two Versailles presents "Kakumei no Anthology" lives on the 9th and 16th. They were at Nagoya e.l.l FITS ALL and Takadanobaba AREA respecively. The next event was a Heisei Ishin organized one called "Roots of Emergence -2DAYS-" on the 13th at Shinsaibashi FANJ-twice. The last was a live at Takadanobaba AREA on the 26th called "Revolutions -NEW AGE ATTACK '09-" which was presented by Visunavi.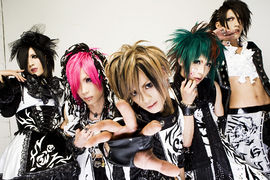 The month of July was a string of events, which began on the 10th at Osaka BIGCAT and ended on the 31st at Shinsaibashi CLUB CLAPPER. Some of note are: the first one on the 10th, which was called "Kansai Seiatsu" and a part of an UNDER CODE organized live, and the last one on the 31st, which was called "SCUBBER DIVE 09 ~Naniwa ga Taihen~" and had many other bands performing. ClearVeil also performed at "SCUBBER DIVE 09 ~Shibuya ga Taihen~" on August 3rd at Shibuya O-CREST.
On August 15th, the band took part in the "Shikkoku no Symphony" event along with other bands at Saitama Kaikan. They then played two lives; one on the 22nd at Takadanobaba AREA and the other at Shibuya BOXX on the 26th. On the 26th, ClearVeil released their fifth single "awake". To support the single, they began a CD release event tour titled Voice to remind you of awake, starting on the 29th at OSAKA MUSE and ending on October 10th, hitting four stops. On August 31st, they were a part of another "SCUBBER DIVE 09 ~Naniwa ga Taihen~" event. On September 19th and 21st they played two lives that were a piece of the Esaka Seiatsu UNDER CODE tour, both at Esaka MUSE. On the 29th they had another live, this time a normal one at Takadanobaba CLUB PHASE.
Discography
Studio Albums
Other Albums
Singles
Other Singles
Compilations
References
External Links