New user registrations outside of OpenID have been disabled pending a review of a recent influx of spam accounts. Apologies for any inconvenience this may have caused.
Dali (band)
From generasia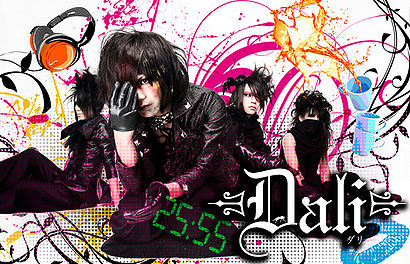 Dali (ダリ) was a four member Japanese rock band of the visual-kei variety. Formed in October of 2005, the band had since changed their member line-up a number of times; their line-up has been stable since November 2009 when Saki left. Dali was signed with the Osaka independent label UNDER CODE PRODUCTION and they had the band concept of Cynical Melancholy.
Dali disbanded after their live on November 25th, 2012.
Members
Current Members
Former Members
Biography
2005-2006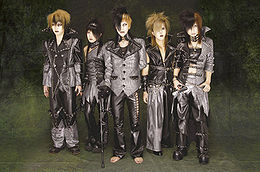 In August of 2005 it was announced that a new band called Dali (ダリ, written in katakana) would soon be joining UNDER CODE PRODUCTION. With the band Sugar Forkful disbanding on October 1st, 2005 its vocalist Ren, guitarist Keeto (previously known as "Kaoru"), drummer Tatsuya, and support members Shunsaku and Yuu formed Dali. Their first activity as Dali was their first live on November 3rd at Osaka BAYSIDE JENNY. That live was the first day of the UNDER CODE organised Nihon Seiatsu national tour.
The tail end of the year was only three events: one of the "Complete suppression -3DAYS-" events on December 25th, the "Kizoku-tachi no Session Matsuri Daiyon Yoru" event on the 29th, and the "Nihon Seiatsu TOUR 2005 FINAL ~YEAR END of HOLIDAY 2005-2006~" event on December 31st through to January 1st, 2006. Dali's first releases were also announced during this time, three consecutive singles released in a span of three months.
2006 began with the two date rehabilitate dessin event tour. The dates were January 18th at Shibuya O-WEST and the 22nd at OSAKA MUSE. On the 25th the first of the three consecutive months single release plan was released, the band's debut single "antithesis". Before the next entry they played two lives, one on February 11th at UMEDA HOLIDAY and the other on the 13th at Shibuya O-WEST. The second entry, their second single "monophobia", was released February 22nd.
On February 28th both guitarist Shunsaku and drummer Tatsuya left Dali. With Shunna (ex-Karen), Tatsuya's replacement, joining on March 1st the band paused activities. A few days later (the 4th) the members formed H.N[maigo], a live band to play during Dali's activity pause. That band's title itself is taken from "H.N[maigo]", the third track from "antithesis". As the live band, they played two lives of the UNDER CODE PRODUCTION presents the day before "VOLCANO" event tour: the first at UMEDA HOLIDAY on March 4th and the other at the same venue the next day.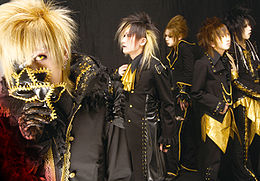 H.N[maigo]'s next lives were on March 13th at HOLIDAY SHINJUKU and the 19th at OSAKA MUSE. The last one was with Himitsu Kessha Codomo A as a part of their one-man event "Tenjouura Musical Sono San". Their third single "inartistic", the last of the three consecutive singles, was released anyways on March 22nd. The live band's last bout of activity was three lives: March 26th at HOLIDAY SHINJUKU, April 8th at the same venue, and April 23rd at ESAKA MUSE.
May 1st was the release date of their first other single "「t」rush". It was available only through mail-order and those whose had purchased their first three singles. As of June 1st, 2009 this single is available as a digital single through UNDER CODE's online MP3 download site UNDER GROUND MUSIC. Two months later, in July, it was announced that Dali would end their activity pause and in turn bassist Yuu would be leaving. On July 28th, H.N[maigo] disbanded and on August 1st Dali resumed activities with Yuu's departure and new members joining. Those new members were guitarist Saki (ex-Neiro) and bassist Sei (ex-Eile de Mu).
In two consecutive days, starting on August 12th, Dali held their first sponsored events titled "CHIC-2DAYS-" at HOLIDAY OSAKA. Their first tour, an event tour called intro dessin, began on August 18th at Wakayama Marina City PORTO EUROPE Uchi Adventure Hall. This was a 14 date tour, ending on October 10th at HOLIDAY OSAKA.
Their fourth single, "breath", was released on October 11th. The band then they three lives: the first on October 13th at OSAKA MUSE, that second on the 15th at HOLIDAY NAGOYA, and the last on the 17th at Shibuya O-EAST. core, Dali's first mini-album, was released on November 8th in a CD+DVD only format. This release also featured the band's first PV. November 11th they held their first one-man concert live at HOLIDAY OSAKA titled "NO LIFE. NO MUSIC". On December 10th bassist Sei left the band, his replacement would be Yuu, who left fouth months prior. 2006 concluded with the "Nihon Seiatsu 2006 -Seiya Gekishin-" events at Osaka IMP HALL on December 24th and 25th.
2007-2008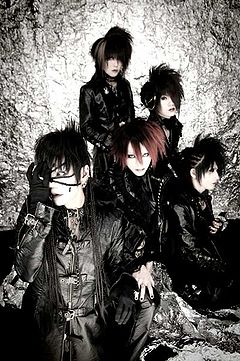 The new year started off the with Decadence 2007 ~HUMAN VICIOUS~ event tour, in which the band participated in. This was a three date tour to promoted the release of the compilation album of the same name. The three dates were: January 26th at HOLIDAY OSAKA, the 27th at HOLIDAY NAGOYA, and the 28th ay HOLIDAY SHINJUKU. Before the release of the compilation, Dali took part in three more lives, one on February 2nd at HOLIDAY NAGOYA, the second on the 7th at Nagoya E.L.L, and the last on the 8th at HOLIDAY OSAKA. One of note was the first one as the live was a part of a Kenllre and Billy coupling tour. The aforementioned compilation album was released on February 14th.
February 18th started a string of lives and events. There were nine activities total and it ended on April 8th. In that time, during March, Dali both changed the writing of their name from the katakana ダリ to the romaji transliteration Dali and opened their official website. To celebrate, promote, and support the release of their next two singles the band had their CD release event tour chic_sheet (replace the underscore with the number of the live). It was a four date tour starting on April 14th at HOLIDAY OSAKA and ending on May 19th at HOLIDAY SHINJUKU.
In the time of the CD release event tour, Dali started a two consecutive month single release plan. Both of them would be released in two different types and feature PVs. It began with the release of their fifth single "funeral dessin" on April 18th. The last entry, their sixth single "beautiful dessin", was released on May 16th. Between and after the release of the two singles Dali played a string of 21 lives and appeared in events. The activity lasted from April 28th till October 9th.
Some of those activities of note are: two participations in Himitsu Kessha Codomo A events (April 28th at HOLIDAY SHINJUKU & May 6th at OSAKA MUSE), two Arc sposnored events at HOLIDAY OSAKA titled "Waru Gaki-tachi no Saturday Night Fever☆!!" (on June 2nd and 9th), and the S'CUBE organised event "SCUBER DIVE ~Shibuya ga Taihen~" on August 2nd at Shibuya O-nest.
In the fall the band played with Viored for their three date Light wraps viored scene. event tour. The tour spanned from October 10th at Takadanobaba AREA to the 19th at Nagoya ell.FITS ALL. Dali begat their national tour in a trance play in October and November. It started on October 25th at HOLIDAY OSAKA and ended on November 23rd with the final titled "fes '07" also at HOLIDAY OSAKA, altogether hitting 11 stops.
The end of the year was met with the release of their second mini-album the world is mine on December 12th in two different types. A CD release event our for the mini-album was on December 8th at HOLIDAY SHINJUKU and on the 15th at HOLIDAY OSAKA. The last bout of activity was four lives, stretching from December 25th at OSAKA MUSE to the 31st at HOLIDAY OSAKA.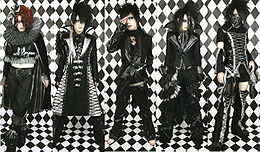 2008 began with the one-man concert live called "Kassei wa Shinshitsu ni-, Juusei wa Yokushitsu ni-." on January 11th at OSAKA MUSE. It was during this one-man that the eponymously titled distributed single was given out. On February 3rd the band took part in an ART POP ENTERTAINMENT live at Ometesando FAB titled "Rouman Chic Fuyu Kikou". February 9th Dali participated in one live of Nega's national tour LooP Under the Chaos at OSAKA MUSE. Leading into their special events they played four lives, beginning on February 17th at HOLIDAY NAGOYA and concluding on March 7th also at HOLIDAY NAGOYA.
Their aforementioned special events, collectively called "pulse plus 9 academies", spans four months. The first leg takes place during March and April. It was a five date event starting on March 8th at HOLIDAY OSAKA and ending on April 20th at Shinsaibashi RUIDO. Not connected to the events, Dali participated in an ID-JAPAN presents UNDER CODE PRODUCTION centered event titled "Chika Kore '08" on April 6th at HOLIDAY SHINJUKU.
On April 23rd Dali started a three consecutive month single released plan with the release of their seventh single "Heroine". Shunna's previous band, Karen, held a one day special revival event titled "brilliant darkness -revive memories-" on April 28th at ESAKA MUSE. The start of May was when the band took part in the Jigoku e no Michi Sono Ichi tour with other bands. It was three consecutive dates, starting on the 3rd, and were at HOLIDAY SHINJUKU, HOLIDAY NAGOYA, and HOLIDAY OSAKA respectively. Before the next leg of their events the band played in the "L@EO 3" event presented by Like an Edison on May 9th at OSAKA MUSE. The May leg of the "pulse plus 9 academies" events was a three date event, beginning on the 18th at Meguro Rockmaykan and concluding on the 25th at Shinsaibashi SOMA.
Their eighth single and the second entry in the release plan "Inkblot", was released on May 28th. Preceding the last leg of their events Dali took part in two lives with different bands. With LiZ they played a live on May 30th at Takadanobaba AREA, and with chariots they played a chariots sponsored live on June 7th at ESAKA MUSE. The June and final leg of the "pulse plus 9 academies" events were held on the 21st st Ikebukuro CYBER and on the 28th at OSAKA MUSE. In between those two dates the last entry in the release plan, their ninth single "Endroll", was released on June 25th. After a live at Shibuya O-EAST on July 23rd, the band along with Nega held the "pulse plus 9 academies" two-man concert final and CD release event called "The Gallery of Vomited" at OSAKA MUSE on July 27th.
Similar to last year they took part in the S'CUBE organised events " SCUBER DIVE ~Naniwa ga Taihen~" and " SCUBER DIVE ~Shibuya ga Taihen~". The first was played on August 1st at Shinsaibashi FANJ-twice and the second on the 4th at Shibuya O-Crest. The rest of August was the band's participation in the Tribute to Phantasmagoria 2008 tour. This was a five date tour, starting on the 19th at Shibuya O-WEST and ending on the 24th at OSAKA MUSE. The tribute tour was to promote and support the release of the deluxe edition of the compilation album Tribute to Phantasmagoria titled Past New Phase.
During September Dali performed a live on the 2nd at HOLIDAY SHINJUKU and was a part of two two date sponsored events. The first was organised by S'CUBE, called "Tousou Honnou", and was on the 5th at HOLIDAY NAGOYA and the 6th at HOLIDAY OSAKA. The second was the SIVA & Dali sponsored events at ESAKA MUSE titled "art / smash" on the 27th and 28th. On October 15th they played with born in the third volume of their "bug screamo" events at Takadanobaba AREA.
October 22nd was the release date of their debut album a rope is there and hope is there. in two different types. Two one-man concerts were played to support and promote the album: number one was called "osaka absolute abnormal" and was on October 25th at Osaka SINKAGURA, while number two was titled "tokyo absolute abnormal" and was on November 1st at Shibuya Yaneura. The rest of November was the three date Like an Edison presents "INDEPENDENT BABIES" events, beginning on the 29th at Nanba ROCKETS and concluding on the 28th at Shinjuku RUIDO K4. The end of this was was two UNDER CODE PRODUCTION sponsored events, one of them was the "act unlawfully Vol:18" event on December 27th at OSAKA MUSE, and the other was the "YEAR END of HOLIDAY 2008-2009" event at HOLIDAY OSAKA on the 31st through to January 1st, 2009.
2009-2010
The first activity of the new year was with the one-man concert "will" on January 11th at OSAKA MUSE. Dali then was a part of one of the SPEED DISK presents "Ouka Ranbu" lives at Takadanobaba AREA on February 5th. Later on in February, on the 13th, Dali had their own sponsored event titled "pain paint collection" at Shinsaibashi FANJ-twice. Ten days after that they again took part in a SPEED DISK presents live, this time it was with E.L.L and was one of the "Shinrabanshow in MID SIDE 6days" lives at Nagoya E.L.L.
Mrach 1st started off UNDER CODE's Nihon Seiatsu 2009 tour. The tour spanned nine lives, starting from the 1st at Shibuya BOXX to the 13h at Okayama CRAZY MAMA 2nd ROOM. A CD release party called "mind strip show" was held on March 23rd at HOLIDAY OSAKA for their next similarly titled mini-album. The said mini-album called mind stripper (their third) was released on March 25th.
On April 6th and 7th there were two Dali vs chariots two-man concert lives titled "DC31102235" at HOLIDAY NAGOYA and HOLIDAY OSAKA respectively. April 10th was the date of a three-man concert live at Shibuya BOXX. The other bands were Nega and kalvary, it was called "MADARA", and it was a part of UNDER CODE's Nihon Seiatsu 2009 tour finals collectively titled "Shibuya Seiatsu 5DAYS". The band played in that tour's final on April 22nd, which was also a part of Osaka BIGCAT's 10th anniversary (the venue where the concert was performed).
May and June was filled with five events. They stretched from May 2nd to June 27th. Some of note were their sponsored event "the reddish jewel" at ESAKA MUSE on May 2nd, and their next sponsored event "Tokyo Sumusumumurikuri Mellow" at Shinjuku RUIDO K4 on June 27th. These events led into another string of six events, starting on July 10th and ending on August 15th. Some of the more important events being: a Megaromania CD release event called "evil an invitation" on July 20th at Takadanobaba AREA, the final event of the SIVA and UNDER CODE PRODUCTION's family tour Prediction from a prophet: Code on July 24th at Shibuya O-WEST, and Dali participating in this years' S'CUBE organised "SCUBER DIVE ~Shibuya ga Taihen~" event on August 3rd at Shibuya O-Crest.
On August 19th their first best of albums, the twin albums the world is yours -cynical- and the world is yours -melancholy- were released, both in a CD+DVD only format. August ended with three more events and lives: number one was the ID-JAPAN presents "Death trap-GIG Natsu no Jin UnsraW Fukkatsu Kiwa" event on the 22nd at Takadanobaba AREA, number two was the band's CD release event "Henshuukyouteki Hikanteki Houhou" on the 28th at Meguro Rockmaykan, and number three was the "Kansai Seiatsu 2009 ~memory of Phantasmagoria~" event on the 31st at OSAKA MUSE.
At the "Epilogue Dekishitai" CD release event on September 6th at Shinsaibashi FANJ-twice it was announced that Dali would be pausing activities. It was also announced that the pause would end sometime in early 2010 and in the meantime Ren would have a special limited time solo project/band called LOTMAN. On November 22nd at LOTMAN's first live at Shinsaibashi FANJ-twice, Dali made a special appearance and said that guitarist Saki was leaving the band.
As of January 11th, 2010 the band has resumed activities as a four member band with the one-man concert live "Shikisaikankaku Contrast" at Shinsaibashi FANJ-twice. The other activity in January was the CindyKate sponsored event "Dasa Kakkoii Festival☆" at Shibuya O-WEST on the 26th. There were only four events in February, spanning the 21st to the 28th. Some of note are the two lam. organised events collectively titled "Breakthrough of ZERO" on the 23rd and the 25th, and they were played at Nagoya HeartLand and HOLIDAY SHINJUKU respectively. In March there were two events: the "Chikasen 7-shuunen Kinensai" event at OSAKA MUSE on the 13th and one of the Bands Shock Tour Vol.9 event tour dates at Osaka BIGCAT on the 24th.
April was an important month for Dali, as after they took part in two dates of the Revolutions tour on the 3rd and 4th (at Nagoya HeartLand and OSAKA MUSE) they released their 10th single "Tricolor Crawl" in two different types. This is also their first release as a four member group. A CD release tour to accompany the new single, called pulse plus 4 academies, started on April 10th at Ikebukuro RUIDO-K3 and ending on the 25th at Shinsaibashi FANJ-twice. Altogether the tour hit four stops.
Discography
Studio Albums
Best Albums
Mini-Albums
Singles
Other Singles
Compilations
External Links
<br=/>