Due to an influx of spam accounts getting through and joining the site, user registrations have once again been disabled until further notice as we work on a different solution.
FLIPPER'S GUITAR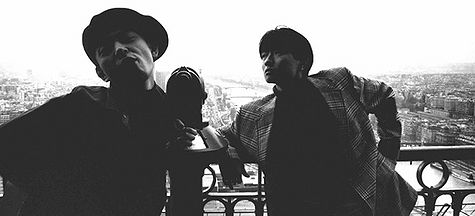 FLIPPER'S GUITAR (フリッパーズ・ギター) was a Shibuya-Kei band signed to Polystar. that formed in 1989. It started out as a five piece band called Lollipop Sonic in the late 1980s, and was picked up by Polystar and changed to Flipper's Gutar. After the release of their debut album, Polystar decided they could market the group better as a duo and cut the rest of the members. As a duo the group became an international sensation and is noted as being on the first true Shibuya-Kei bands.
Members
Former Members
Information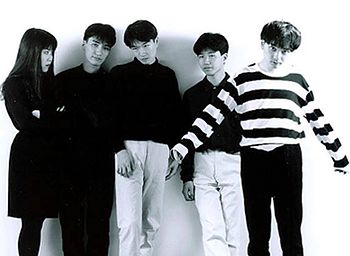 The group originally formed back in 1987 as a five piece band performing as Lollipop Sonic back when they were high school juniors. In 1988 they recorded and released two demo cassette tapes: Favorite Shirts and Akko-Chan's Anorak Party!. With the help of Salon Music's Yoshida Zin the group was able to get a record deal with the major label Polystar under the condition that they changed their name, and it became Flipper's Guitar. The group recorded and released their debut album three cheers for our side ~Umi e Iku Tsumori Jyanakatta in August 1989. The record was compiled of old Lollipop Sonic demos, and the album was a commercial flop. Soon after Yoshida, Arakawa, and Inoue were asked to leave the band.
The group re-branded as a duo made up of Oyamada Keigo and Ozawa Kenji; the two started writing material together and crediting it to DOUBLE KNOCKOUT CORPORATION (seeing as they were written by both members and they both have same initials K.O.). 1990 started off with the release of their first single "Friends Again", which was used in the indie Shibuya film Octopus Army: Shibuya de Altai!
Summer 1990 was a giant success for the duo. In May they released their most successful single "Young, Alive, in Love". The followed up in June with the release of their second studio album, and first as a duo: CAMERA TALK. These releases really but the group on the map making "Flipper's Guitar's most mainstream moment and arguably the very start of the Shibuya-kei movement".[1]
Indie darlings Oyamada and Ozawa started "thinking their music fit a little too easily into the world of J-pop and [...] the two KOs went on the hunt for a more aggressive sound".[2] With the release of their fifth single in Spring of 1991, "GROOVE TUBE". It charted new musical territory for Japan with a sample-heavy psychedelic pop sound. Flipper's Guitar would release their third and final studio album in July 1991, DOCTOR HEAD'S WORLD TOWER. It further expanded this new musical formula into a tightly-sequenced album. The album was based around The Monkees' 1968 film Head. [3]
Not long after the group announced their break-up as they announced the concert tour for the record. There are a couple theories such as Oyamada getting jealous after Ozawa started writing for Onyanko Club member Watanabe Marina or that it was stress from trying to re create their new sample-heavy sound on the live stage.
Discography
Studio Albums
Best Albums
Singles
Demos
References
External Links