User registrations have now been re-enabled. If you previously had an account and logged in via OpenID, please create a new account. Thank you!
Guernica: Rewriting History 1982-1989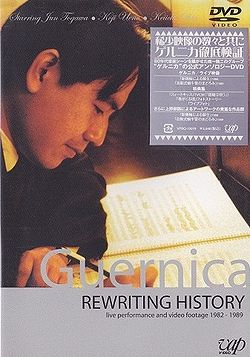 Artist

DVD

Guernica: Rewriting History 1982-1989 (ゲルニカ:リライティング・ヒストリー 1982-1989)

Released

2004.06.23

Catalog Number

VPBQ-19019

Price

¥5,040

Tracklist
Bremen (ブレヘメン)
Jiryoku Begin (磁力ビギン; Magnetism Begin)
Yume no Sangaku Chitai (夢の山獄地帯; Dream of Hell Mountain Zone)
Fukko no Uta (復興の唄; Song of Revival)
Marronnier Tokuhon (マロニエ読本; Marronnier Reader)
Rakujitsu (落日; Setting Sun)
Shishou Miya (水晶宮; Crystal Palace)
Shounen no Ichiban no Tomo (少年の一番の友; The Boy's Best Friend)
Kura Udo 9 (クラウド9; Cloud 9)
Dokuro no Enbukyoku (髑髏の円舞曲; Waltz of the Skull)
Doryoku no Hime (動力の姫; Princess of Power)
Kojo Kengaku (工場見學; Check Out Workshop)
Sensuikan (潜水艦; Submarine)
Ni Hyaku Juu Nichi (二百十日; Stormy Day)
Denryoku Kumikyoku (電力組曲; Power Suite)
Panorama Hour (パノラマ・アワー)
Zekkai (絶海; Distant Sea)
Chikyu Goma (地球ゴマ; Gyro Top)
Skating Rink (スケエテヰング・リンク)
Seidou no Nantai (青銅の軟体; Soft Body of a Bronze)
Rintenki (輪転機; Rotary Press)
Ginrin wa Utau (銀輪は唄う; Ginrin Will Sing)
Emak Bakia
Risei ni Kaeru (理性に帰る; Return to Reason)
Love For Three Nukes (ラヴ・フォー・スリー・ニュークス)
Suido Kumikyoku (水道組曲; Water Suite)
Sorting Glynn (グリンソート)
The Security Kitchen (クワーティーズ・キッチン)
Checkmate (チェックメイト)
Information
Guernica: Rewriting History 1982-1989 is the first DVD released by GUERNICA. It features live performances and video footage from their short time together as a band.
External Links