New user registrations have been disabled until further notice. If you would like to create an account, please message
Generasia on Facebook
. Thank you!
Jupiter (band)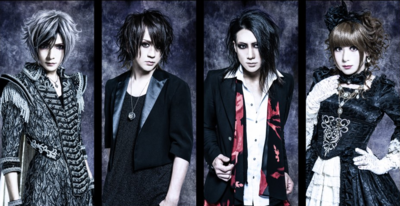 Jupiter is Japanese band formed in April 2013 by four Versailles' instrumentalists, who recruited vocalist ZIN. Their debut single was released on July 24th, 2013 and first album on August 28th, 2013.
Members
Former Members
Labels
Information
2013: Formation and first releases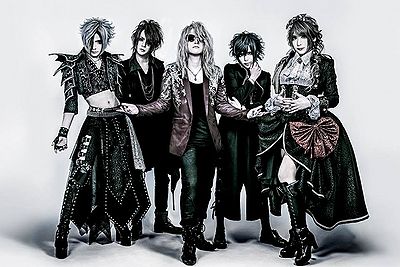 Jupiter was formed by guitarists Hizaki and Teru, drummer Yuki and bassist Masashi, months after the separation of Versailles at the end of 2012. The formation of the new band was announced through a trailer on YouTube on April 1. In this trailer, Zin, the new vocalist, was presented. According to Hizaki, the name of the band "is based on astrology and means protection or good luck. It can also mean a beautiful spirit".
On April 21, they performed for the first time at the EXTRA'13 stylish wave event with bands MEJIBRAY, Lycaon, Moran; among others. On May 26 they performed at the stylish wave GENERATION Vol.4 event with the bands PENICILLIN and DIAURA, among others.
On July 24, his first single Blessing of the Future was released, reached 38th place and stayed on Oricon's lists for two weeks. On August 28 his debut album titled CLASSICAL ELEMENT was released, reached the 31st place and remained on the lists for two weeks.
On September 26, at the Akasaka Blitz, the one-man concert THE GENESIS was held, followed by a series of tours in Japan titled CLASSICAL ELEMENT. In December they participated in 3 editions of the stylish wave event CIRCUIT '13 Winter Shogun and days later in the stylish wave event COUNTDOWN '13 -'14.
2014-2015: First tour in Europe and second album
In February, Jupiter traveled to Europe for his first tour abroad, entitled 2014 「CLASSICAL ELEMENT」 -EUROPE-, which included three dates, the 5th in Poland, the 7th in Germany and the 8th in France. Originally the tour only had the dates of Germany and France, but it was decided to add a date for Poland later. On March 12, his second single LAST MOMENT was released, reaching 37th place in that week's lists.
On August 14, Jupiter participated as a special guest in the concert of Femme Fatale, who were on tour at that time, Film Noir ~Yami ni ugomeku gen'ei~, held at Tsutaya O-West., on September 3, the single ARCADIA was released by digital download to promote its national tour, TOUR -2014- "ARCADIA", the single was available in physical format exclusively for those attending the concerts of the tour. On October 4, Jupiter announced on his official website that on the last date of his tour, on October 26, the single Koori no Naka no Shoujo would be released by digital download and that it would be available in physical format for those attending the event concert at the AiiA Theater Tokyo that same night. On December 31, they participated in the stylish wave event COUNTDOWN'14-'15 in the shinjuku ReNY with NOCTURNAL BLOODLUST and BORN, among other bands.
In 2015, on January 7, his second album THE HISTORY OF GENESIS was released accompanied by three music videos, the album reached the 32nd place and remained 2 weeks on the charts, the album's release was accompanied by the national tour Temple of Venus that included eight dates. On April 17, it was announced that in the last concert of the tour. On April 29 at shinjuku ReNY, the THE HISTORY OF GENESIS -Instrumental ver-|instrumental version of their second album would be released. In one of the simultaneous concerts of the KANSAI ROCK SUMMIT'15 festival in which they presented more than 50 artists in seven different stages simultaneously.In July, Jupiter had a small national tour with the Far East Dizain band entitled Rapsodia Concertante, which it only included three presentations.
His fifth single TOPAZ was released on August 26, reached 59th place and remained on the charts for a week, and on September 5 the Prevenient Grace national tour began, which included 13 dates in different locations. The final concert of the tour was held on October 17 at the shinjuku ReNY. On November 7, Jupiter performed at the JAPAN LIVE 2015 event with DIR EN GREY, held in Mexico City, the first time they appear in Latin America On December 27 their first live DVD, Prevenient Grace, was released, which contains images of the tour of the same name and its presentation in Mexico.
2016-present: New formation and third album
In 2016, on February 16, Jupiter began the CREATED EQUAL national tour that included six dates, the final concert was held on April 17 in Nagoya, and on March 14 it released the Jupiter LIVE DVD「ANGE GARDIEN」Prevenient Grace -FINAL- that includes images of the Prevenient Grace tour and a CD with a selection of songs from the band. On April 29 the special concert ~CREATED EQUAL~ Final Tour "BLESSING OF THE FUTURE" was held to bid farewell to Masashi and Yuki, who had decided to leave the band with the intention of expand their musical skills by following new projects, according to a statement published on November 19. On July 24 was released the simple memorial Scenario, followed three days later by the DVD BLESSING OF THE FUTURE, which documents its last concert with Masashi and Yuki on April 29.
On October 28, the Grace Metal Halloween Event was held, organized by Hizaki, with the participation of Jupiter, Cross Vein, and a special performance by Hizaki Grace Project; with all the members of Versailles.
On December 12, the Latin America Tour 2017 tour was announced, which will be held in April 2017 and in which they will visit Mexico, Chile, Argentina and Brazil. On December 29 Jupiter held the IGNITED DICE concert in which they presented their seventh single The spirit within me and held an autograph session. That same night they announced the UNDER THE BURNING SUN tour that will be held in May, in Japan, after the tour of Latin America. However, in September, Jupiter announced that Zin would be leaving the band after the final date of their Ascension to Heaven tour. It took place at Meguro Rockmaykan on February 3, 2018.
In July 2018, Jupiter announced their new vocalist Kuze and the August 8 single Theory of Evolution, which was supported by a two-legged tour of the same name that took place in September and November. In November 2018, the band revealed that their third studio album Zeus ~Legends Never Die~ would be released on March 13, 2019 and supported by a ten-date European tour across six countries in May. However, in January 2019 Rucy announced that he will be leaving Jupiter after their January 19 show due to differences that arose while recording the album. As a result, Zeus ~Legends Never Die~ will be delayed until April 3.
Discography
Albums
Mini-albums
Instrumental Albums
Singles
Digital Singles
Other Singles
Video Releases
External Links