Due to an influx of spam accounts getting through and joining the site, user registrations have once again been disabled until further notice as we work on a different solution.
PENICILLIN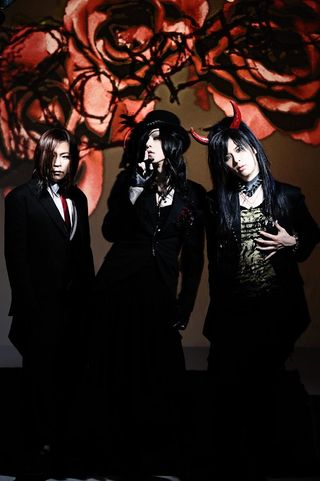 PENICILLIN (ペニシリン) is a Japanese rock band in the visual-kei scene, though for a period they had eschewed the getups. They officially formed on Valentine's Day in 1992; the members have known each other since high school and went to Tokai University together. PENICILLIN has changed record labels every couple of years, and also had alternating indies and major phases. The group is currently an indies band on their own label THAT RECORDS, after the label they were on (CROWN DIAMOND RECORDS) closed down.
In addition to the band, each member has had their own solo or side projects.
Members
Current Members
Former Members
Labels
Biography
PENICILLIN was formed in Kanagawa Prefecture, Japan by friends at Tokai University as Penicillin. The original line-up was Chisato on vocals, SHAISUKE (ex-Blanche) and YUJI (ex-Deshabillz) on guitars, GISHO on bass, and O-JIRO on drums. About one year later HAKUEI joined, while YUJI left to join Blanche. The line-up then became HAKUEI on vocals, Chisato and SHAISUKE both on guitars, GISHO on bass, and O-JIRO on drums. After the release of their debut mini-album Penicillin Shock on May 30th 1994, SHAISUKE left and then later joined Deshabillz. From 1994 to 2007, the band had a stable line-up. One month after celebrating their 15th anniversry, on March 9th, GISHO announced that he would be leaving PENICILLIN. His last live with the band was at Shibuya O-EAST on May 20th, his 36th birthday. KATO HIROKI (The ROMEO) has been their support bassist ever since.
PENICILLIN began in the visual-kei category, their dress being a little haphazard. HAKUEI and O-JIRO generally dressed the part of girls; HAKUEI normally dressing outrageous in fur and leather, while O-JIRO dressed as the "sweet girl". Chisato and GISHO generally dressed more masculine. Around 1998, the "image" PENICILLIN had created for themselves changed from being so feminine like before, losing the heavy makeup in the process (and in HAKUEI's case outrageous, extravagant outfits). The band since has regained their visual style, though now it's a bit more refined.
Discography
Studio Albums
Best Albums
Soundtracks
Cover Albums
Mini-Albums
Singles
Other Singles
Demotapes
Video Releases
Compilations / Other
Books / Magazines
Magazines
[2004.11.xx] Zy.[zi:] No.19 (Feature)
[2011.02.xx] FOOL'S MATE April 2011 Issue (Feature)
External Links

<br=/>