Due to an influx of spam accounts getting through and joining the site, user registrations have once again been disabled until further notice as we work on a different solution.
Saoriiiii
Saoriiiii (formerly Saori@destiny) is a Japanese electro-pop singer and lyricist. She is signed to the major label D-topia Universe and her music is distributed by Universal Music. She is also produced by musician Terukado, like labelmate Aira Mitsuki. Saori@destiny began her musical career by performing in the streets of Akihabara in early 2007. Her debut single "My Boy" was used in the MMORPG Secret Online.
Profile
Name: Saori@destiny
Birth Date: June 10th
Blood Type: AB
Favorite Fashion: Nylon
Favorite Music: I especially like up-tempo music.
Favorite Motto: What's wrong with ordinary? (普通で何が悪い)
Information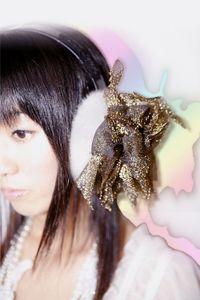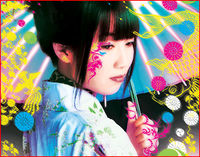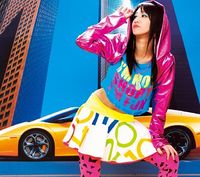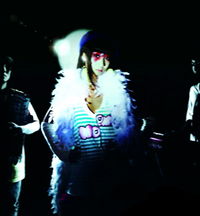 In the first half of 2007, Saori@destiny started performing lives on the streets of Akihabara, mainly singing idol songs. In her street lives she covered various songs from the likes of AKB48, Hello! Project artists, and Harenchi☆Punch. By the later half of 2007 she had performed nearly 100 lives, and during this period she was signed to D-topia Entertainment's indie division D-topia Independent. On December 5th her debut single, "My Boy", was released. The song itself was used in the MMORPG Secret Online, while the single reached #9 on the indies Oricon charts.
During both her indies phase and the start of her major debut, Saori@destiny was billed as the "Akihabara Street Idol" and her music was described as "TECHNO POP×CANDYGIRL HOUSE". Her first live in a live-house was on January 27th, 2008 at Shibuya eggman. Two months later, her major debut single "sakura" was released. The song is a cover of the Kawaguchi Kyogo 2003 song of the same name. The single would reach #108 on the major Oricon charts, where it charted for a week.
JAPANESE CHAOS, Saori@destiny's debut album, was released on November 19th, 2008. The album included: a NewVo styling mix of "My Boy", "sakura", "Sayonara Revival" the B-side to "sakura", a DENPA rmx of "Sayonara Revival", a cover of Denki Groove's 1997 song "Shangri-La", and five more new songs. The album charted at #5 on the iTunes electro chart, and reached #225 on the Oricon charts where it charted for a week.
Starting with JAPANESE CHAOS her billing and music description changed to the "electro-pop maverick", "the second Genki Rockets", and the "virtual chaos fully aware of its own existence". This change of marketing showed the sway from her idol-like startings to a more underground artist.
Her first release of 2009 was the digital single "WOW WAR TECHNO" on February 11th. The title song reached #3 on the iTunes electro chart and the B-side, "Stainless Starlight", reached #5 on the same chart. Her debut mini-album of the same name was released on March 18th. The mini-album included both songs in the digital single, a cover of TRF's 1993 song "EZ DO DANCE", and four more new songs along with a remix. The mini-album reached #230 on the Oricon charts, where it charted for a week.
In late 2009 / early 2010 Saori@destiny adopted the concepts of "Neo-subculture" and "Ethnic". She started 2010 with a two consecutive month single release plan. The first single "Ethnic Planet Survival" was released on January 20th and the second single "Lonely Lonely Lonely" was released on February 17th. These singles were different record shop exclusives, "Ethnic Planet Survival" was a TOWER RECORDS exclusive, while "Lonely Lonely Lonely" was a HMV exclusive. They are also both indies singles (through D-topia Independent) and were released in limited quantities.
Saori@destiny's second album WORLD WILD 2010 was released on April 14th. The album included the two new songs from the previous indies exclusive singles, seven new songs (with one being the album's intro), along with a remix of "Lonely Lonely Lonely" by DJ JET BARONG. It debuted at #35 on Oricon's daily charts, and ended up at #129 for that week. This is currently the highest debut and album weekly rank for Saori@destiny.
On April 1st, 2012, Saori@destiny had announced she was going on hiatus. Two years later she resurfaced as her new stage name Saoriiiii and announced her first performance in over two years on September 15th, 2014.
Discography
Studio Albums
Mini-Albums
Other Albums
Singles
Other Singles
Digital Singles
Compilations / Other
External Links
<br=/>