Due to an influx of spam accounts getting through and joining the site, user registrations have once again been disabled until further notice as we work on a different solution.
U-Kiss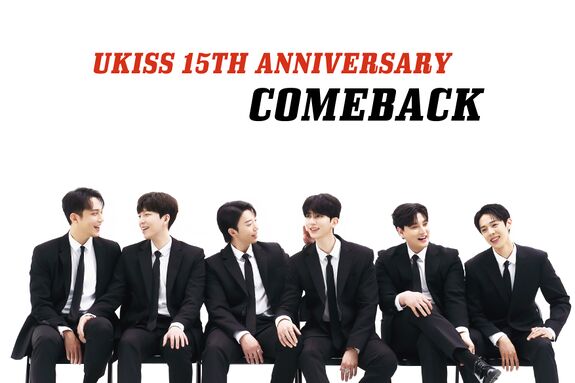 U-Kiss (유키스) is a five-member Korean pop boy group created by NH Media. Their group name is an acronym for "Ubiquitous Korean International (Idol) Super Star".
They originally debuted as a six-member group but in late October 2009 it was announced that sub vocalist Ki Sub had joined the group. In February 2011, Alexander and Ki Bum withdrew from U-Kiss, however only a few days later, two new members were announced, AJ and Hoon. Dongho withdrew from the group in October 2013 due to health concerns, leaving the U-Kiss as a six-member group once again.
In 2010, the group debuted in Japan with the release of the Korean best album, First KISS, and later in June 2011, it was announced that the group signed with avex and their official debut in December.
On October 16, 2013, member Dongho announced his departure from the group due to deteriorating health caused by busy schedules of being a singer. He also announced that he will be leaving the entertainment industry to focus on normal life.
On May 15, 2023, a 15th anniversary EP was confirmed with members Alexander, AJ, and Eli rejoining.
Members
Former Members
Sub Units
Information
Before the group debuted it was announced that two former members of Xing (Ki Bum, who is also known for being the younger brother to SS501 member Kim Hyung Joon, and Kevin) would be joining the group.
U-Kiss's official debut was with the mini album New Generation, released on September 3, 2008. They released their second mini album, Bring It Back 2 Old School, a few months later, on February 3, 2009. In October of 2009 U-Kiss announced on their official website that a new member, Lee Ki Sub, would join the group as well as their comeback mini album. The mini album, Conti Ukiss, was released on November 5, 2009.
They released their first digital single "Without You" in January 27th, 2010. The single was a teaser for their first full album, U-Kiss Only One Album, released a week later.
In February 2011 it was announced the withdrawal of Alexander and Ki Bum. It was said that Alexander decided to leave for personal reasons, and to pursue his studies. Ki Bum, through his own personal Twitter left a message regarding his decision of leaving the group: "[...] To start with the point, I've come to an agreement with my company to end my contract since February 2011. They wanted a change of members and I agreed to it. Since that day I was not part of U-KISS any longer. [...] I neither quit because of my company nor because I lost interest in U-KISS. [...] But I'm lacking in many points and I respect my former company's decision to switch members."
In March 7, 2011, two new members were announced, AJ, former member of the group PARAN, and Hoon, a former solo singer.
In September, AJ announced that he's going on hiatus to go to college until 2013 where he will return and continue activities with the group.
On October 16, 2013, Dongho announced that he will be leaving the group to focus on living a normal life due to deteriorating health caused by demanding schedule of being a singer.They will comeback they with their 8th mini-album, "MOMENTS" on October 31st as a six-member group.
Near the end of the year, AJ announced once again he'll be going on hiatus because of college until 2015. AJ left the group after his contract expired on August 29, 2016.
On May 15, 2014, it was announced that a new member, Jun will be joining U-KISS on their next Korean release.
Kevin left the group in March 2017, while Kiseop and Eli left the group in May 2019.
Soohyun left NH Media in April 2021 after contract expiration, although he remained a member of U-KISS. Hoon and Jun also left the agency in August 2021 after contract expiration.
In January 2022, Soohyun, Hoon, and Kiseop signed exclusive contracts with Tango Music, with Kiseop rejoining U-KISS.
On May 15, 2023, it was announced that U-KISS would be releasing the mini album, "PLAY LIST" to commemorate the 15th anniversary of their debut in June 28, 2023, with Alexander, AJ, and Eli rejoining the group.
Trivia
Official Fanclub: Kiss Me
Official Color: Pearl Fuchsia
Korean Discography
Albums
Mini-Albums
Digital Singles
Collaborations/Others
Japanese Discography
Albums
Mini-Albums
Best Albums
Other Albums
Singles
Digital Downloads
Compilations/Other
Video Releases
Filmography
Reality Shows
Dramas
Musicals
Awards
TV Music Shows
External Links