User registrations have now been re-enabled. If you previously had an account and logged in via OpenID, please create a new account. Thank you!
All the Best (CHEMISTRY)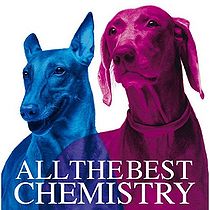 Artist

Album

ALL THE BEST

Released

2006.11.22
2007.11.01 (Winter Sleeve Edition)
2009.09.02 (Blu-Spec)

Catalog Number

DFCL-1300/2 (Limited Edition)
DFCL-1303/4 (Regular Edition)
DFCL-20014/5 (Blu-Spec)

Price

¥4,305 (Limited Edition)
¥3,780 (Regular Edition)
¥3,990 (Blu-Spec)

CD Tracklist
DVD Tracklist
Opening Prologue
Kimi ga Iru (キミがいる; You're Here)
Aishisugite (愛しすぎて; I Loved You Too Much)
Namida no Ato (涙のあと; After the Tears)
Kokoro no Door (ココロノドア; Door of the Heart)
JAM SESSION
Densetsu no Sougen (伝説の草原; Prairie Legend)
ASAYAN Audition Digest
Information
ALL THE BEST is the first best album released by CHEMISTRY. It was released in three versions: a regular edition containing two CDs, spawning all their singles and other tracks; a limited edition containing the same as the former plus a DVD containing full footage of CHEMISTRY 2006 TOUR fo(u)r ~Live at Saitama Super Arena~ and a bonus video from their Audition at ASAYAN; and a Blu-Spec version which was released three years later. It was released in the same day as their sixth live DVD, which was already available in this album. "Top of the World" was released two weeks later as a re-cut single. The album reached #1 on the Oricon weekly charts and charted for twenty-six weeks. As this album sold 395,731 copies in 2006, it became the #33 album of the year.
Oricon Chart Positions
Mon
Tue
Wed
Thu
Fri
Sat
Sun
Week Rank
Sales
-
x
x
x
x
x
x
1
250,018
x
x
x
x
x
x
x
4
93,080
x
x
x
x
x
x
x
8
52,633
x
x
x
x
x
x
x
11
36,096
x
x
x
x
x
x
x
15
30,441
x
x
x
x
x
x
x
22
30,752
x
x
x
x
x
x
x
x
x
x
x
x
x
x
28
6,543
x
x
x
x
x
x
x
46
4,385
x
x
x
x
x
x
x
x
x,xxx
x
x
x
x
x
x
x
x
x,xxx
-
-
-
-
-
-
-
104
1,836
-
-
-
-
-
-
-
131
1,375
-
-
-
-
-
-
-
196
1,155
-
-
-
-
-
-
-
216
1,044
-
-
-
-
-
-
-
258
842
-
-
-
-
-
-
-
240
796
-
-
-
-
-
-
-
284
755
Out of the top 300 for 2 weeks
-
-
-
-
-
-
-
233
785
-
-
-
-
-
-
-
242
697
-
-
-
-
-
-
-
203
779
-
-
-
-
-
-
-
278
802
-
-
-
-
-
-
-
262
819
-
-
-
-
-
-
-
265
623
Out of the top 300 for 24 weeks
-
-
-
-
-
-
-
226
735
-
-
-
-
-
-
-
299
531
Total Reported Sales: 523,030
External Links