Generasia would not be what it is today without the countless contributions by both staff and members alike! Thank you for all that you do!!
JESSE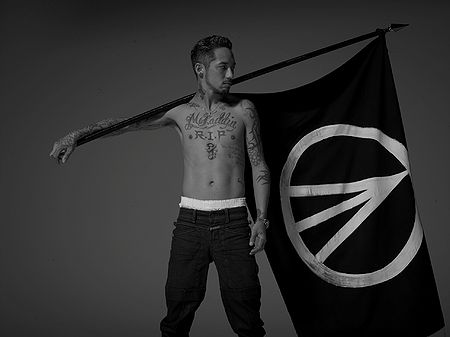 JESSE is a Japanese-American rock and urban singer, songwriter, rapper and guitarist. He is the vocalist and guitarist for RIZE and has participated in a number of projects and collaborated with several other artists.
Profile
Full Name: Jesse McFaddin
Full Japanese Name: Takenaka Sorato (竹中空人)
Stagenames: JESSE, SORA3000 (also seen as Sora Sanzen), JROC, MR.13, Mr. Brown, YamatoEMCEE, SORATO
Nicknames: Jesse, Jes, J, Sora-kun, Take-chan
Birthdate: August 11, 1980
Hometown: Shinagawaku, Tokyo, Japan
Blood Type: AB
Family: Father (singer Char), mother (model Kanna McFaddin), wife, daugther
Information
Childhood & Adolescence
Jesse McFaddin, or Takenaka Sorato, was born in 1980 to the Japanese rock musician Char and American model Kanna McFaddin. He was enrolled in an international school in Japan for the sake of learning Japanese, but as a result of neglecting his studies, he was kept behind a grade and eventually dropped out. Shortly after, he was sent to St. Mary's International School, a Catholic school in Tokyo. He later dropped out during middle school and transferred to American School in Japan, where he graduated.
Manga played a big role in JESSE's adolescence. He has expressed in interviews his original desire to become a ninja after admiring characters from "Kamen no Ninja Akakage" and "Onna Nezumi Kozou", and says he began to remember Japanese from reading "Kyou Kara Ore wa!!" and "Be Bop High School". Because of these, he refused to wear his schools' uniforms and opted instead for gakuran, a type of uniform seen in manga worn by mostly yankee, or thug-type characters.
Interest and Participation in Music
In what may have been a form of rebellion against his father, JESSE admired gangsters and began to develop an interest in rap music rather than rock music. However, he began to learn guitar when he was around 15 years old, and would help out as a staff member during his father's tours. Jesse formed the band RIZE in 1997 when he was seventeen with fellow members TOKIE and Kaneko Nobuaki. They began performing in the Shimokitazawa area, and in 1999 performed with Utada Hikaru at "Luv Live Osaka" along with Kaneko (the two were known as "Sessyo") for the song "Konya wa Boogie Back".
In 2000 RIZE made their major debut, and soon after Jesse began collaborating with other artists. He also was a founding member of the group E.D.O. in 2000; however, they did not release anything until 2005. In addition, he was one half of spin-off group GICODE with SPHERE of INFLUENCE, releasing an album and a single in 2003.
Despite having never done any solo works, throughout the years JESSE has been a featured artist with a handful of other musicians, including Crystal Kay, Zeebra, and American rapcore group Crazy Town. JESSE also founded TENSAIBAKA RECORDS (Genius Idiot Records) in 2005, with its main (and only) artists being RIZE and Def Tech. He also established his own fashion brand in 2006 named "TENSAIBAKA WEAR", and again in 2006 opened the shop "S&S SOUND SHOP" in Gotanda.
In 2009 he became part of the visual rap-rock band KAIKIGESSHOKU along with Zeebra.
In 2013, JESSE released his first solo studio album, Stand Up. It includes a dubstep version of Char's single "Stand", as a part of his cross platform project Stand Up! Fund. JESSE is quoted as saying: Stand Up! Fund is a 100% user influenced, mash-up type of project where everybody can freely join in to create new content with me, regardless of age, genre, gender, religion, countries or whatever. I strongly believe in everyone having their own unique talents. They deserve to 'Stand Up now' and have their voices be heard around the globe. That is the bottom line of this project. I am pumped about the dubstep version of Stand, because I can see the same vibe with my project. Also, I want this cover version to become a liaison between my generation and my dad's generation. On the flip side, or personally, June also has Father's Day, in addition to my father's birthday. So, it would be great if I can express my gratitude to him through this song.
Trivia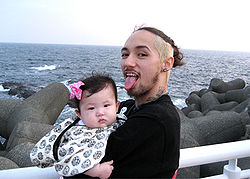 At the age of eleven, JESSE was in a commercial for a child's desk in order to earn tuition money (as his father was not making much). He earned 160,000yen (around 1500 USD) for the spot. (From Wao~n April 23rd, 2008)
In January 2008 JESSE wrote on his official MySpace blog that he would need surgery to repair his jaw, the upper jaw being smaller than his lower jaw. He attributed his current problems with it to "all the crazy shits for my living", and wrote that he had already cracked it twice, and a third time would result in lockjaw for his life. 1 He reported four days later that his operation was successful.
JESSE has a daughter named Lyrica, but little is known about her.
Works
For releases with RIZE, see RIZE#Works.
Studio Albums
Other Video Releases
Compilations / Other
External Links